March 2016
The rain certainly disappeared during February, but fortunately the demand for pups didn't dry up with it! I usually find more demand during January over the holiday period (when there's more spare time for computer surfing?) but have been grateful to place some of last Spring's pups in good working homes. Only a couple of bitches remain for sale, the remaining half dozen will be run on.
There have been some very serious complaints about the new tick product, Bravecto. Tempting to use a product that lasts for 3 months and all the vet. surgeries are covered in posters recommending it. Many dogs world wide have died from side effects.
We had a 'dog day' here recently with Arthur Crumblin and John Clothier meeting up for the first time. I knew they'd have a lot in common and there was much talk of camp drafts, stock horses etc. John brought Heli and Cherry home; he has been very kindly giving them some work on his cattle to keep them happy. Cherry remembered Arthur straight away from the week or two she'd had with him last year and  worked nicely after a few reminders! Heli had never worked sheep and had a ball. She's a natural on cattle and too good to risk getting injured, I think I'll mate her first season. Arthur was impressed with Wills and offered to take him home for some education. I'm so glad he's feeling well enough….shown below with Cherry.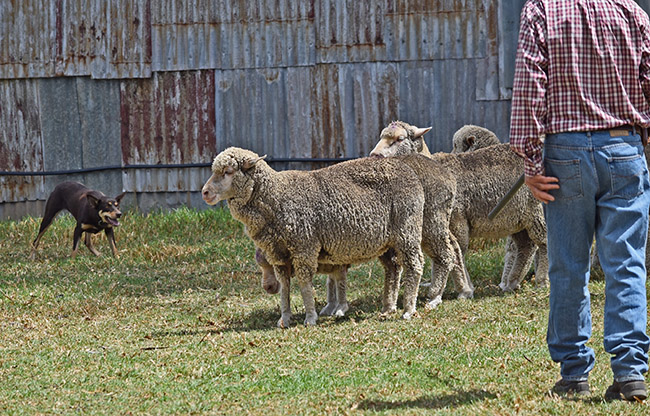 This week I was sorting out ewes for joining and took the opportunity to give a couple of pups a run. Wings yarded the 100+ mob with no trouble at all and is a real stock mover, not just a 'nice pup'. She has the instinct to put pressure on at the right time and place and is a delight to watch.
Poppy(Chopper x Peggysue) wasn't interested last time I showed her sheep and seemed disinclined to look at them again. However old Chops was watching her and came over to give her some encouragement by moving the sheep around a bit for her. Suddenly she switched on, or as my granddaughter used to say…"Her brain clicked, Nanna!" There's a wee grab of her on Youtube. It would be nice to have someone to film for me, but you can get an idea of how a pup works without a perfect 5 minute film…luckily! 
I was looking forward to Chopper's (last?) litter from Lily. She only had two pups and the bitch was dead. A little dark male looks like being his last son. I placed the dog pups from his last litter(from Peg) carefully and finally kept Polo, a cream dog. He's most impressive on sheep and has a good, friendly nature.
Jessarene Cara(Riana CashII x Karmala Lara) is due to Wilson any day. I am very happy with the way he's breeding on, leaving nice leggy types that keep outside their stock and balance up well. Wills, from Brandy, is very promising. 
Two bitches were mated to Cash recently, Karmala Gemma and Karmala Brandy. The Brandy mating could produce some very high IQ pups, which is a worry! Cash's litter from Cadelle are going very well.
I have Karmala Quiz looking great, she's shed a heap of weight and is anxious to work so I let her yard sheep with Akubra today and she pushed up in the yards really well with a bit of bark. She's never done "real" work before and had a ball, she's a very stylish bitch but quite strong. It would be nice to get a bitch pup from her as the last two C/S ones died. Quiz is the dam of Karrawarra ShadowIII who was passed in at Casterton for $9000 and has been used widely as a sire.
Quiz is a daughter of Karmala Clyde(Driftwood ClydexWoorivale Spice) out of Riana Quill II. I lost Quill to a snake so it's great to get something back with her blood. Brad Cavanagh contacted me this week with the offer of mating Karmala Win(R.GlidexKarra.Gift) to Clyde and returning her to me on a pup share basis. He got Clyde after the tragic death of Peter Whiteman and has bred some nice pups by him.
It's always pleasing to be able to do small jobs with these pups/dogs without giving any training; they're such natural workers you just have to get in the right place and they do the rest. When people ask me about commands I just say teach Come and Stop, the rest falls into place easily.