March 2019
UPDATE!  RAIN!!! 90 mls on 15th and another dump a week later of 60mls. Perfect!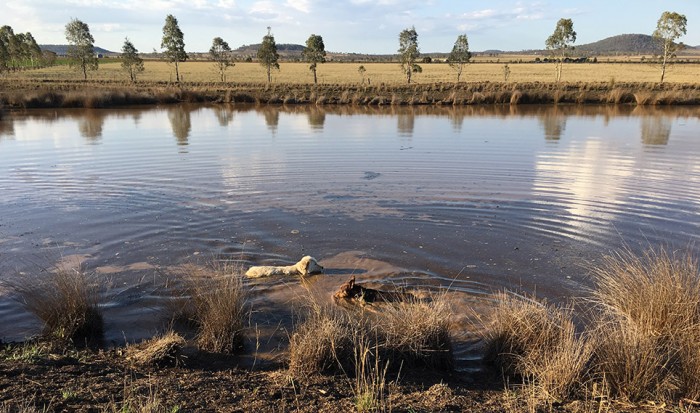 A record hot and dry summer for this area, thank goodness it's over. To add to my woes the ewes have started to lamb! I hope there aren't too many until Spring. The ram kept jumping in with them and after being totally infertile last year I wasn't too worried, so my fault. I need to build up numbers with no young sheep from the last two years, so should be pleased….and go and buy more hay if I can find some.
Nice big ram lamb, I found the ewe down and of course she didn't want to feed him. She changed her mind last night, thank goodness.
I have too many dogs home at present and it's a juggle to work out which ones get on well in the run. It was funny to see the girls lined up behind Brock this morning, he's obviously Top Dog!
I also have David Hart's old bitch Milburn Moss( Marabou Jimmy x Milburn Twiggy(Riana Glide x Capree Lara)) here at present but she's totally obsessed by the chooks so isn't any trouble. We're hoping to get her in pup to Wills. 
  The pup with her (Wilderness Rose(cl.!)) was bred by Jarrod Alcorn who owns Karmala Boss(K.Skipper x K.Remy) her sire. He's proving to be a very handy dog. She's out of a nice paddock bitch Aldersyde Rosie who was owned by Matt Doyle, a pup client( x2) of mine!
This little pup Rose is game as, she plays with Eventine Grace despite the big difference in age/size, and holds her own. Both of them will climb out of any yard which means they are in a kennel or free lancing around the house until they grow up more. When the three dachsies join it it's total chaos!
I have Livvy(Landy x Whitney) away with Arthur at present and he's enjoying her nice work.
Next in line is Silk, then Peach. I took some photos of these four young bitches by Wills recently, I'm very happy with the pups he's breeding for me. They all have his nice neck extension which comes through Brandy(right pic) who was out of Spice (left pic), a foundation bitch out of Karrawarra Sugar.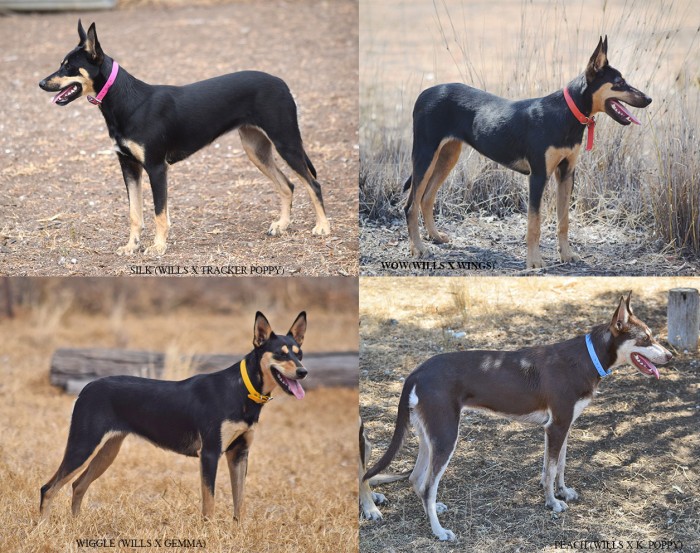 Another couple of Wills bitch pups are Lil's Lila(below) and the wee bitch pup old Quiz had, now 4 1/2 wks. She's called Queet.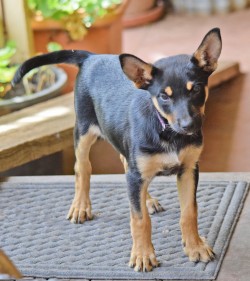 It was great to have a long chat with Mary McCrabb last week; she's an amazing lady and I will always remember almost walking into her after completing my first ever dog trial many years ago… and what she said. I was pretty naive and when a Farm Dog Trial was announced at one of the first Sheepventions I entered my first Kelpie bitch Sky, who came from Ted Lehmann and was x a Wyreema dog. Even more innocently I asked for an early run as we had sheep to show, I had no idea there was only a small number of sheep and they were recycled all day!
Well, Sky did her usual excellent cast and was half way back across the oval when a pair of nesting plover began attacking her quite savagely. She was accustomed to this because we had a pair near the yards at home and every time I got sheep in they did the same thing. Sky's answer was to leap as high as she could, trying to grab their legs while barking madly! I knew exactly what was coming! She put on a great show, the judges were laughing at her while I was swearing at her…. but….while the circus act went on the sheep walked down feeding quietly straight between the white pegs which were the first obstacle. The rest of the course presented no worries at all and she completed it on 80 points. It was as we walked off that I ran into Mary, the next competitor. "That was a bit embarrassing!" I remarked, unnecessarily, with a red face. " Never mind Jan," replied Mary, "you got the job done and that's more than some will !"
Mary and I have always done our best to avoid CA in our dogs, a tricky task with no test. Mary was involved with the WKC when the problem first appeared, and so has been involved a lot longer than me. She has done a wonderful job promoting the breed and exporting good dogs abroad.
To finish up, a photo I took of Peach and Wiggle…. what's the quote from Keats?(I had to Google!)
"Two souls with but a single thought, Two hearts that beat as one" !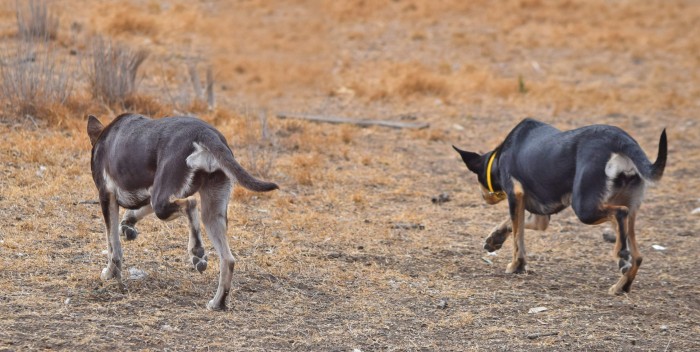 ######################################################################
I read this online recently and it rang a few bells. I am quite distressed at the heroic measures some pet owners take to keep an old dog alive. Doesn't apply to most readers here as most are likely practical stockmen, but worth a read.
*******Dr. Villalobos has advocated what she calls "bond-centered euthanasia," which allows the pet owner to be present and play a comforting role during the procedure. She has also championed sedation-first euthanasia, putting the animal into a gentle sleep before administering a lethal drug.
To help pet owners make decisions about end-of-life care, Dr. Villalobos developed a decision tool based on seven indicators. The scale is often called the HHHHHMM scale, based on the first letter of each indicator. On a scale of zero to 10, with zero being very poor and 10 being best, a pet owner is asked to rate the following:
Hurt: Is the pet's pain successfully managed? Is it breathing with ease or distress?

Hunger: Is the pet eating enough? Does hand-feeding help?

Hydration: Is the patient dehydrated?

Hygiene: Is the pet able to stay clean? Is it suffering from bed sores?

Happiness: Does the pet express joy and interest?

Mobility: Can the patient get up without assistance? Is it stumbling?

More: Does your pet have more good days than bad? Is a healthy human-animal bond still possible?
Dr. Villalobos says pet owners should talk to their vet about the ways they can improve a pet's life in each category. When pet owners approach end of life this way, they often are surprised at how much they can do to improve a pet's quality of life, she said.
[Try Dr. Villalobos's scale: Assess Your Pet: Is It Time to Say Goodbye?]
By revisiting the scale frequently, pet owners can better assess the quality of the pet's hospice care and gauge an animal's decline. The goal should be to keep the total at 35 or higher. And as the numbers begin to decline below 35, the scale can be used to help a pet owner make a final decision about euthanasia.*****