MAY 2017
A bit more dog action in this newsletter; Spring isn't exactly in the air but it's certainly lovely weather…in any case the 'girls' have decided to come on heat at last,  but here's one mating that IS NOT going to happen!! Wilson and Bella!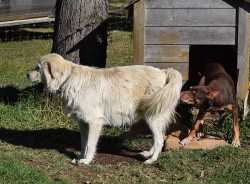 Lily and Cara were first, a couple of weeks ago, and then Emma Zeimer said Fizz(R.GlidexK.Kahlua) was looking likely; Gemma is still up at Bracewell with her so I decided to send Wills up to join them. He's been getting some cattle work too, which is great. Em says he's doing well. Gemma is also coming on heat this week! Wills has been surprisingly tolerant of little Frank playing with him…Em reports: "He lets Frank do anything. Chew his ears nuzzle his belly. At one stage Frank was twisted in the lead and all Wills did was turn look at me and hold his head on the ground until he was untangled. It has kind of blown me away. No growling no moving away from him"
Also this morning, I noticed Wings is coming on! Hopefully she will be mated to Riana Cash II or K.Landy, but she isn't too keen on the boys.
Heli's rearing 5 lovely pups after sadly losing a couple; I try to keep out of the way when they're whelping as I've found from experience I can seldom do much to help. This time she was a day or two late, I think, and I'd guess a big dog pup was blocking the others…and when he finally came the rest were born very quickly….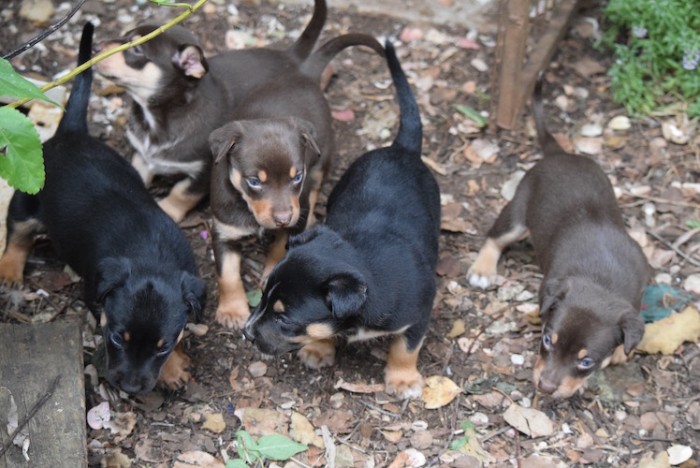 Remy has also whelped a nice litter of seven(below) to K.Harvey, a Riana Finch dog. These pups should be very good sheep dogs with great cover. Remy was injured a few years ago when she fell trying to scale an 8′ fence; she was battling a bit for the last week before whelping so I treated her to a session with my physio who also treats dogs and horses….. and she's moving much better. I've been having regular sessions to try and get my damaged right arm working again after that neck surgery I had in February. Progress is very slow and painful!
I've been having some very enjoyable telephone chats to a number of my old clients, and it's good to catch up with the dog news from further afield. I appreciate the calls very much. Ron Robb has Mocha out at Nyngan at present, he's been giving her some real work and she's also been mated to Changi (Chance x Brandy). Ron's delighted with Changi, he's grown into a very reliable worker who doesn't need to be told much. Just jumps off the bike and gets on with the job. He's also strong on cattle. It should be a good mating.
Meanwhile Brock has gone down to Ben Kurver near Oberon for some 'work experience'. Ben was looking for an extra work dog so it's a great opportunity for Brock to get more work on sheep and cattle. At present I am more inclined to use Brock's son Jag(BrockxChanel) as a sire, he's a bit stronger and going extremely well for Andrew Ardis at Deepwater. Andrew sent me some great shots of Cherry(Chance xBrandy, Changi's sister) when she was yarding up the AI ewes for seeder removal last week.
Here's a Jag pup from K.Vonny, Karmala Vogue, first time with a collar.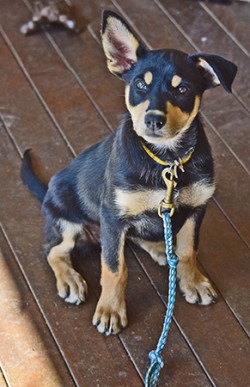 Jodi O'Connor took some slow motion video of Karmala Hardy recently, lovely to watch.