May, 2018
I can hardly believe a month has passed since my last news. Time flies when you're having fun, and I have plenty of puppies here at the moment to keep me on my toes….and smiling….although feeding hay so early isn't a laughing matter. It's terribly dry and I'm selling some sheep.
This morning Phillippe Rolland and his wife from New Caledonia, who are importing two pups, came to meet them. The pups collapsed under the morning tea until it was time for the visitors to leave and looked as they also needed sun glasses when they woke up!
---
Phillippe has used Australian Cattle dogs but is changing to Kelpies for working his Limousin cattle.
Lots of choice for people looking for a pup at the moment, with pups available here at Nobby and also up at Calliope with Em and Derek Zeimer.
The youngest litter up north (below) is by Wills, who is breeding some very good pups…and making sure we remember the sire by branding some of them with a skinny white snip!  These are from Tracker Poppy(T Chief x T. Clancy).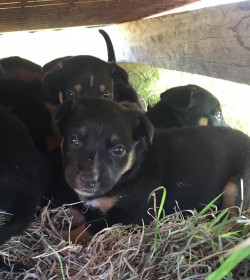 Wills x Poppy      
The litter from Fizz by Karmala Neon also has a few snips. This should be a top litter for cattle.(below)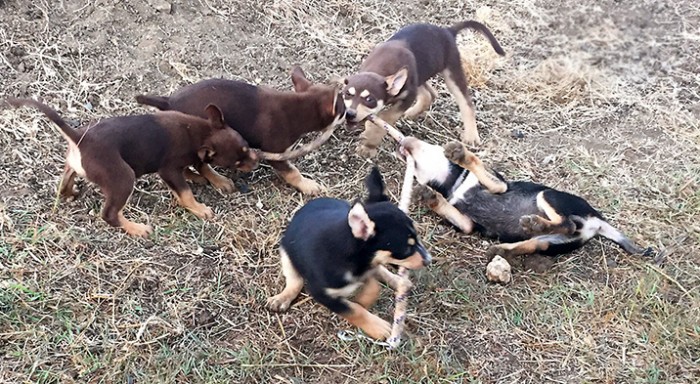 The other litter is from Frank's favourite bitch K.Bimber(Polo x Fizz) by K.Brock. I'm looking forward to seeing these work.
Pups here at Nobby for sale are from three litters also:
Karmala Wills x Karmala Gemma, seven lovely little black tans, great job by Gemma rearing these.
The last two pups are bitches and will be run on, the others are for sale.
The litter by Brock from Vie(K.Landy x Riana Trixie) are also very happy little pups with great appetites…which makes life easy. Below
The third litter I have here is an exciting one too. K.Whitney is a very good young bitch combining the blood of both the old Scanlon blood dogs I used, and the pups are by K.Landy who is breeding on very well. Below
I'm getting through plenty of bones and meat at present as you can imagine!
Coming along very soon is a litter from Pushemup Bindi(Karrawarra Ben Hall x Riana Rinnie) by Karmala Billy(Larkings' Wilson x Karmala Lily).
Needless to say I decided I wouldn't be mating any bitches for the next cycle….. when Emma tells me Karmala Poppy is coming on heat! Pops is by old Chopper from Peggy Sue(I only have two bitches by him) and we've been waiting for her to come on for ages. She was injured and has come good after a lot of Chiropractic work. She'll be mated to Wills, can't miss out on this one! Poppy's been working cattle and has developed into a very handy bitch.I love this photo of her with her old dad.