MAY 2021
Only a week ago I was enjoying the National Kelpie Trial, just 20 km down the road at Allora. Perfect weather, very good sheep, lovely dogs and lots of good company….couldn't ask for more, really! To top it off Bree Cudmore won the Open with her nice bitch Marista Zoe, the first ever female winner. Well done Bree!
The standard was very high and the dogs managed the altered course well. It's a pity more people weren't aware it was on as it's a lovely spot for a trial. I took a lot of photos, it was hard in the yards as the huge old pines shaded that area virtually all day. Managed to get a couple of good ones of old Karana Tige II who finished second in the Open. He would have been glad of a breather during his yard work; mighty effort for a 10 y.o. dog.
Veteran Qld. trialer Rhonda O'Connell penned with Camara Goliath
Another Queenslander, Adam Miller won the trophy for the Best Cast, Lift and Draw with Elwanvale Sunny who also won "Best Type". Photo below with judges Gary Milgate and Mrs. Barbara Cooper, WKC Sec.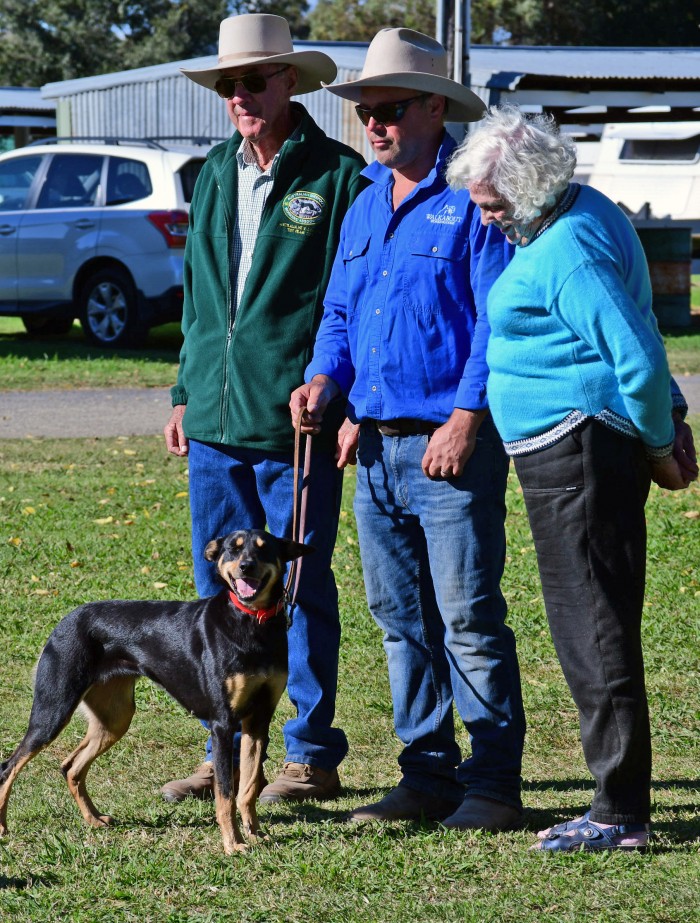 A few more shots from the trial.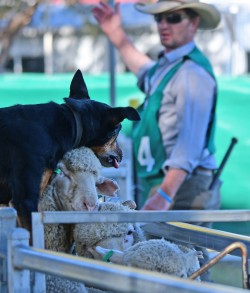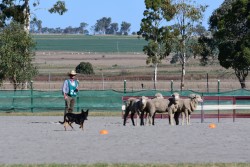 Joe Spicer and Gogetta Clue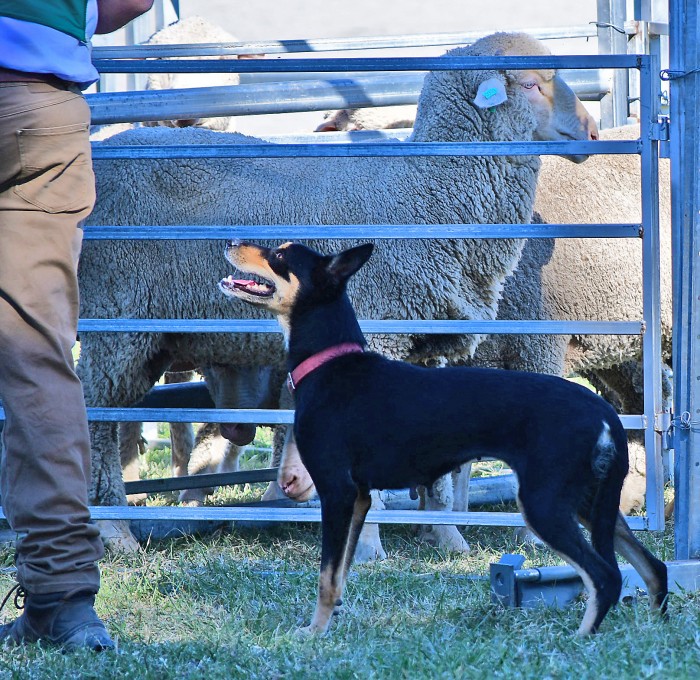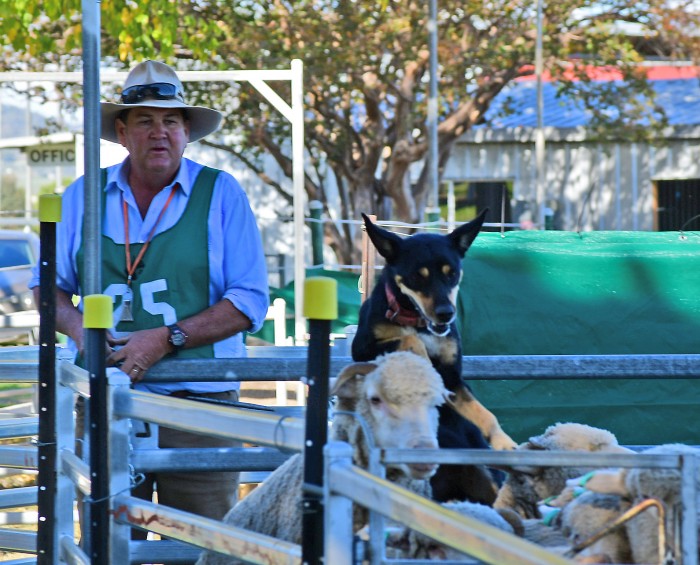 Gary White and Lucky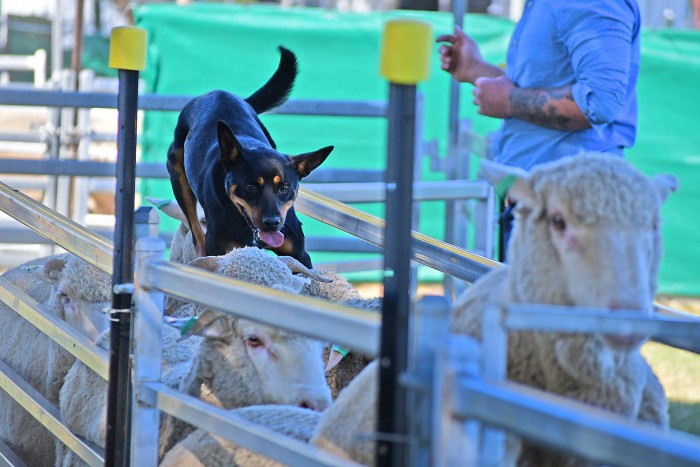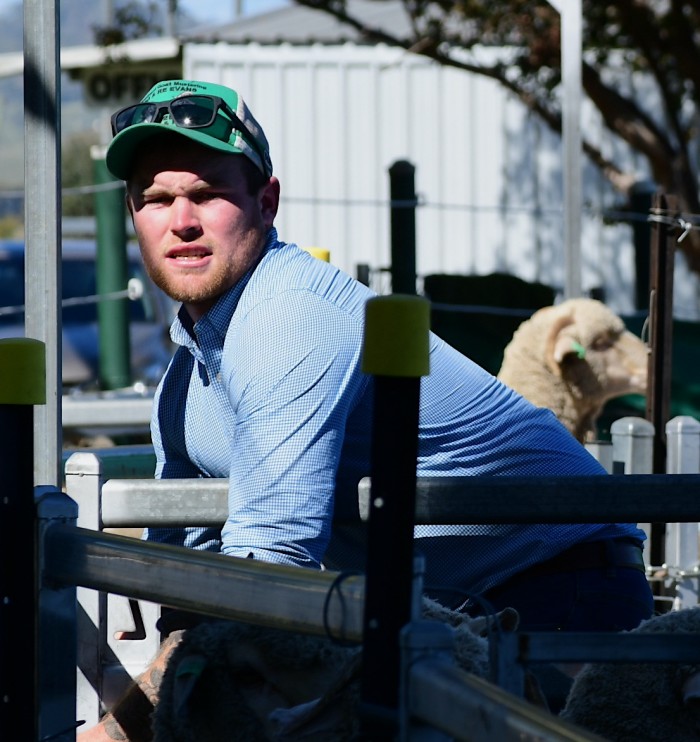 Two of ex Irishman Aiodh Doyle who came third in the Novice with Whisper Elvis.
Rex Hocking from SA had some good runs.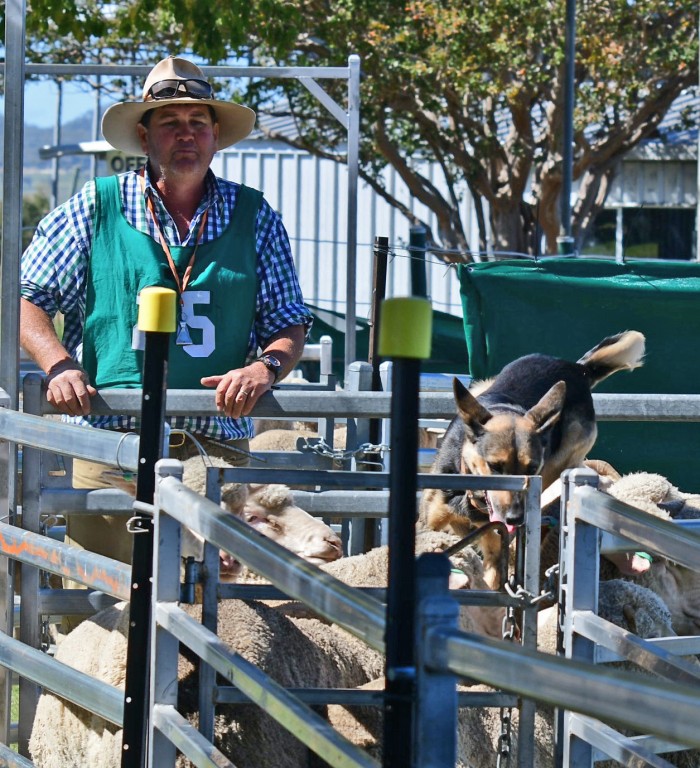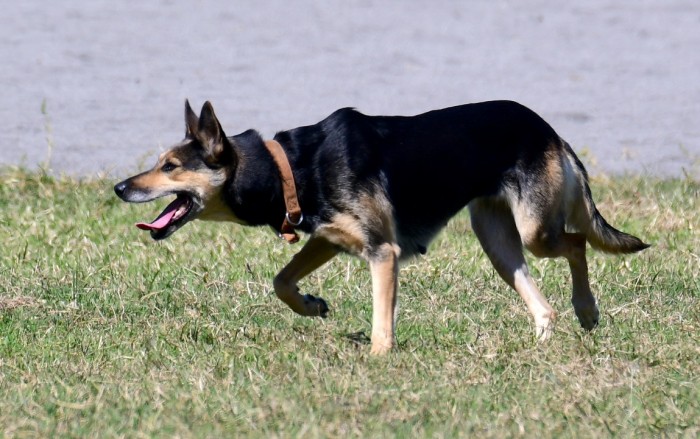 The last two photos of Gary White and White's Chrissie, a lovely bitch and one of my favourites.
Emma Zeimer and Frank spent a few days here over the trial and Frank took Spotty each day, she proved a hit with Mrs. Barbara Cooper, WKC Sec.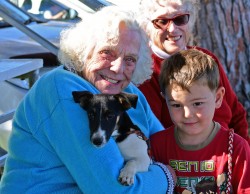 It was good to catch up with Peter and Lyn Allen again. Peter was very unlucky in the trial, missing the pen by a fraction of a second with Zilcas Buck, photos below. He also had wth him Karmala Twiggy and Claywolf Champ(Karmala Lefty x Karmala Dash), youngsters with a lot of potential.

Delivering the sheep with perfect reading of the flight zone.
Here's a glimpse of Champ, a super cool dude…click on the No.1 below
Twiggy was more interested in getting out of the ute after 4 weeks travelling, but apparently she worked really nicely at Karana on the way north.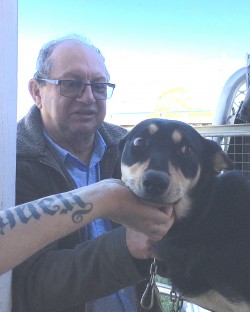 Peter took home Karmala Kohli, who impressed him.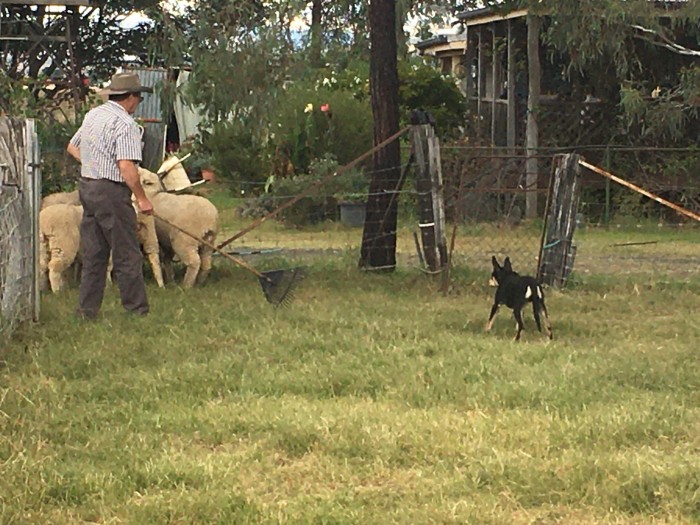 And so back to earth again! Those of you waiting for pups will be glad to hear there's light on the horizon! True has a nice litter of 8 to Wills, now two weeks old. After thinking Tash had missed(vet advice and her reaction to Harvey!) I got a nice surprise last week when I had her X-rayed and about 8 little shapes were pretty clear. Bimber is well in pup to Landy, and by her constant state of "starvation", and her figure, she certainly looks like having a good sized litter as well. It will be good to fill some old orders at last. Please let me know if you have already bought a pup elsewhere. I have been turning down most new orders for months …..old clients and sheep properties excepted.
The litter from Whitney by Breezebend Brad(AI) is now seven weeks old. Lovely friendly pups. I look forward to Brad's old owner coming to see them and choose his.
Things will be getting busier from now on with new litters being born this month. Midnight is being very tricky again; she should be in pup to Wills but it's doubtful at this stage(8 days away!). However she's surprised us before.
I shouted myself a new Samsung phone so my puppy photos are better. It's so easy to use the phone, but I noticed when doing my calendars last year that the quality was pretty poor on my old iPhone. I think the ones above are much better. Scenery is also much sharper!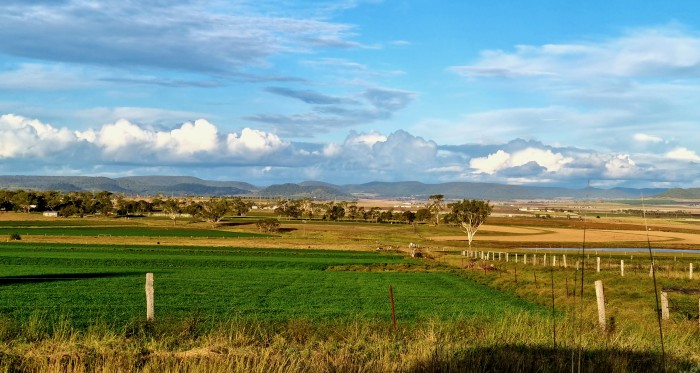 View from Greenmount-Nobby Rd.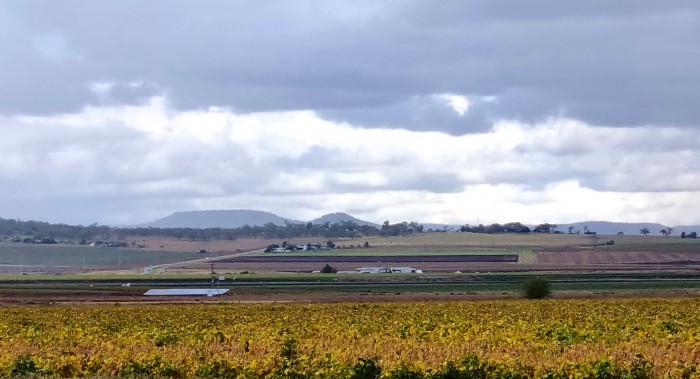 A faba bean crop opposite my house