MAY 2022
   We probably say it every year, but where has this year gone?! We've had three long weekends running and it's been a bit surreal, to be honest. Winter's coming and maybe time will seem to slow down a bit….one thing's for sure, we get some stunning skies in autumn.

April saw the January pups leaving for their new homes and the next 'batch' arrive. Wiggle and Naka had no trouble at all and have lovely healthy litters. Poor old Remy got mastitis and has one little bitch pup left; I only mated her again to try for a bitch from her….so be careful what you wish for! I had a very nice little bitch from her years ago but she died when away being trained; the present little girl has a huge will to live, she could be a real handful if she makes it.
The Killili Tap x Koonamara Nitro litter of nine girls is doing well, I split them up this week to give the lighter ones a chance to catch up. Very nice pups. Quite a few have greyish eyes which I haven't had before and am not keen on. Reading a very old Outback Mag. this week with an interview with Gordy McMaster in which he states that he selected pups on their eyes/eye colour. I didn't agree with him about many things but yellow eyes give me the creeps too!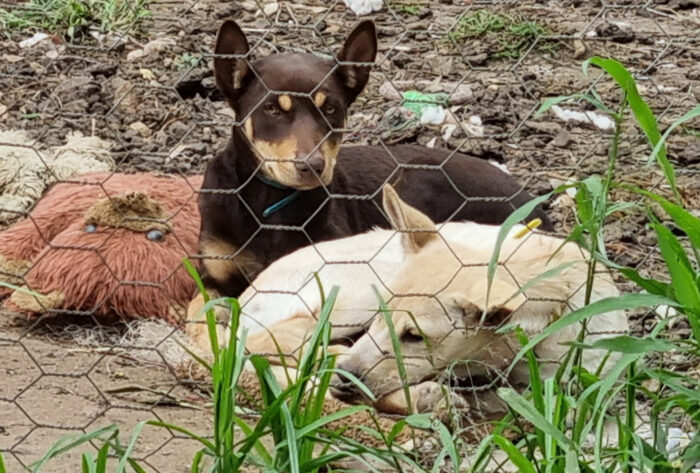 We have been trying the pups who were the keepers from Bim and Heli, Trail and Iksy,(pic above) and also the two "foreigners" Malthoid Renfrey and Koonamara Quilt. Iksy hasn't clicked yet, but the others look promising. Quilt is outstanding, a grand daughter of my old K.Tilly, she has 'willingness to please' I haven't seen before. Tony Parsons used to talk about it a lot. Trail is also very special with a lovely touch and patience. Ren started by barking a lot but stopped on her second look. The sheep were pretty awful, we had to get Midnight to get them out of the corners.
The two we entered for the Sale at Rocky sold well, only three kelpies in the sale, the rest being Collies. Interesting that some of those selling had kelpies at home for the tough jobs! Collies are much more popular for trials being more controllable. Hoping to enter four next year and get a bit of publicity for the kelpies. 
I bought a bitch this week, the first adult dog ever! She's Elwanvale Sunny, dam of Walkabout Tim. The big bonus was mating  her to Wills the next day! I saw her at Allora NKT last year and took a couple of photos of her. I had the impression that she was a feminine bitch but she must have been next to some tall people!! I don't know how she won the Best Type because she's a bit too big in my humble opinion. Beautiful nature and nothing seems to upset her, she's certainly dead easy to mate, unlike some. I'm looking forward to her pups. She's a nice natural worker and also won the Best Cast, Lift and Draw at the trial. Thanks to Adam Miller for letting me have her.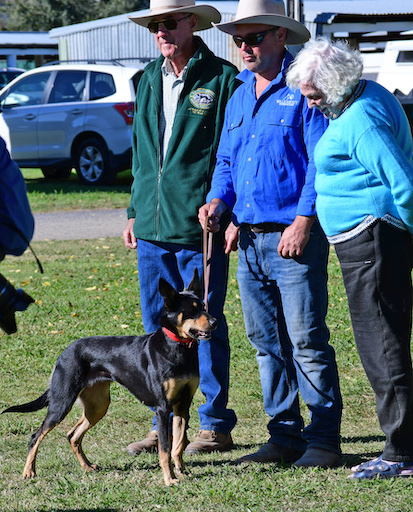 Gary Milgate, Adam, and Barbara Cooper, Allora 2021 NKT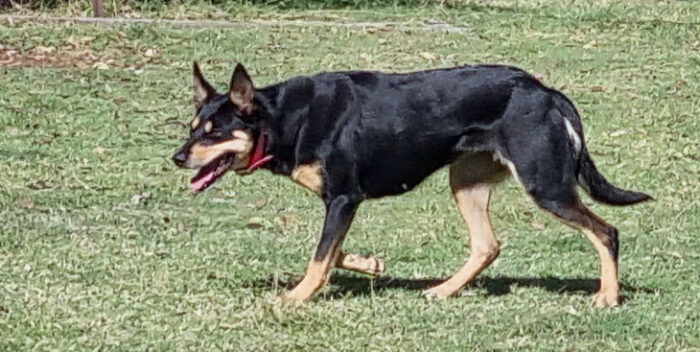 Yesterday we had some sires collected and frozen using a new firm. My 'old' operator had a bad accident and is severely handicapped so far as collecting goes, but it only took a few minutes to realise how good he was in comparison. Hopefully he will be willing to pass on his knowledge because I gave them his contact.
 I had a lovely surprise last week with a visit from Wayne Miller and his wife. Wayne has two pups from the WalxLivvy litter. He's been using Laddy for his contracting work and loves him. Hard to believe he has eye and style in his outside work and Wayne plans to trial him later this year in their "yard" trials which don't include yard work as we know it here. They're held in a fairly small arena with obstacles, might be called  short course trial here I think.
I've put a few new videos on Youtube recently. Sometimes they don't transfer here very well.There's a long one of K.Min, the Wills x Mindy pup who had a dislocated hip at 2 weeks. Arthur thinks she's great. A little one of her with an old ewe below.
This week Emma and Derek Zeimer and the children visited with the dogs that have been up north with them. It was great to see Bly(Landy x Bimber) working, a lovely young dog just a year old. He didn't go down to Arthur and was started on cattle, so enjoyed the sheep. 
Creed, Midnight's Wills dog pup is also really nice; he's so like his mum it's silly! Hopefully he doesn't have her uncooperative attitude when it comes to breeding! She had a drive down to meet Landy but didn't like him; she sometimes mates early in her cycle but this time is more normal. The family was heading up to a stock handling weekend at Sean and Evonne Barrett's and hope to mate Midnight to Apex Ace of Spades(Cagella Chilla x Riana Quad). Quad was out of Glide's sister by Riana Dinkum. Heli hitched a ride too, she's on heat and will hopefully like Ace as well…it would be nice to get some pups suitable to mate to Gibson down the track a bit.
K.Flora Dora didn't take well to Arthur's kind but consistent discipline which surprised me. He liked her work a lot but couldn't get a connection with her. Here she is with Em last month. She's very nice but might be a ladies' dog.
Hoping we don't get another dump of rain out of this new front, it's just dried up a bit. I've had quite a few of these….