May 2023
Starting  to get cold, 3'C this morning! Some lovely Autumn leaves around, but also a lot of wind!
The trees my neighbour planted when he moved next door are looking amazing this year.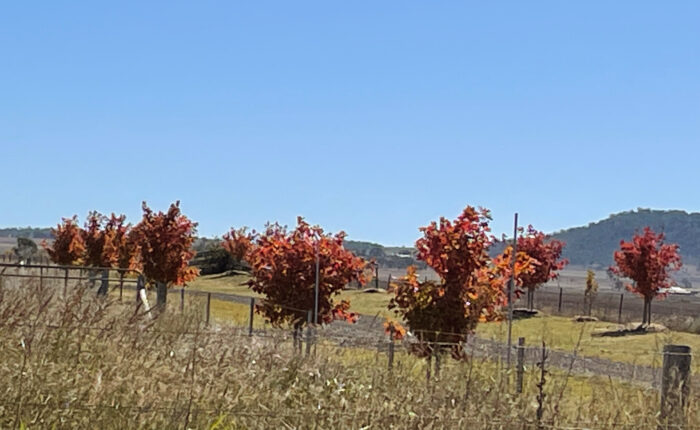 I've been busy feeding pups for the last month and all are doing well. Sass has been great with her eight and Livvy's nine are starting to leave for their new homes. Midnight has four little bitch pups, quite delightful and very smart! As I go through the photos I've taken over the last month I'm amazed at the rapid change/growth in the pups that you don't notice when seeing them daily….as in these of the Joaker x Sass litter. Their eating habits also change, luckily!
What a difference a month makes!
---
Midnight's four little girls by Eventine Comet are a joy, just lovely. They've inherited mum's huge food drive, this was their first meal! They went outside a bit sooner than most…very smart pups.
---
---
As usual with Brock pups…and even more so from Livvy… this litter has been so easy. Lovely friendly pups and Livvy's a great mum. Part of the litter below. I'm not sure which bitch pup to keep yet out of the two pups on the RHS.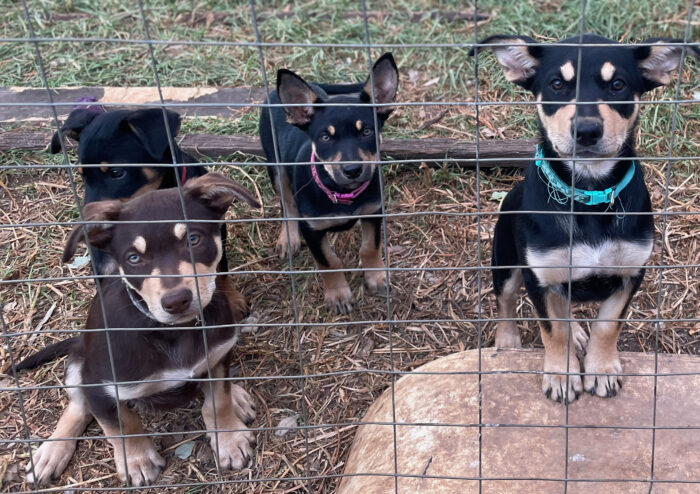 I've had a few drives during the month. It was Show Day in Toowoomba when Naka came down from up North so unable to get a blood test to nail her mating date… which ended up in two trips down to Texas to Landy, I had to leave her for a day or two! I met Em in Woolooga and we were surprised and thrilled when Evonne and Sean Barrett pulled in to say G'day. They were on their way to check out details of a cattle education school for young handlers in Gympie; it had great support with over 100 attending. Sean and Evonne were doing the stock handling/education section. It's a great thing to get so many youngsters started on the right track, no doubt dad is given quite a lot of advice when they return home!  
Below pic of Naka recovering! I'm so glad to get this mating at last, it's the third try!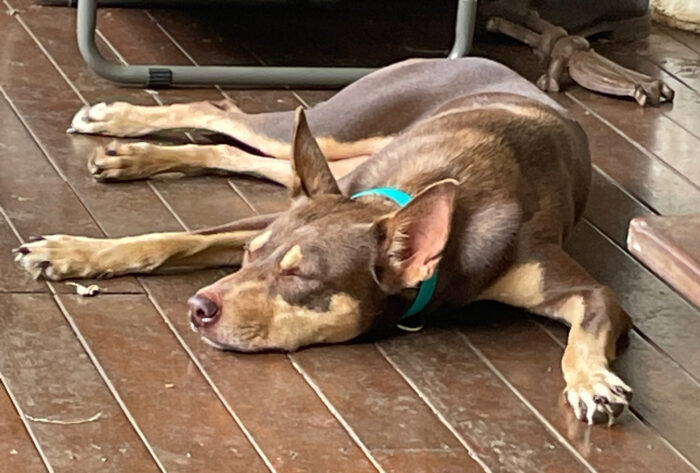 ---
I've also had a couple of trips down to Leyburn to Arthur's. Everything over that way is looking great, they've had more rain than around Nobby. The Condmine's running a banker and the sorghum crops look great… as around Allora, which is a very pretty area (lower pics).
---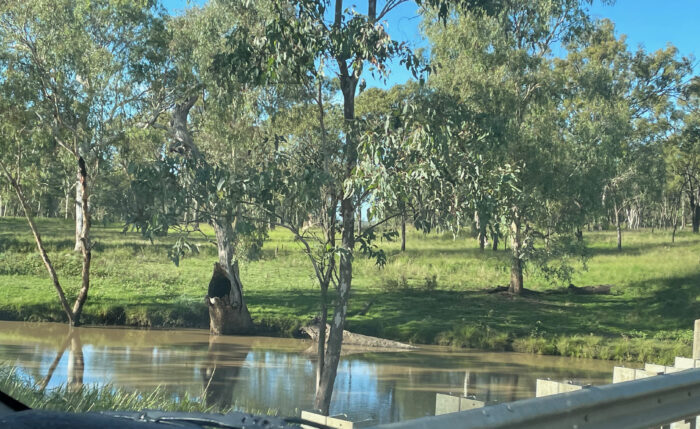 ---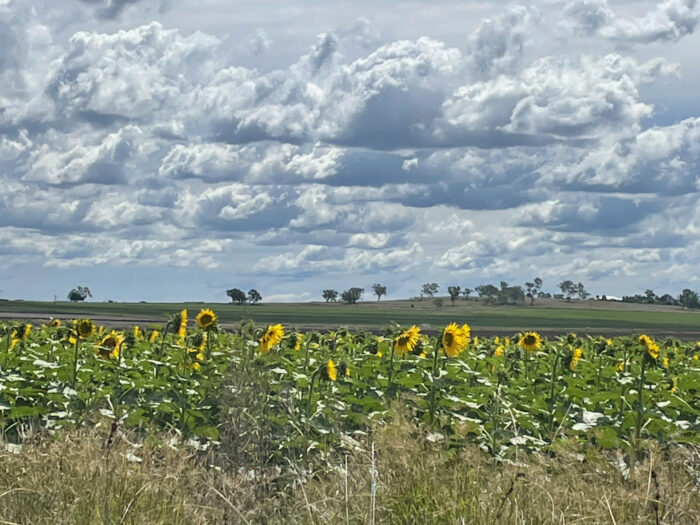 Late sunflowers near Clifton.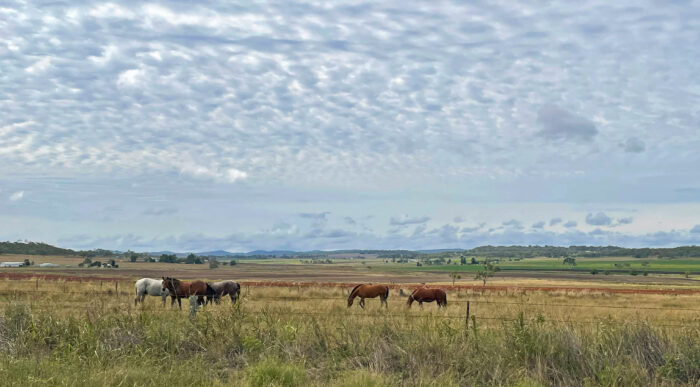 I have spent quite a bit of time sorting out the "health" section on this site. I keep adding bits and pieces  and it was a bit of a mess. Now in two parts, Nutrition and Treatments for fleas, etc. Hopefully a bit easier to navigate. I try to keep up to date with the latest research and some of the findings are pretty horrifying. It's fortunate the Working Kelpie is a dog that's been bred for soundness over the years and not for appearance…the presence of CA being the exception. The poor pure bred dogs that have been bred for show for many years are the main sufferers from over use of chemicals and bad feeding. 
There's a bit of information under Pups for Sale that some might find interesting…about inbreeding and how feeding can affect future generations.
Cap is off to a new job next week, helping a couple of youngsters work cattle up near Emerald. He's a lovely boy, I'm going to miss him. His look-alike son Sarge is also off to a new home with Lindsay Sullivan who knew Arthur years ago and remarked that Sarge reminded him of Riana Ace.
The third photo, RHS, is of Nesnah Fly the pup we bought with her mother Shep's Sandy a few months ago. 
Sandy has had a recurring UTI and is on a regime of herbs, treating her kidneys and general health. She is settling a lot better and working nicely now, we've decided to give her another 6 months before mating her to Gibson…which was always the plan. Em told me this week that she's let her collar out 4 holes since we got her! Quite odd as she'd just weaned pups and was a bit fat; probably a build up of her muscles? below L.
The other two photos are of Sunny with her Gibson pups, and therein lies a tale…related in my April news! 
As you can see mum and pups are doing well thanks to a lot of TLC from Em. At this stage it's doubtful we'll breed from Sunny again.
To finish for now, a lovely photo Jack Kings took of his Karmala dogs…Tash, Mick and Queenie.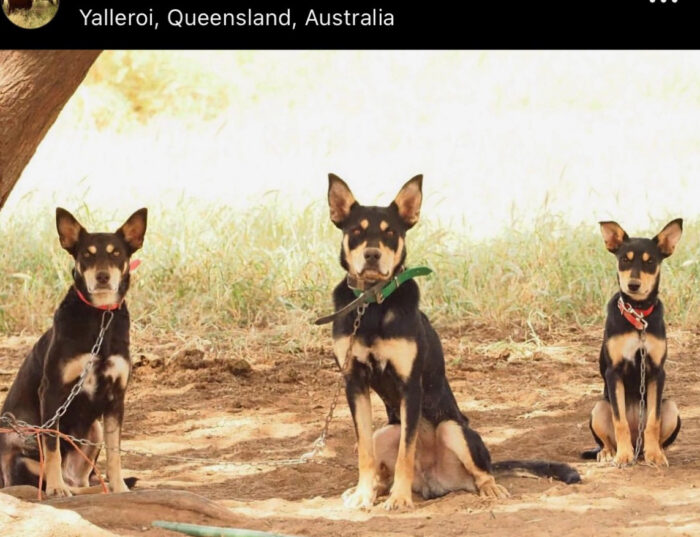 ---