November 2018
I'm very happy to be able to report some good rain in the last month, everything's nice and green again at least for now. Some very hot weather is coming in the next few days, so time will tell what sort of summer we're in for. The garden has responded amazingly, and so has my hay fever!!
The highlight of October was totally un-dog related; I had a lovely few days over on North Stradbrooke Is. as a birthday treat and would like to thank my friends who looked after the dogs for me. It's a beautiful spot and I'd recommend it to anyone wanting to get away from the real world for a time! Siggy turned into a real beach comber and made lots of new friends, canine and human.
Back to dogs. The very busy time with lots of pups has eased off. I have three young bitch pups I'm running on, Peach(Wills x Poppy), Faith(Tracker Spy x K.True) and W0w(Wills x Wings)…..I had trouble thinking of names with 2 xWs!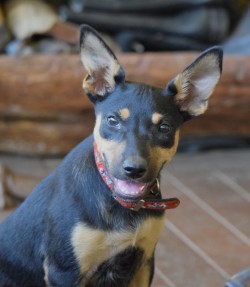 Peach                                                           Faith                                                          Wow
Also four young 'big pups', Wiggle(Wills x Gemma), Bliss(BrockxBimber), Livvy(LandyxWhitney) and Silk(Wills x Tracker Poppy). ArthurC had a look at them last week; he has had Wiggle for some training and liked Bliss(a lot!) and Silk. It was Livvy's first run and she showed enough to stay a bit longer….glimpses of work like g'ma Lily at times. She's a very nice type but very immature in her head! There are videos of them working on my Youtube channel, Karmkelpies, just type in their names.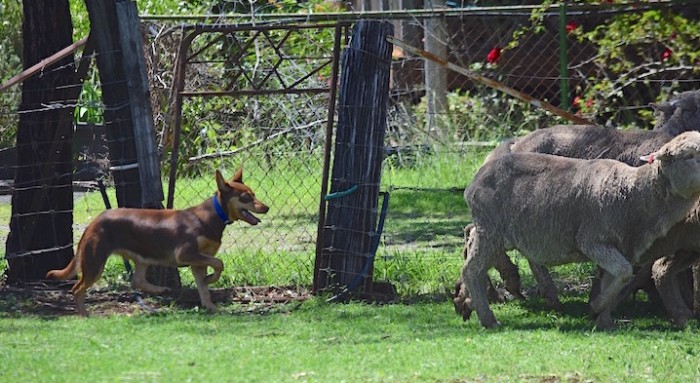 BLISS….strong and calm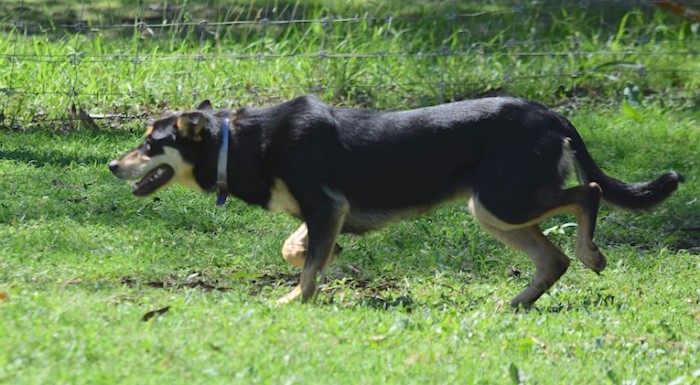 LIVVY   flashes of promise!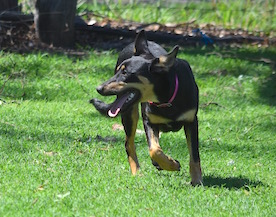 SILK   strong and correct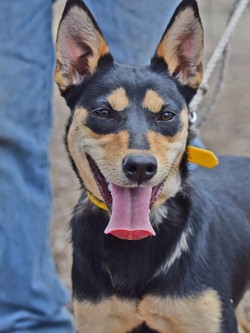 WIGGLE  a bit intense but a keeper
 Remy's litter of six by Wills is showing some white again, and my continuing enquiry into the possible source has thrown up a few new ideas. Portpatrick Taj is a definite contender, and Frank Scanlon was heard to remark that he was the dog who put a lot of footwork into the kelpies. He was a very clever trial dog although not overly strong, and was known to carry some Collie blood. I was talking to Arthur Crumblin about the white last week when he came over to have a look at the dogs, and was interested to hear that one of the best pups he bred from his two best-ever dogs, Riana Ace and Riana Spider, was red/tan with a full white collar.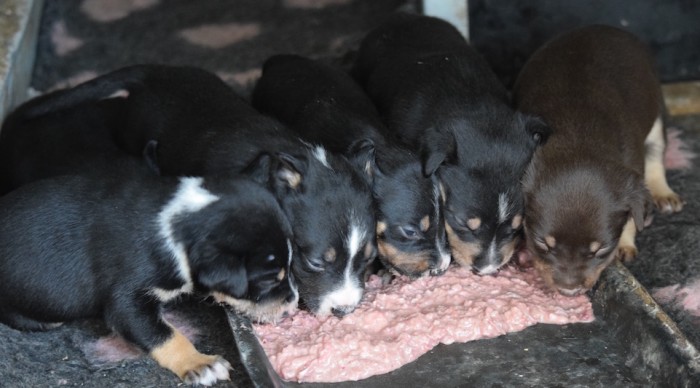 There's another nice b/t boy with no white behind the others. A couple of the dog pups will be discounted and not registered….but I'll most likely keep the nice red/tan bitch. I don't doubt some breeders would have pinged a few of these….probably be the best workers! I try to do the best by all the pups born here.
Brady, Viva and Quin all departed last week. Brady is with Wayne Squire who saw Brock at about the same age; he hadn't switched on when he left here, but did so first run with Wayne…who said he works just like Brock. Wayne also has Quin who is working but isn't too happy with her change of scene. Sometimes they can stay here a bit too long and get used to me, I think.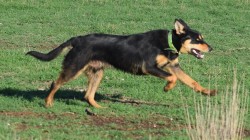 Brady(Brock x Vie)
I am looking forward to my next litter from Bimber to Wills, she's due on November 19th. Her last litter to Brock was very nice.
Ron has mated Heli to Brock down at Nyngan on Nov.4th. It's getting hotter and the snakes are coming out, so Brock, Heli and Poppy will be coming home next week.
I have been in touch with Phillippe Rolland who bought two pups for his cattle enterprise in New Caledonia. He has previously had Collies and is amazed at the enormous amount of energy Kelpies have, he thinks they have engines, not hearts!! Here they are, Rusty and Gris, right, who looks a big boy. 
To finish, a few roses…they have been superb this spring!
Bim whelped on NOv. 22. SIX bitch pups and 3 dogs! She had another bitch that was born dead. A few with white on the face.