NOVEMBER 2020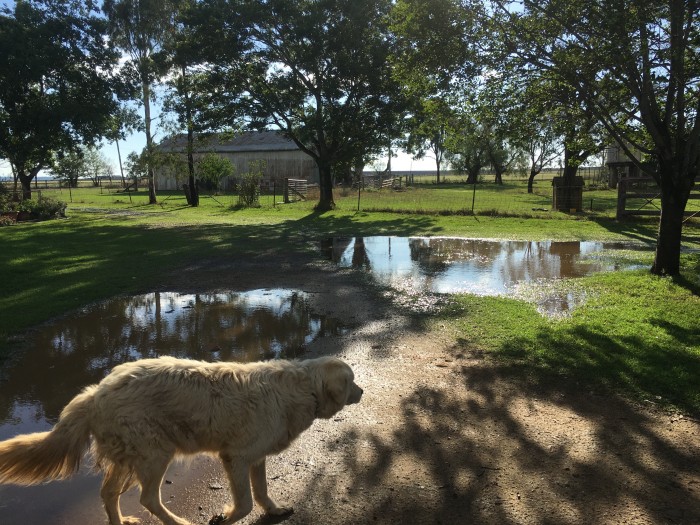 Well, the storms have arrived on time this year and it's nice and green again. Lucky to have missed the bad ones, but have also missed out on a lot of rain…. not as critical, hopefully, with a La Nina expected!
I should be getting tired of pups by now, having had so many big litters recently, but to be honest, I'm loving them! All lovely healthy pups, friendly and no hang ups: couldn't ask for better. The saying goes "it's not work if you're having fun."
The Heli, Gossip,Whitney, and True litters (40 pups altogether) have gone, apart from those we're running on, and the Tash pups are also starting to leave. Still here and growing fast are the Fizz, Midnight and Bim litters. Remy is due at the end of the week and Gemma early next week. Then a bit of a rest, perhaps?!
Some people who ordered have been impatient and gone elsewhere, but those who were serious about a Karmala pup are finding themselves getting one sooner, so all good. Demand has been amazing and I am still receiving two or three enquiries a day. It's a pity it takes so long to establish a client base and get a reputation for a type of dog, but very rewarding to have people tell me they've heard good things about my dogs. A recent buyer rang a few days later, full of praise for his nice pup and also complimentary about the type being bred here. I've been getting quite a bit of flak this year, some related to my attitude to CA and the testing now available, so a pat on the back goes a long way to restoring a bit of confidence.
This is the ISIS x Midnight litter in the process of being moved to a bigger kennel.
Taking it all in their stride: a very smart litter if their approach to solids is anything to go by, some have to be shown the mince for days but these were self-starters!
Above…some of the LandyxTash pups, also this boy below, now near Goulburn.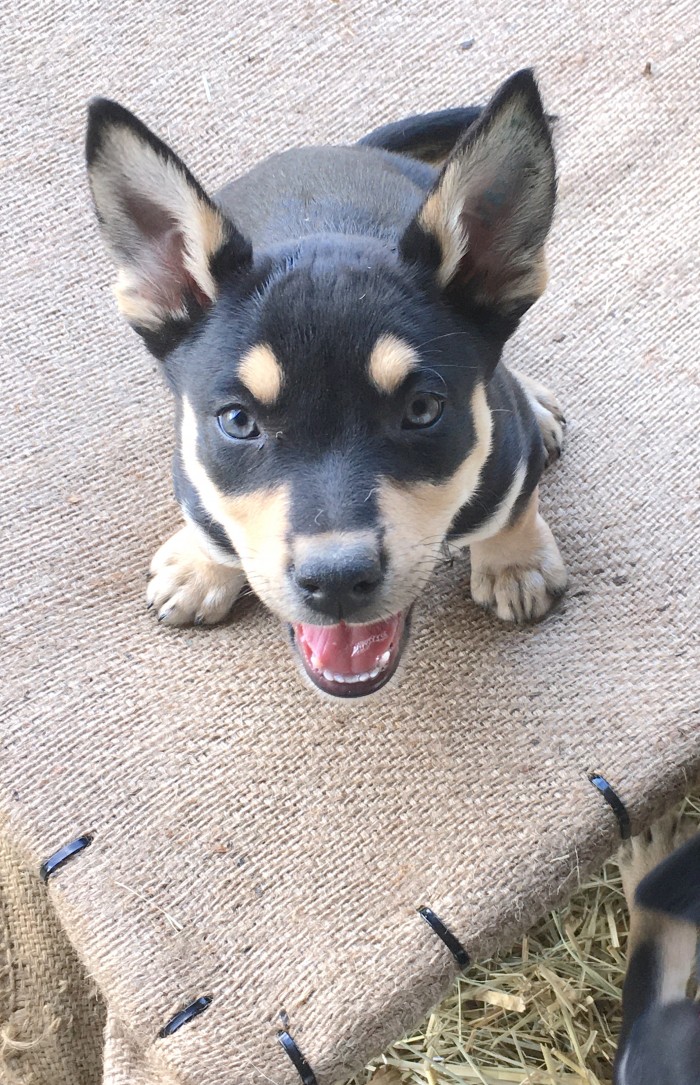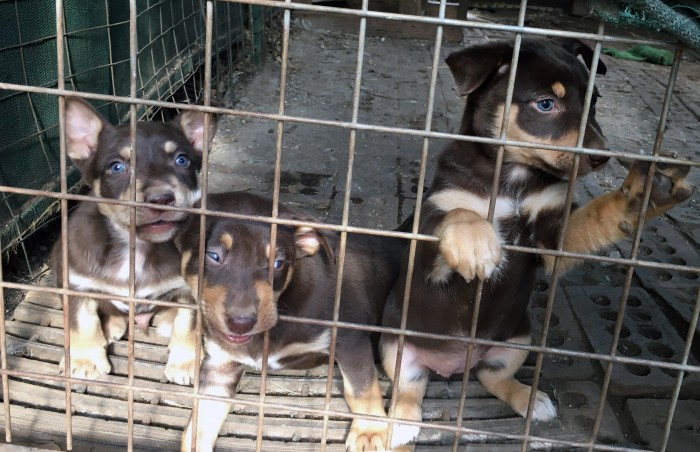 Fizz pups….and (below) just about had enough, hey Fizz?!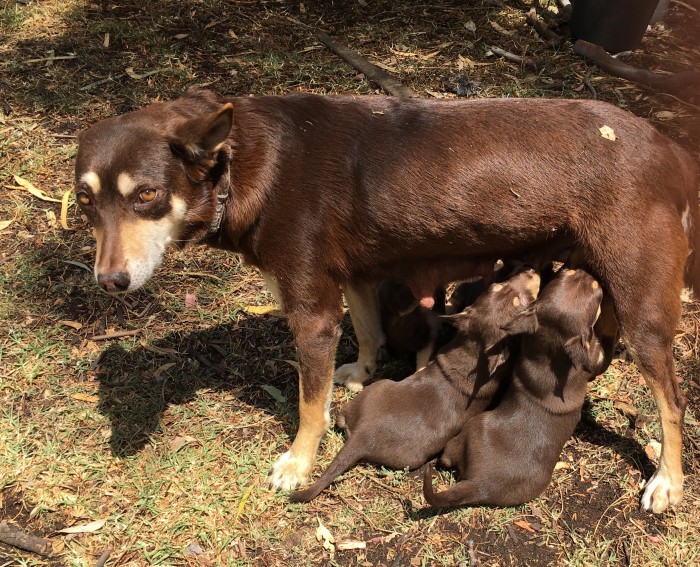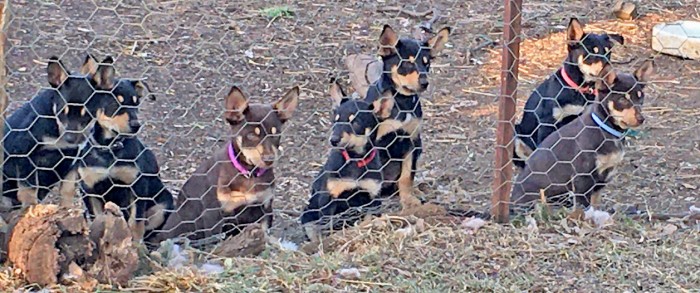 The Whip x True litter are calmer than most, nice pups.
Midnight pups x Wills. This little girl tried to share mum's bone and was bitten on the cheek. Her cheekbone was punctured and the vet fished quite a big piece of bone out with her fingernail from inside her mouth! She's on ABs and will need more care later, but is doing very well; a very good pup to handle, not at all worried about anything!
I had a yarn to Ron Robb yesterday. He's settled into his new life up north and is enjoying the change. The dogs are getting fitter and coping well with their new work, a big change from a sheep only operation. I'm going to miss the opportunity to try older pups on bigger mobs of sheep where it's much easier for them to fine tune their skills at reading stock. By far the greater portion of pups I breed are going to work cattle, but it's so important to retain the old skills the breed was renowned for. Good stockmen all tell me the same thing, there are plenty of 'handy' dogs around, but not so many quality ones that can read their stock well and apply pressure correctly.
This is a young bitch called Glam(Wills x Gemma), weaner breaking with Emma Zeimer. She's reading them well and working out where to apply pressure. The second vid is of another young Wills bitch who has just started working cattle; the Collie pup belongs to the owner of the weaners.
My lovely Naka has recovered from a very nasty bite of some sort, hopefully with no lasting after affects. She came off the Prednisone last week…takes forever, it has to be done so slowly….and is now on a herbal brew to aid recovery. She has an awful coat which is a bit of a shock, makes me appreciate how well my other dogs are looking! Kevin Noble, who bred her, is having to reduce dog numbers and I'm pretty excited to have the chance to obtain two more young bitches by Wills, a red/tan sister to Naka and a sister to Neika.
As I finish this screed our Queensland Premier has been re-elected. I wonder why, but I do realise that I've been super lucky to have cruised through the last six months pretty much unaffected by  COVID, whereas those in more heavily populated areas, especially older people, have been much more severely impacted…..and are grateful to be in this state. Hopefully there will be more common sense in play now the election's over, but I doubt it! Political opportunism is here to stay. Just grateful I'm not in America!