NOVEMBER 2021
Huge rains forecast for next week so I'd better get on with this in case I get washed away! Harvest has started, so not sure how the news will be received…IF it's right. Crops similar to these are still a way off being ready.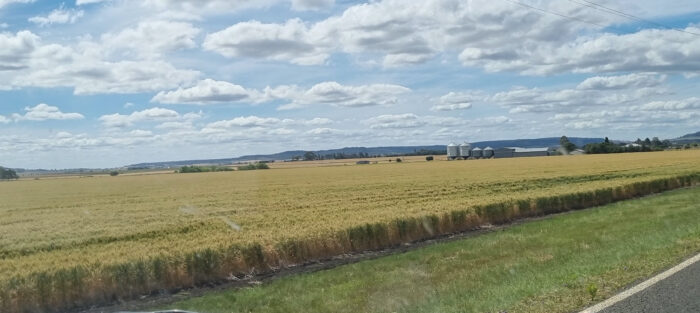 The top one is opposite my place and was watered once about a month ago. The others not. We have had patchy storm rains over the last few weeks.So, to dog news! Three new litters due this month and two already here, Glam and Gossip have whelped to Brock and both had nine pups. Glam's first litter and she lost one, but is proving a good mum to the eight. I'd prefer smaller litters but don't get much say! She was VERY hungry next morning!
Gossip's second litter so she's an old hand at this….still counting the damage next morning at breakfast time!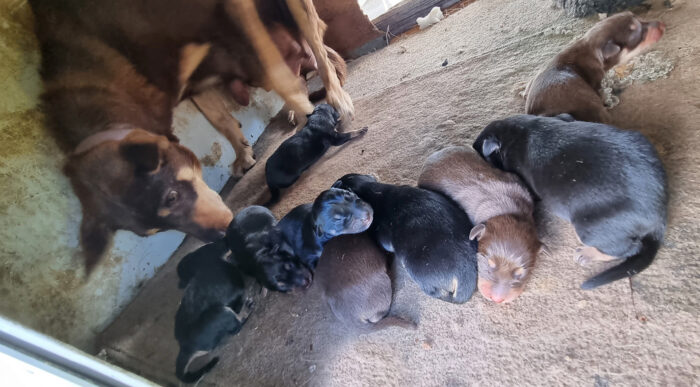 I have been busy getting pups away from the previous batch of litters…only one Remy boy left, a Wills x Mindy boy and a WalxLivvy. I'm keeping a very nice typey boy WalxLivvy, and his sister. Also Jeckyl, a bitch pup BrockxGemma.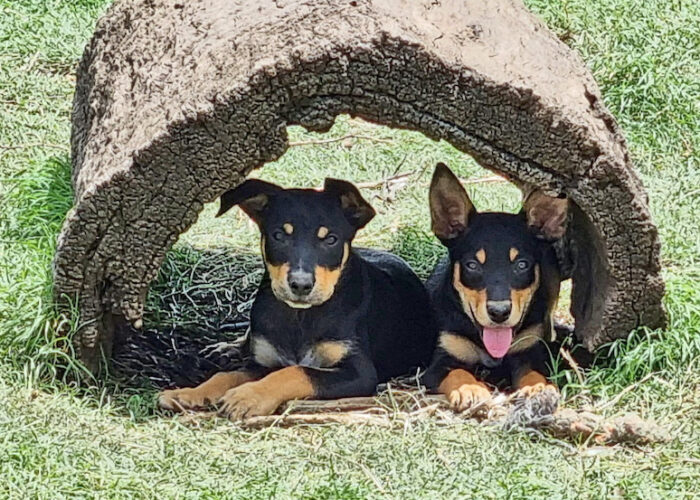 Karmala Mig(Wills x Mindy) left, is for sale. A really nice, uncomplicated pup. His mate is Karmala Lonny(Wal x Livvy) who is heading to Boulia.
This is Karmala Lawry, (H.Wally X K. Livvy)who will be staying around for a bit. I'd be looking to use him later IF his work, etc., is good enough. A quarter of his pedigree is Karana blood, as Wally's by Karana Troy. Troy's by Karana Digger II, Kevin Howell's good old dog who won the National Kelpie Utility Trial three times, and innumerable other yard and utility trials. Digger had Capree Watch on both sides of his sire's breeding 3 gens back, and his dam also had C.Watch on both sides 2 gens back… Interesting breeding. Wally is out of a full sister to my good stud bitches Gemma, Lily and Tilly, so when he tested clear of CA I was really keen to get some pups by him, having been dodging Watch(as a known CA carrier) for nearly 20 years. I am also keeping a bitch pup from this litter K.Luvvy,  K.Lizzy is going to New Zealand and John Halsted has the third bitch,K. Lucy.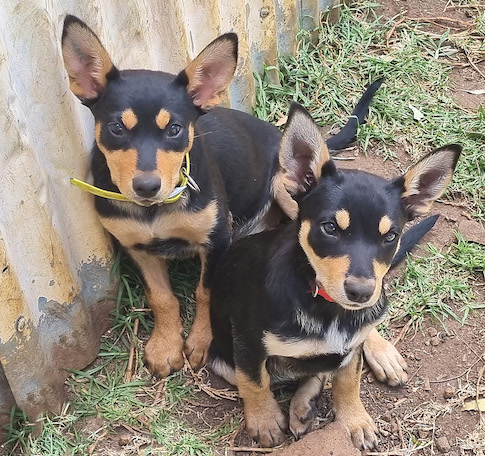 Jeckyl (Brock x Gemma) is a keeper….and Remit(Wal x Remy), a beautiful, sensible pup who would have been gone long ago if he'd been born a girl!
And below are the WallyxWhitney mob, cracking pups. Named after well known singers from the top….
Chrissie A, JohnnyF, Kate M.H, Tina A, Barnesy, and bottom, Missy H.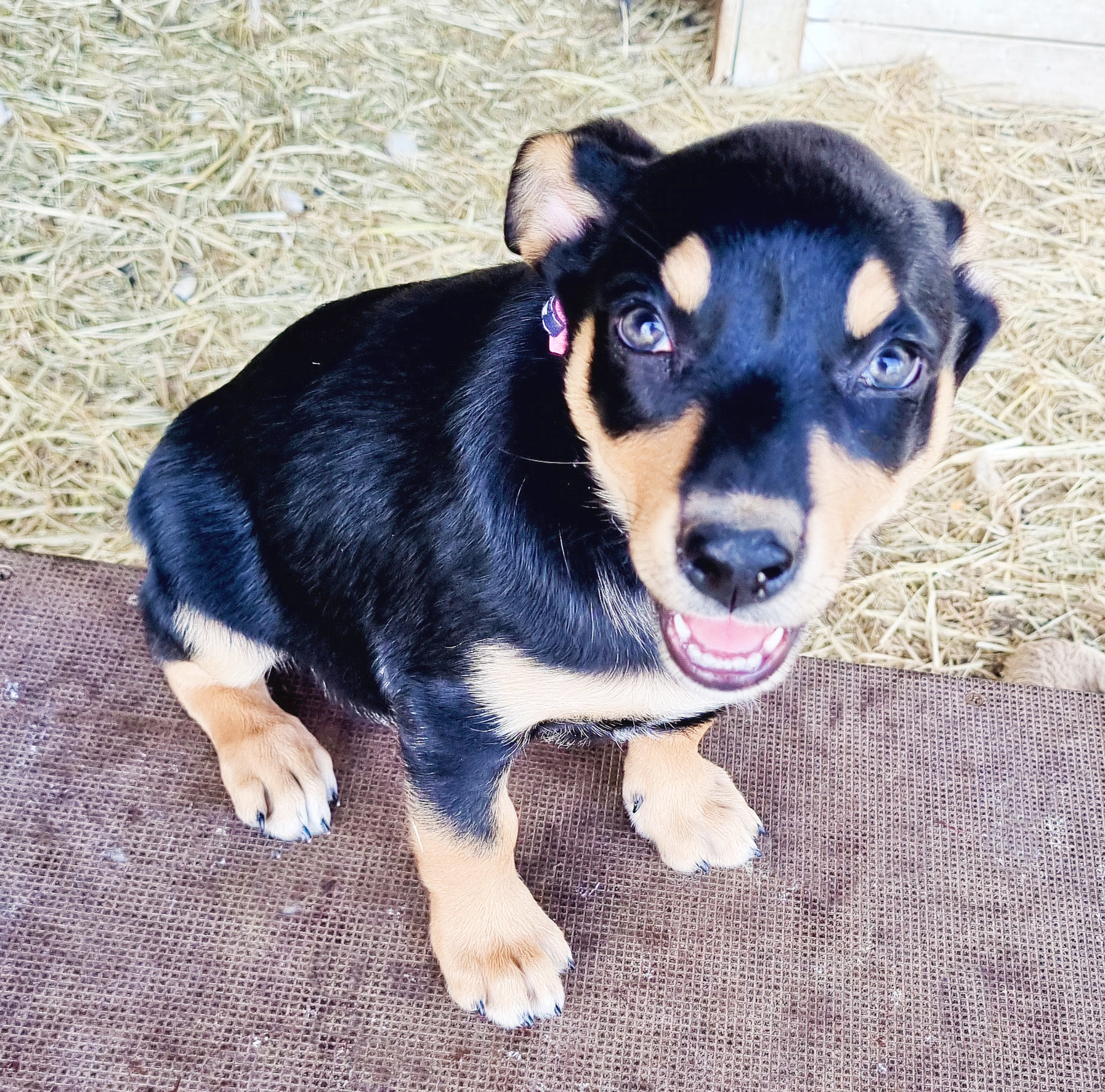 I have two pups booked to fly to New Zealand next week. Karmala Laddy and Karmala Lizzy, both  Halsteds Wally x Karmala Livvy. They're going to a very good dog man who is also a rare commodity… a Kiwi and also a Kelpie fan! He already has three Karana blood dogs.
Here's sad story which might save grief down the track for you…… Mindy's nice litter of pups by Wills was ready to go, and I suggested Chris take her for some work when he got his two pups. He was really pleased with her work and said she reminded him of Max, her sire whom he owns. A week later a phone call from him. They were having a storm and as he looked out the window he saw a big lightning strike and Mindy jump, jerk, and drop on her chain. Nearby dogs were fine, tree next to her was fine. He thought she'd got a fright and broken her neck. When he went out later he found a black burn scar on the chain clip and it was partly welded to the collar ring. She'd been electrocuted, apparently by the charge running up the wet chain. A freaky and very sad end for a very nice little bitch. Thankfully we have pups from her by Wills and a full brother K.Marnus is working well for John Halsted; I hope to mate a bitch to him down the track. 
RIP Karmala Mindy(Glendon Ricky aka Max x Karmala Poppy)
The two dog pups Chris has on the left, and the little bitch I've kept on the right, Mim(Max x Mindy).
I have my eye on a couple of nice red/tan bitch pups in addition to little Mim, above right. They are Luvvy (lower)and Kate(WallyxWhitney) top: