November 2023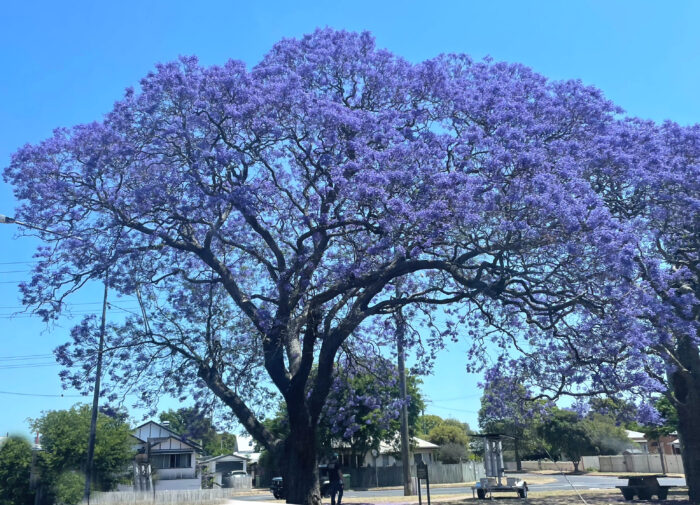 No rain since I did the blog for October but the jacarandas in Toowoomba are magnificent!
Well, so far as health went October was a bit of a battle. I got a nasty cold and as it worsened tried to get to a  Dr to avoid pneumonia…was given the most pathetic anti biotic that I probably developed immunity to 50 years ago and got it anyway! Have since realised that you need to use shock tactics to get the right response, so when I went back I mentioned having had cancer, a PET scan, and seeing my lungs lit up at the bottoms in the scan! Seem to be OK now but hurt my back as well and have been staggering around at a very moderate speed for a few weeks.
The Spring litters are arriving and the hot weather today has some of them screaming for cool! I put the sprinkler on Midnight and Sandy's kennel and gave Mina's a wet towel over wire mesh. That's done the trick. Livvy's are down in the hayshed and wrapping themselves around the big metal water container but it isn't big enough for eight. There's a good through wind though, so all good. A horrible day and so tough for the firemen trying to control all the fires. So sorry to hear Grant Hutchings has had a really bad time with the fires.
Emma came down for a couple of days last week to give the pups a run; the first four older ones all went very well, it was only their second look and they surprised us. Em then tried her Comet x Midnight girl Capella, but she hadn't seen sheep before and didn't really know what they were so we put her away. After lunch Em took Mystic(Landy x MinMin) down and we both went WOW!! I came back to the house for my phone to take a video while Em caught her, and I'll put it here. It was posted on my Karmala Kelpies Facebook page on Saturday and by Nov 13 had 91.4K views and 2.1k likes!  
This is Cassie, 7mths . Her sister Capella worked in a very similar way on her second look. Nice girls.
The three pups we kept from the Gibson x Elwanvale Sunny litter we nice too. This is Sun, my favourite, an exceptionally calm pup but has plenty of grunt when needed.
We continue to get far more dog pups born than girls, so anyone wanting a nice dog pup will have a good choice. To encourage people to get a dog I've put up the price on the bitches to $1500 no GST. Livvy's litter to Gibson is just lovely, I took some photos yesterday when I cut their nails. Liv didn't want to feed them, but she's a lot happier today.
Poor Sheps Sandy has had a bad time with mastitis which has ended up with surgery. Just hoping the pups don't suffer from the long course of ABs. Hopefully the addition of healing herbs and kefir will help them. I suspect it's not the first time she's had it. We bought her last year and she took a long time to get over a kidney problem so she wasn't mated. No more pups after this, anyway. Disappointing, but she's working nicely now and is a very sweet girl.
There was an exodus of the older pups in September with two flying to Japan and the Brock x Cara pups leaving. This young lady now helping on a stud in SA!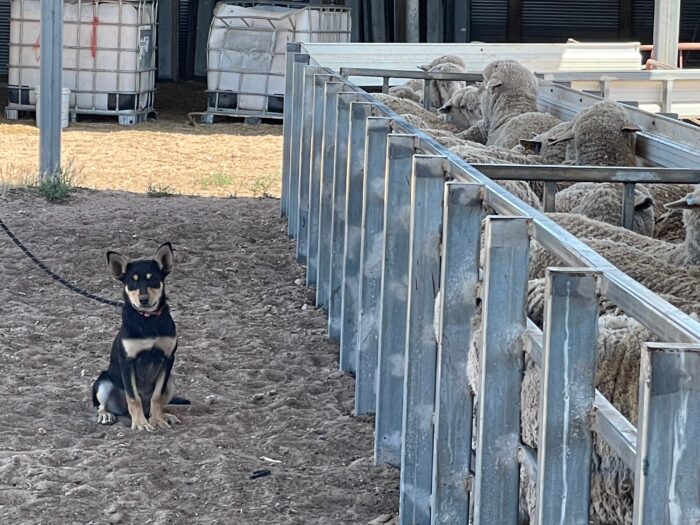 She had quite an adventure getting there when the plane was delayed. A drive through peak hour traffic was a bit scary, then a stay at a hotel overnight…good to get home next day! First time tied up, 2 days prior!
She must have impressed because she's been named Queenie!
Friday Nov 3 as I do this and it's raining, first time for months. Long may it last, especially in the fire areas.
Barney has gone back to Lynnton Martin, his Naka litter is due tomorrow. Mina has 6 beautiful big fat pups by him, and Clover should be in pup too. I took him and Gibson to be collected as an insurance, they're both lovely dogs. Barney had a trip down to Victoria with Neil to put some goats on the ferry to Tas.!
He seemed to know what was going on, as soon as Neil opened a door he flew in!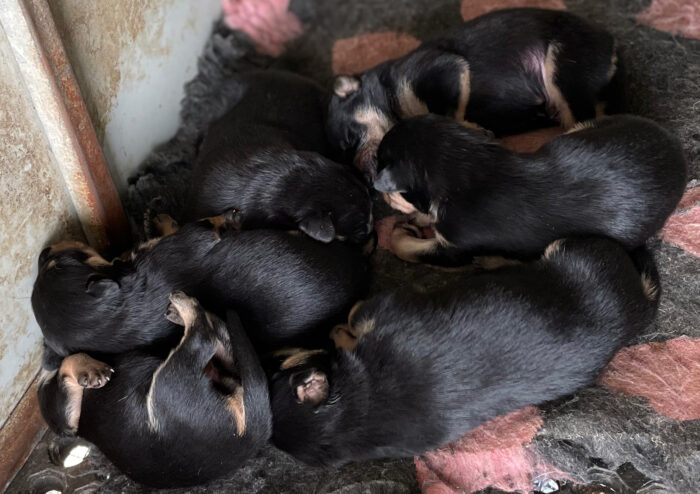 MIna's litter by Barney(Karmala Vlad)
To finish, here's a lovely photo of two Mick x Wiggle pups from two litters taken by Greg Kings…and the sister I kept.
Greg has a very nice bitch from the Apex Ace x Karmala MinaWyllie litter going nicely on sheep. She's for sale. Has been working sheep and has been handled well. Video available.