NOVEMBER NEWS 2016
This year seems to be ebbing away at a rapid rate! Quite dry again here after a good start to spring and a wetter than usual winter. My lambs are looking great… and the ewes look as though it's time to wean them! I was hoping for a nice green pick for them to go onto, but might need to buy some more hay.
Lily has a nice litter to Wilson, now two weeks old and luckily four bitch pups to choose from. It will be great to get another couple of bitches by Wilson to go forward with.
Wings has been on heat for the first time and has certainly inherited her mother's "Queen B" attitude to other dogs, including any dog trying to mate her. Polo, her half brother and also a creamy, seemed to be the only one in favour and we weren't exactly on the same wavelength re that idea! It won't hurt for her to miss this time as she's a lighter framed bitch and needs to mature, but I am still very anxious to get a litter from her.
Cara has a good litter to Karmala Landy with Marina Angel Smith at Texas, and Fizz has whelped to Polo with Emma Zeimer at Bracewell, she's also doing a good job with the pups. I very much appreciate these friends helping out with rearing these pups, especially at present as I've had a few health issues. Unfortunately Kailua missed out.
It's been great to have received some phone calls recently telling how well pups are working. Chris Mylett from Cooyar bought Zorro(Wilson x Quiz) some time ago, and later agreed to take Buzz, from the same litter, to try. He phoned a few weeks later sounding very happy! A weekend of cattle work with some visiting dogs had stirred Buzz up and he had finally 'switched on' fully. Only complaint was an ongoing squabble between the two brothers about who was boss…well that would turn out to be Chris, I hope!
Another happy customer is Andrew Downes up at Bell who bought Pete(ChopperxPeg). He'd only had Border Collies before this, and was short of dogs with only Pete and a young collie pup; luckily these two are working well as a team with Pete doing the nice mustering and lead work and the Collie providing a good hard nose bite when needed to block up. Andrew's delighted with the change in the way his cattle have settled down and are cooperating. 
Over the last few months I've been visited by three photographers from the Brisbane daily, the Courier Mail. The last lass, Tara Croser, took some lovely shots of the Wilson x Heli litter. I think there were better ones than that finally printed so will post them here. Clare Armstrong did a nice comment which led to quite a long chat to Loretta on ABC Drive.
This  appeared in the Brisbane Courier Mail, Oct. 24th. Other photos by Tara below, courtesy of the Courier Mail.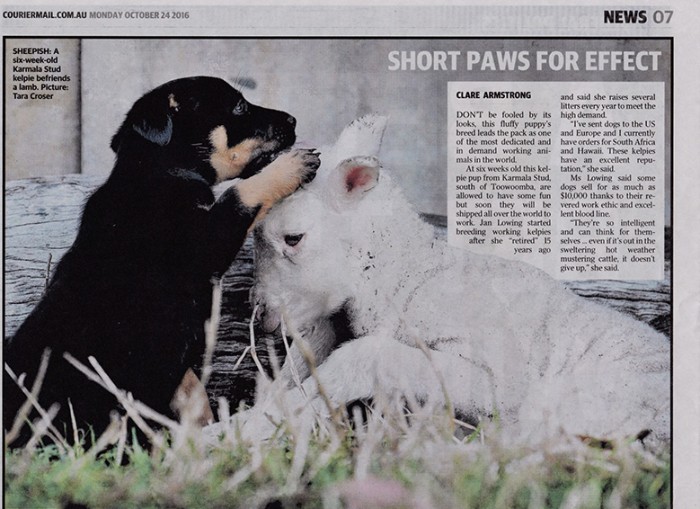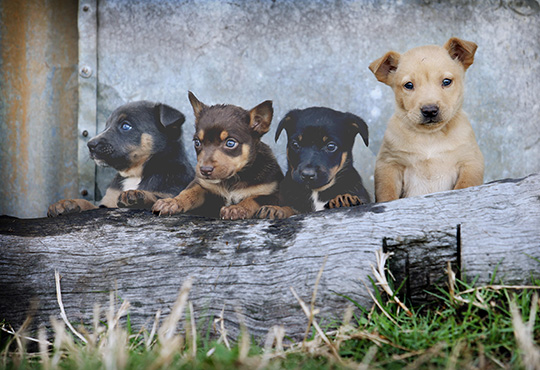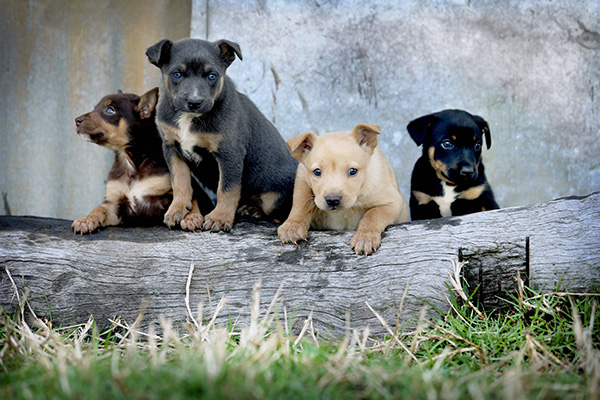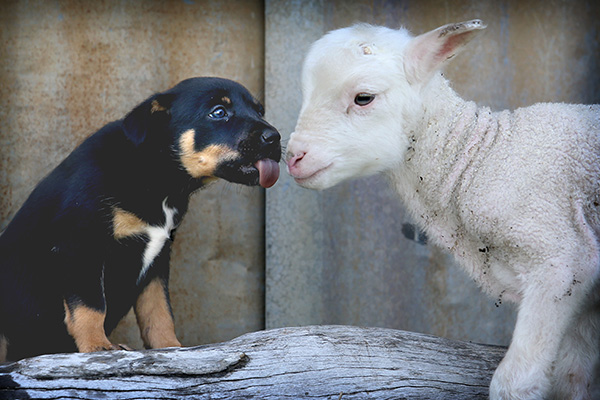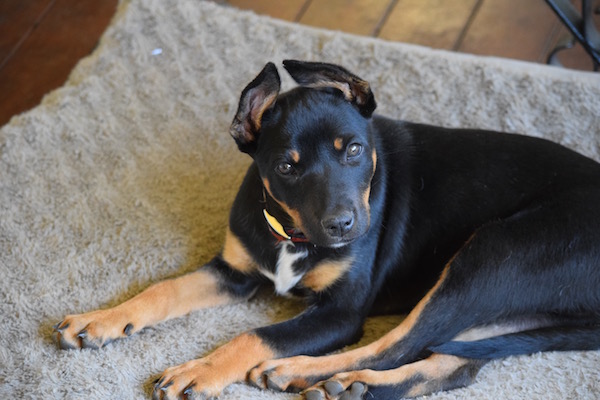 This is Maggie a couple of months after the photos were taken, she's growing into a very nice pup.