OCTOBER 2021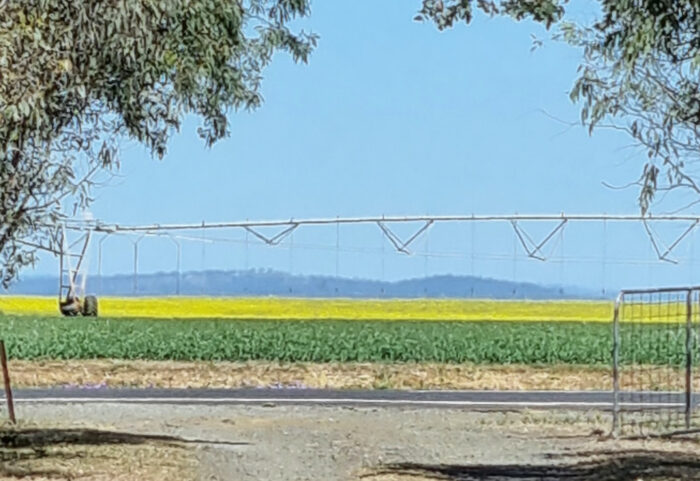 It hardly seems possible that September has gone! Time flies when you're having fun, they say. Well it also flies when you're busy. I'm fortunate that I'm able to do both, because there's absolutely no doubt that raising pups is a privilege and a joy! Added to that the freedom of life style that so many of you have been missing, and I count my blessings daily.
The photo above tells the story of September's weather. We had well above average winter rain and the cereal crops were looking excellent until it started drying out about mid-month. My neighbour across the road was able to water his late barley, but the earlier sown crops have been running up into ear a bit too early. As you can see, quite a bit of canola was also sown for the first time around here. The plan has been to concentrate more on winter crops because watering in summer uses so much more of this precious resource.

The four litters born in August are doing very well and will be starting to go to their new owners this month. The hard part is always trying to match up the pups to their new lives, assessing their personalities and working out the type of work they are likely to be best suited to. I am in the middle of this process at present, so those of you waiting for pups won't have to wait much longer. THERE ARE DOG PUPS AVAILABLE DUE TO MOST WANTING BITCHES.
  The upside, of course, is the amount of time needed to be spent with the pups! These are Remy's four boys by Halsteds Wally. I am really happy with the three litters I have by him, they are lovely friendly pups, there is very little white on them, and they're very similar to the usual Karmala type.
Livvy's litter of eight by Wal.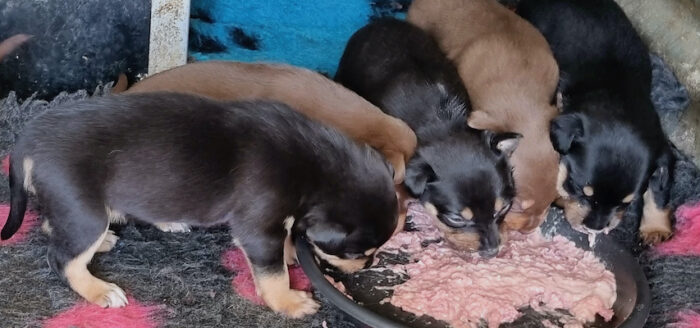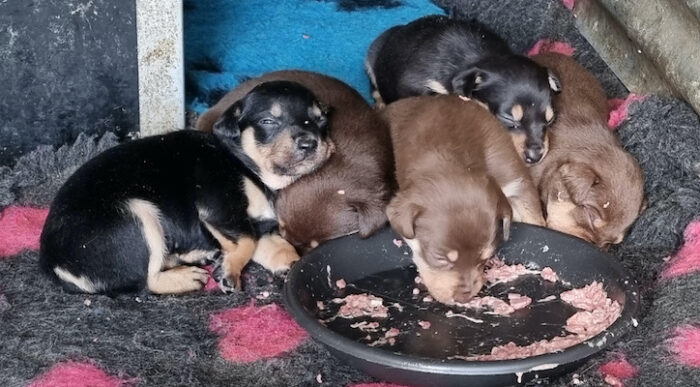 Before and after photos of Whitney's litter by Wal having their second meal!
The other litter, Mindy's eight pups by Wills, is also steaming ahead. The little red/tan bitch was hurt by mum standing on her and had a set back, but she's a real little battler and has recovered well. I have some special mixes from Marina to give her; she won't be sold. A shame when I have a lot of orders for red bitches!  A couple with his trademark. I must confess the little guy with the red collar appeals to me, it's that expression… "why me?"! 
I hope you're not all 'puppied out' by now as we have three more to go…Gemma's three by Brock! 
As you can see, all lovely pups. I let one of my "keepers" from the LandyxBimber litter go after seeing her brother Blye work. Blosse was very lucky to find a home on a Clydesdale stud near Maryborough, I don't think I've ever seen such an instant rapport and brilliant response before……due to the handler's experience with several 'rescue' kelpies, I think. They had been a tremendous challenge, and she was absolutely over the moon to be getting immediate and total responses at last. Here with her new best mate Gunny.
I've been taking some young dogs down to Arthur Crumblin for some training and feedback. Jazz came home mid-Sept. and Givt went back for a refresher; since working cattle with other dogs she's been allowing the other dogs to do the hard yards and just running around ineffectively some of the time. Hopefully she'll get her focus back and can go off to work sheep, for which she's better suited. I was speaking to a friend who had seen her working at Arthur's this week and he thought she'd make a very handy bitch on sheep.( pic below)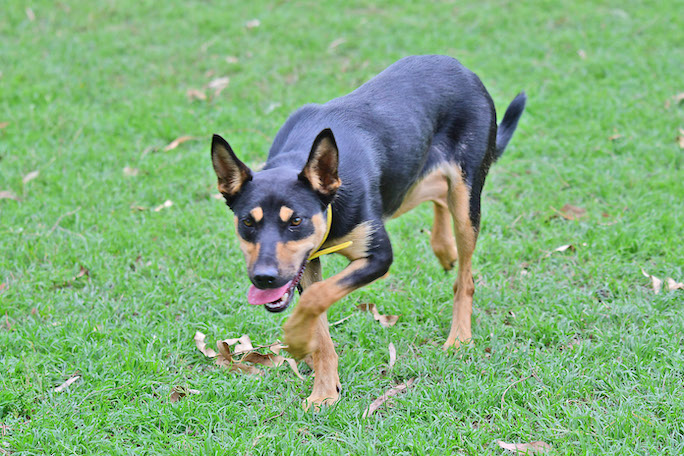 Jazz (K.Paz) is a very nice young bitch by Brock out of Pops who was with John Clothier for a year or so until he decided to let his dogs go. She has a wonderful temperament and is very like her dad. Arthur liked her a lot.
Most of you are aware that I feed a raw diet to all my dogs and pups are weaned onto a raw mince I mix myself, mainly chicken frames and kefir. After reading this recently published book I am even more enthusiastic about keeping my dogs off dry food. Anyone who really cares about their dogs' health should read this! In fact it will cost you a lot less in vet bills if you do, so is a great investment. An abbreviation of the message is in the diagram below…"Grain free" is unlikely to be any better because the sorghum etc is replaced by other carbohydrates which dogs don't need. Ingredients are listed in the order of %age, highest first, on all bags.
I'm well aware that what I feed is not beautifully balanced like some of the "over the top" meals you can see on some Raw Feeding sites, in fact most of those people would be highly critical of my very basic menu…. chicken frames, boned out lamb flaps and brisket bones, with some added pet mince from the Allora butcher which includes scraps, fat and offal. Yes, that's it! And after about fifteen years I have NEVER taken a dog to the vet for digestive, skin, mobility or any other chronic issues. Only dramatic things like Caesarians and snake bites. My dogs usually live to about 13 and die peacefully in their sleep. A perfectly balanced raw, organic diet (as fed by my canine nutrition specialist friend) will see kelpies working up to 16-18 years and alive to over 20 years. Even a few feeds of meat and bones a week will extend the useful life of your dogs, which is only 8 years on kibble.
There is no benefit in feeding more expensive dry food as the same poor and inadequately measured ingredients are in all of them! Standards are for minimum amounts and set by a largely self regulating body(AAFCO… American Association of Feed Control Officials) heavily influenced by the huge manufacturing companies….Mars, Nestle et al. Human food standards require the % of carbs/serve, as well as salt, sugar, etc. There is NO standard like this for pet foods… carbs, salt and sugar aren't mentioned at all, just min. fat and protein! The diets sold for over-weight dogs can cause more problems because a lot of coarse, undigestible fibre is added. The problem was caused by the carbs in the first place.
Vets are brain washed from their earliest days of study because these huge corporations fund Vet schools, provide lecturers, print text books, manipulate studies and are now buying up Vet practices, eg Greencross in Australia. With the long awaited awakening of consumers to the downfalls of kibble feeding, they are now getting into Raw Meals….what next….not hard to guess.
End of rave!!!