September 2019
The long dry continues with lots of wind and dust. Luckily no fear of fires, I'm surrounded by fallowed paddocks. A very sad time for this district with farmers missing out on crops and 'my' wonderful dairy farmers, who have been farming successfully for about 50 years having to send their cows off to be killed.The ewes cut surprisingly well at shearing and came out of the wool in great shape, we were all very impressed. Nothing like dry weather to keep Merinos in good order…and save on drench! I have about 12 lambs with a second lot to come, maybe another 20 ewes.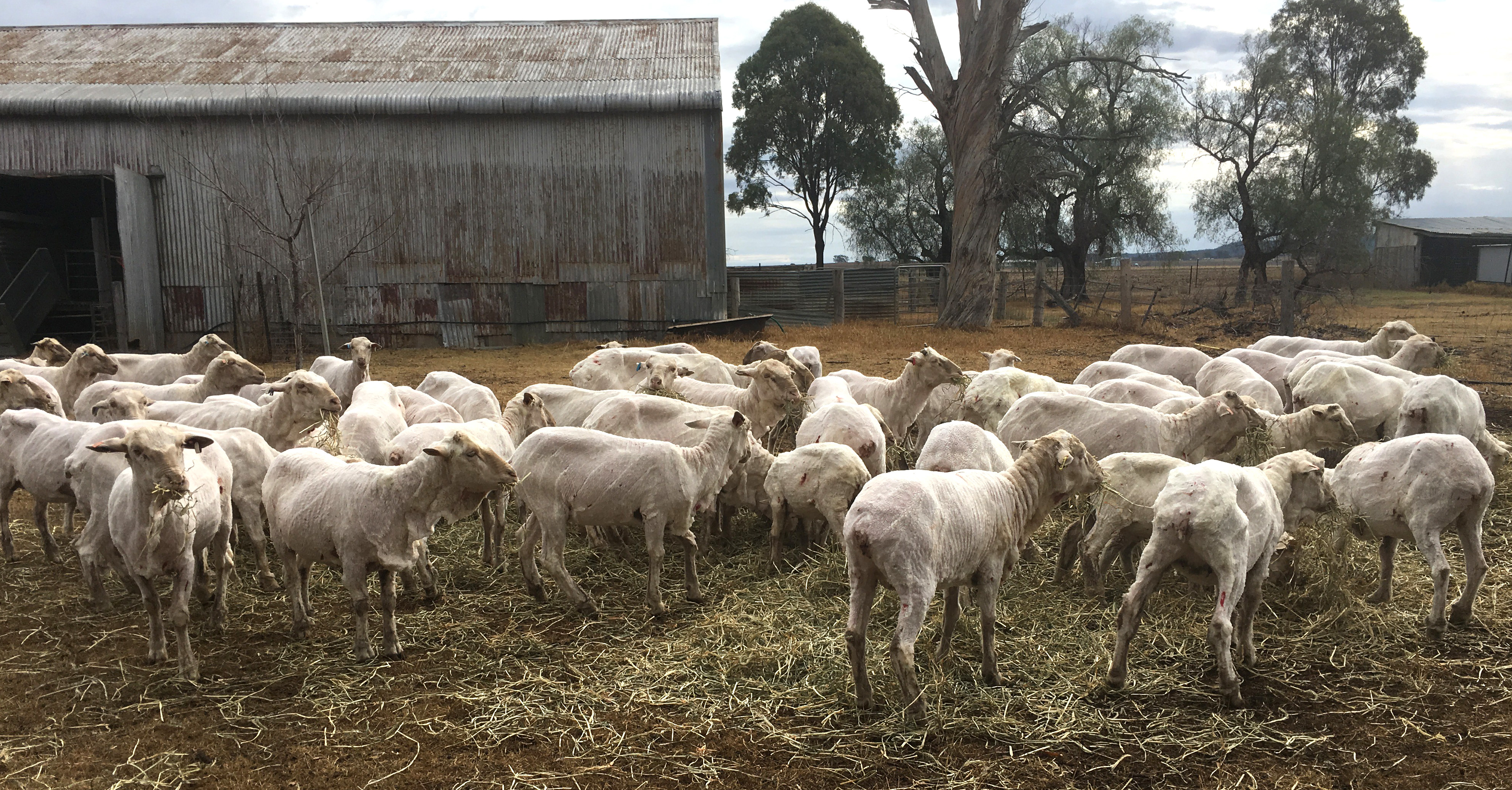 Two of the bitches who had just weaned their pups were very keen to help yard the woollies, Tash and Bimber.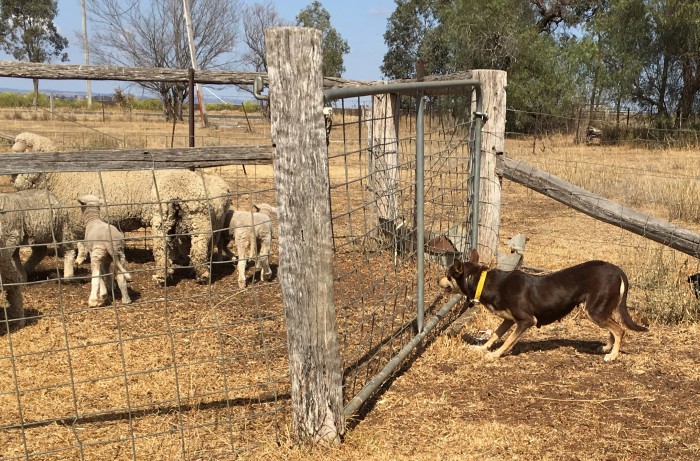 My physio tells me I'm building up more muscle….no wonder, mixing and feeding about 10kg of puppy mince a day! All well worthwhile, the pups are all looking great and starting to move on to their new homes. A couple of boys in this RayxTash litter are still available(2 centre pups and a black boy).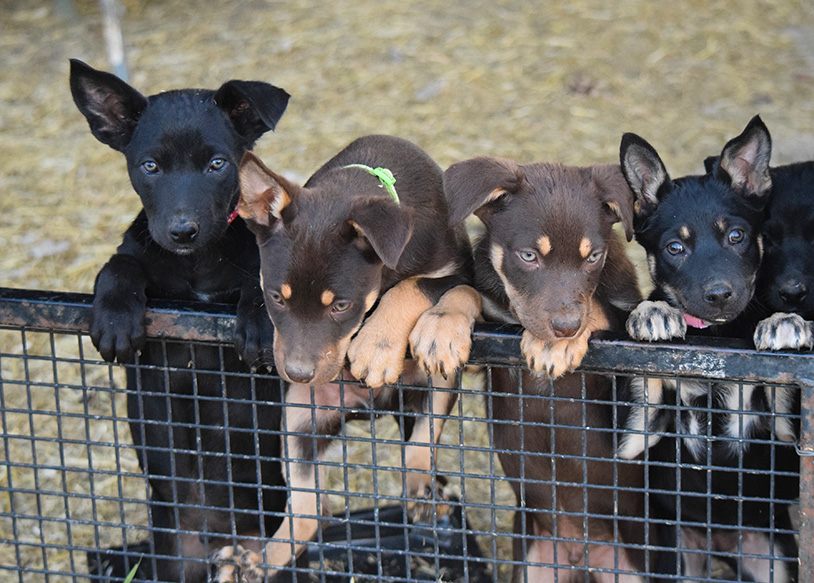 Wills has been on a bit of a working holiday. He came down to Jim Morris at Caboolture where he had some lessons in training harness horses and mated a bitch. This horse got a bit worried and ran a few placings and had a win while he was there helping!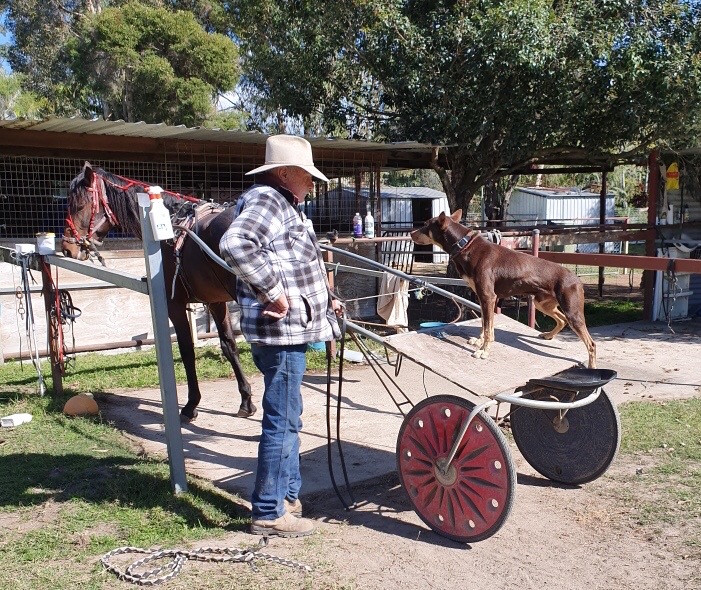 Jim's dogs are kept fit between jobs by following the sulky at training.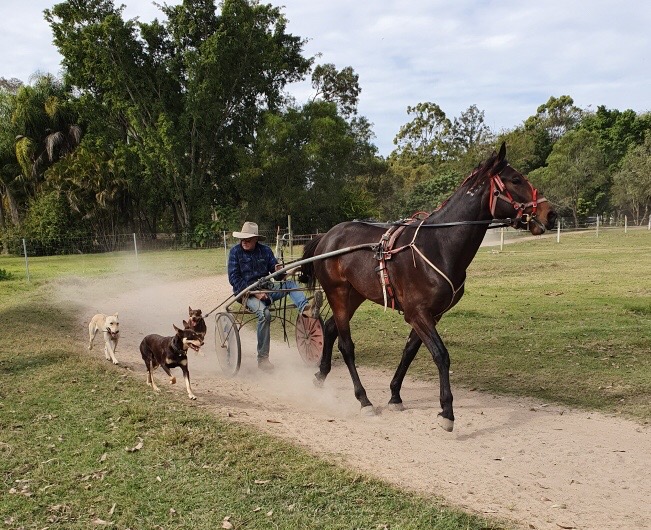 Karmala Classic(Summer), Karmala Wills and Karmala Brigit 
Wills then had a couple of weeks at home before flying down to SA to mate a couple of bitches for Kevin Noble.
Very sad news: Lily died during the month. She didn't look 100% at feed time and died peacefully in her sleep that night. A wonderful stud bitch whose name will keep popping up in pedigrees for some years to come. Above is a small vid of her working lambs.
Her older sister Tilly is still living in retirement down in Victoria and Gemma, the youngest of these three Riana Glide x Karrawarra Gift IV bitches, has just reared a lovely litter of 6 by Wills.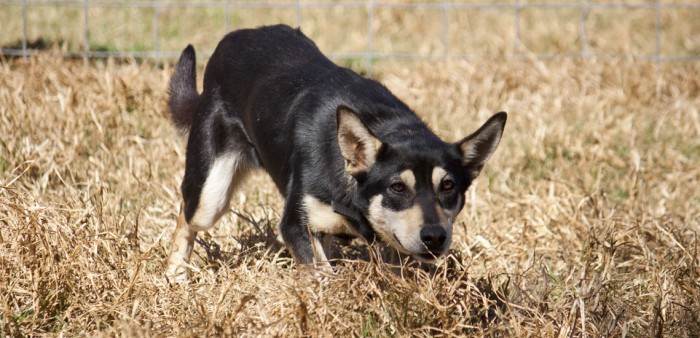 Lily had a wonderful nature which she's passed on to most of her pups, but her lovely stylish work is her greatest legacy. These grandpups are Wiggle's present litter by Landy(Gibbs x Lily)
I have two pups that will be flying to Germany in a few weeks to work sheep and cattle for their new owner. Karmala Google(Landy x Wiggle) and Karmala Birl(Skip x Bimber).
It will be interesting to see if the stock react differently to the two creams as Birl is a lot darker. I think Google is maybe the stronger of the two, she's very confident!
I had a trip down to Goondiwindi to meet Ron Robb with Heli's pups, then went around via Texas coming home to get the LandyxCara litter from Marina…. all lovely pups. Ron kept a big red/tan dog that looked like Changi, his sire. I left a very nice SkipxBim bitch pup with Marina; she might be good enough to mate to Landy later on, but as Marina and I are both very fussy we just have to be patient and wait!
New collars!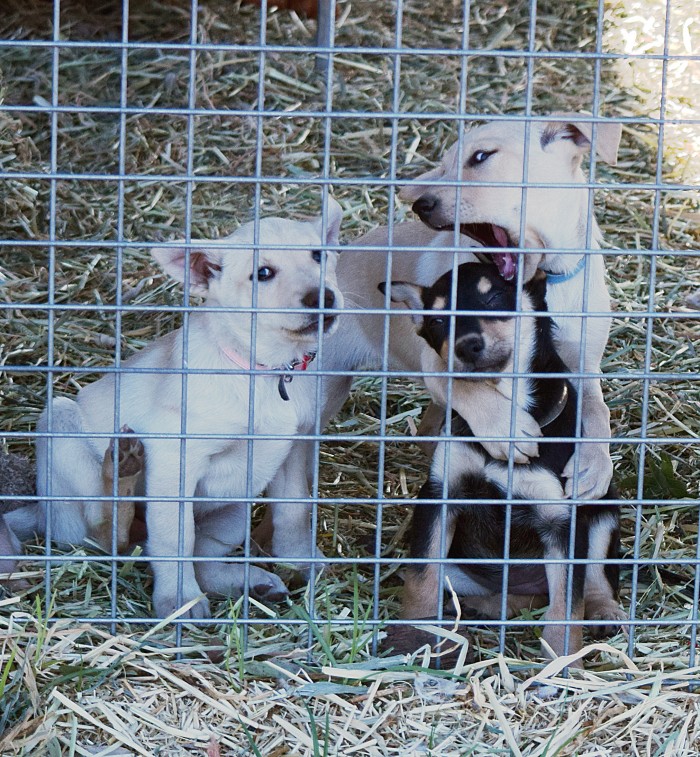 LandyxCara pups……sisterly love!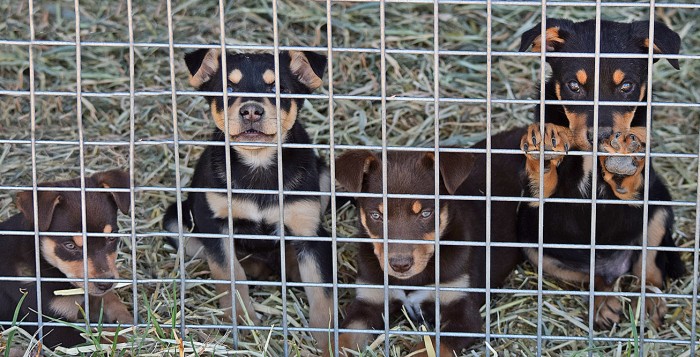 Changi x Heli pups