SEPTEMBER 2020
September already! Spring has certainly sprung here with lots of little pups!
Apologies to those enquiring for a pup, I have been a bit short with my replies of late as the demand has been so high. I have a waiting list of about seventy and have turned down a lot of 'pet' queries. Today I found myself recommending Border Terriers, Schipperkes, Basenjis and Dachsies as more suitable for backyards!! The good news is…..the bitches are trying their best to cooperate and I have thirty seven pups born in five litters, almost equal numbers of dog and bitch pups. (Make that 44 now after Midnight whelped).
So…..44 pups and only 4 red/tan bitches! I added up some orders and discovered 16 female and 6 male red/tans, and 12 females and 13 male black/tans on the first 3 pages of my order book. I'm working down from those who have been waiting the longest and find I'm skipping over a lot of those red bitch orders. If anyone would like to change to a black bitch instead please let me know. 
Tash litter                                                    True litter                                              Some of Whitney's 8
The two earlier litters have done very well, they're now about 4-5 weeks old and starting to be weaned. They've been eating mince well since 3 weeks. Some of the Brock x Gossip pups are shown at the top of the page, the Changi x Heli pups below. All nice pups.
Wills has continued to improve, from outward appearances anyway. I'm giving him herbal brews twice a day in some pet mince. He certainly looks shiny! This should help his body  isolate any grass seed that might have caused his lung troubles.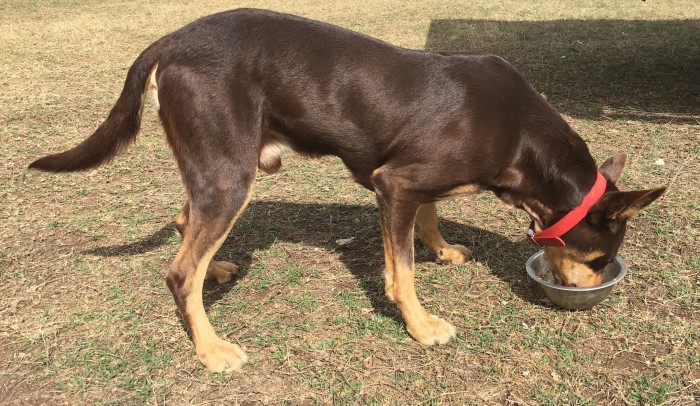 Midnight is due to whelp to Wills next week(7 pups, 4f 3m), a bonus litter as she came on a second time shortly after we thought she'd missed.
Fizz will be next to Whip, then Bimber to ISIS, an interesting Wills dog out of Midnight. I expect some orders will drop out as people find pups elsewhere as usually happens with long waits. If this is you….please let me know.
I took The Navman(Karmala Navvy…K.Harvey x K.Livvy) down to Arthur when I collected Naka. He's a nice pup.
Arthur had worked his customary magic on Naka, we're both pretty happy with her and look forward to some nice pups in the future.
By the way….that wether isn't a poddy!
It's Sept. 3 today. A big day for Ronnie Robb who has been working my dogs out at Nyngan for a long time. He's moving to Riverside Stn. near Moranbah, the sort of work he's always wanted; I'm going to miss the opportunity to try some young dogs on big mobs of sheep, he's been a shrewd judge and provided good feedback to me. Most of my pups are going to work cattle now, so I guess things will work out well, but I much prefer to test valuable young dogs on sheep! All good wishes to Ron in his next adventure!
Cameron Griffiths was able to shear my sheep again this week, which was very lucky for me, not so much for him. He and Tracey cut short a long 'holiday' in Tasmania when the COVID situation became more serious. He is now in a quandary about working interstate as he isn't too keen on spending his hard earned cash on isolating every time he comes home! It seems common sense has flown well and truly here in Queensland when it comes to closed borders. Gladys must be fuming!!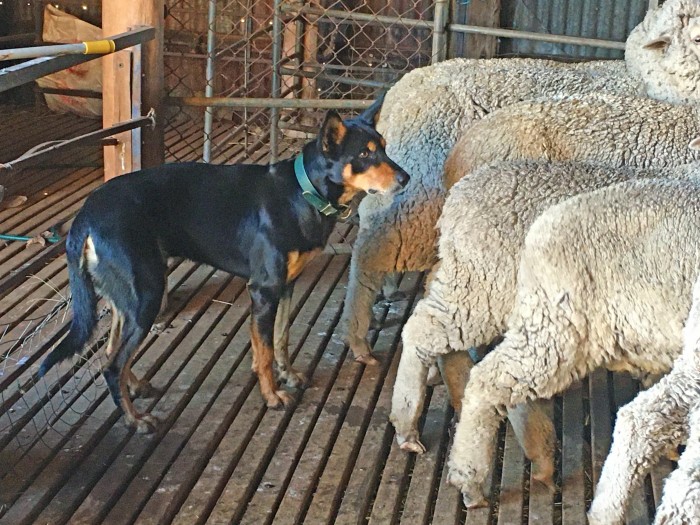 Brock helping draft up for shearing. He's soon going to turn into a cattle dog again!