September 2022
Spring at last! A lot of snow down south last week and more rain forecast here today, so winter hasn't quite finished with us!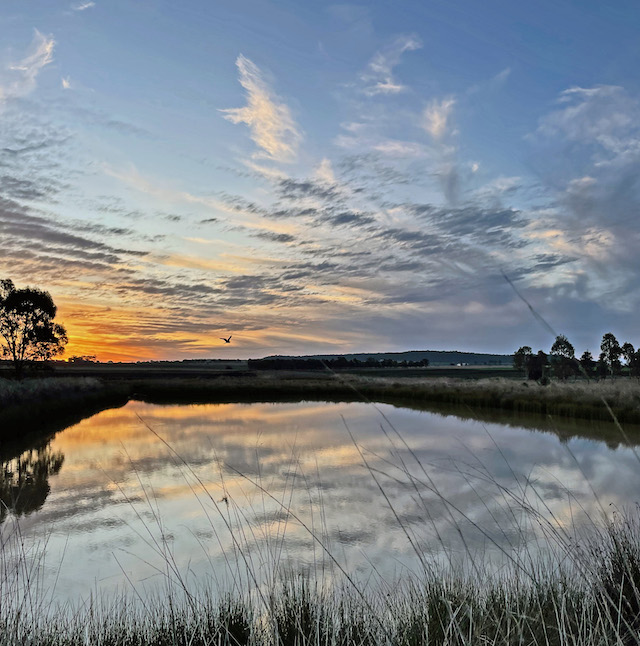 August seemed to fly by, having quite a few visitors added an extra dimension after the last couple of Covid years. I ask people not to go supermarket shopping on their way as I'm not vaccinated, but some can't help themselves! Luckily I'm doing OK and being sure to ignore Annastacia's advice to stop wearing a mask! 
At last count I had just under 40 pups of various ages, 5/6 months to 5/6 days. Some are old enough to be off to their new homes, and seem happy to settle for more attention and love….it's a tough life living with litter mates and having to compete for everything!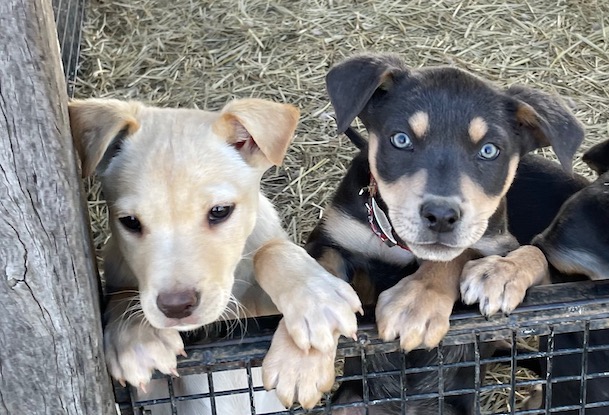 I drove out to Texas a couple of weeks ago to collect the four beautiful Landy x Cara pups Marina had reared. We'd been hoping for a bitch pup from her, but no such luck. It's been a long time between litters as she had pyometra and Marina has done a wonderful job getting her healthy again with her herbal remedies. Vets would have spayed her! We're hoping for one more litter from her before retirement, hopefully to Gibson or Wills. Three of these pups are available and would make a good investment as a potential sire, line-bred to Riana Glide.
The cream boy is Clem, who is the leggiest of the four. He reminds me of a nice full sister I had called Classic/Summer who had a great cast.
Next to Clem is Claude, the fattest and calmest at present, although quickly learning to forage for his tucker after a superb start in life with Marina's perfect organic diet! You could never find pups better fed.
Lower left is Clarrie, a smart boy and maybe a bit lighter built than the other black/tans. Next to him is Clive, who is going down to John Halsted as a potential sire. He's the calmest and most like Landy, Marina says.
Some of Livvy's have gone. I've had trouble deciding which bitch pup to keep, it's one of these two. I think I'll put off deciding for a bit longer as I like both! (2nd from left, and right.)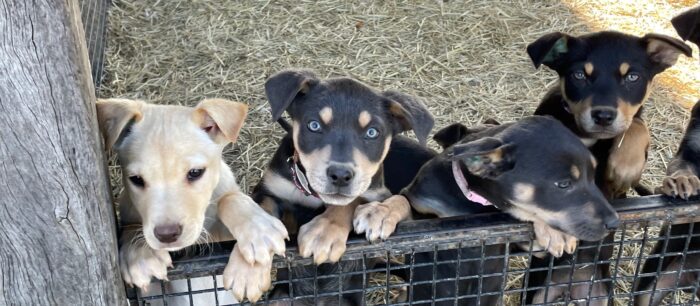 Midnight has done a great job with her four, plus helping out with a foster for  few weeks. She's really into the motherhood deal at last…she had a late start and found it a bit much!! This time she's been perfect. The day I put the pups out into a run she was pretty funny, saw her shadow on the shed wall and began digging to get to the invader!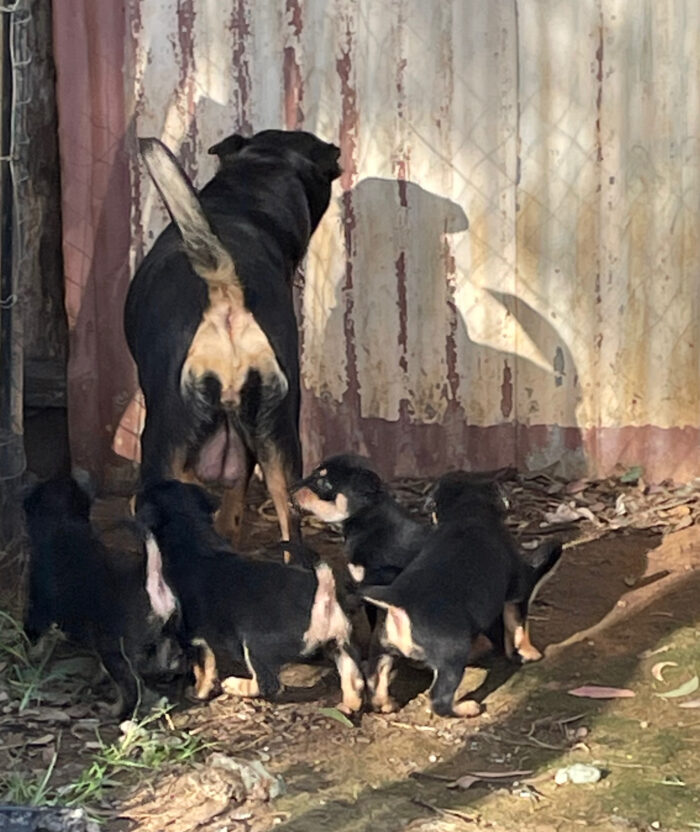 Midnight pups…. these are booked up.
Heli's also done a great job with her four girls. As you might guess, it's a great time waster when they're this age especially when I have my phone with me for photos. There are pups for sale in this litter.
The Wills x Sunny pups are doing really well now. Sadly, the smallest one didn't make it.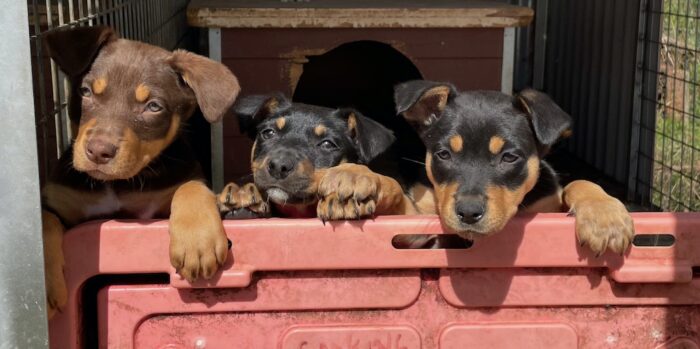 The Sunny girls, centre pup for sale. RH pup is going to the Chatham Islands off NZ!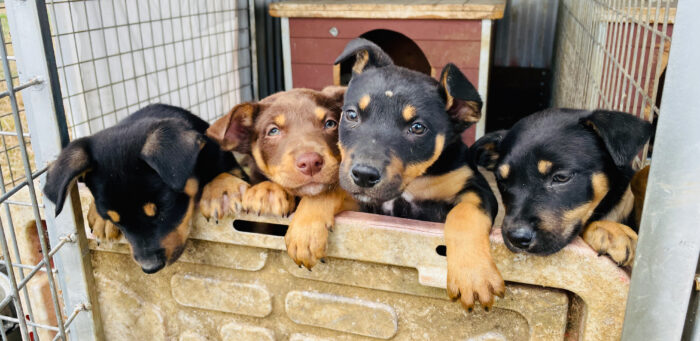 The Sunny boys … All available for sale.
As usual I got a better idea of this litter once it went out into a yard… a bit later than usual because of the 10 frosty nights in a row! SO, the two red/tans are the fastest eaters=heaviest pups! The bottom pup is the calmest b/t, nice boy.
Meanwhile up at Mt Larcom Em and Derek had been busy looking after Mina's litter by Apex Ace and Tash's 4 survivors. Tash seemed to whelp early and after much consulting of dates I've decided her pups are by Gibson, but will do a DNA test to be sure. I'd wanted to get her in pup to Cap, her 'nephew', to breed back to Riana CashII, but she's never been very cooperative! We've finally given up on her and she and Remy are being spayed and retired from breeding. Tash just lives to work so should be happy doing just that. I love the photo of Em with Rose and the pup. The little light tan girl is sold, the two boys are available.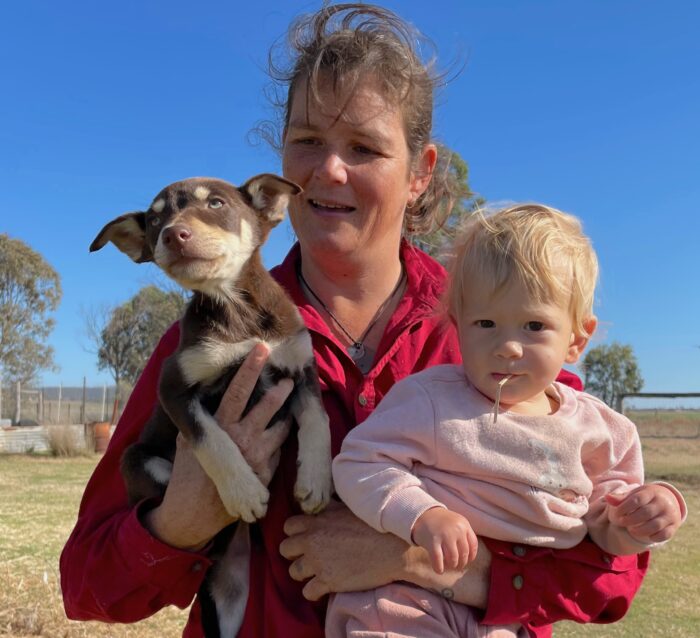 The latest arrivals are McKenzie's litter to Blye, a nice young dog by Landy out of Bimber. Photo on R below was taken before she whelped with her sister Mina. Video on Youtube of them working with Tash. 
While the Zeimer's were here we went over to Arthur's with about 6 or 7 big pups to try on my quieter wethers there. They were a bit distracted by the ride in the trailer and wondered where they were when they got out….but all showed interest and will work better next look. 
They were weaner breaking up north and Derek took a few photos for me on my old Nikon. Here's Luvvy(Halsted's Wal x Livvy) who's settling down well….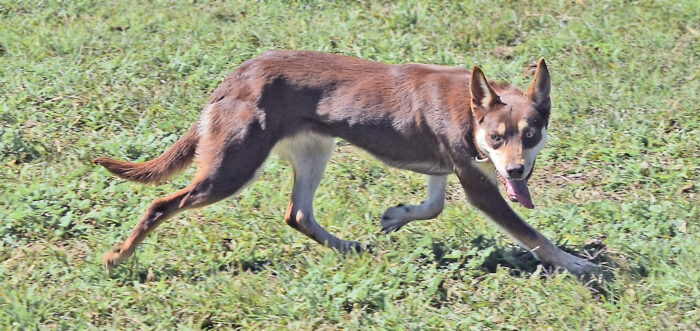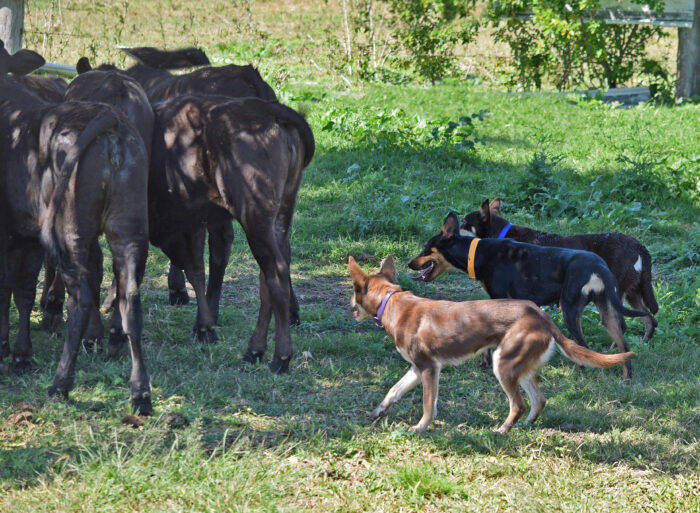 Luvvy, Mina and Tash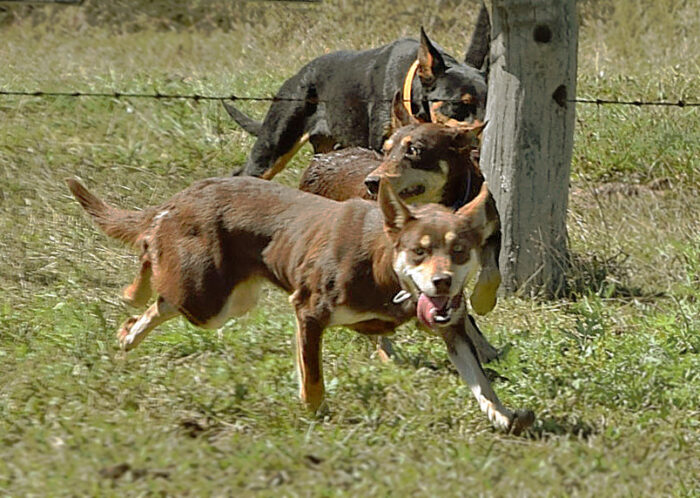 Luvvy, front, Tash and Mina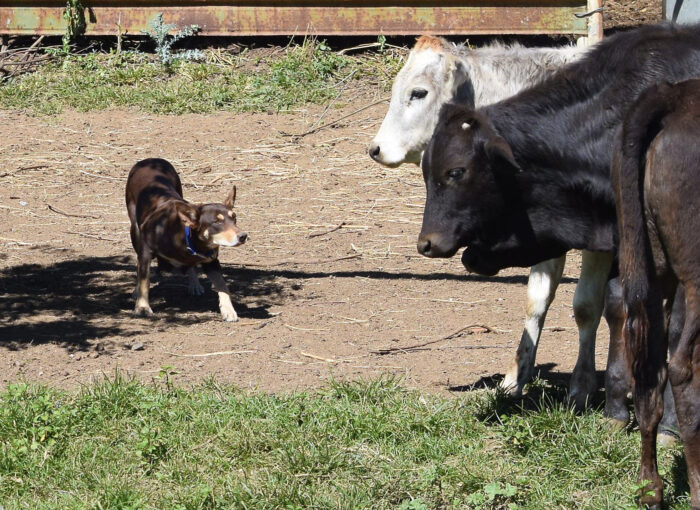 Tash