SEPTEMBER NEWS, 2016
We're having a good start to spring, nice rain last week and the feed coming away. Great for the ewes and lambs, I haven't had to feed too much this year with the warm winter.
My long-awaited 3/4 'Scanlon' litter is doing really well, Mat Larkings and I got pretty excited about these pups!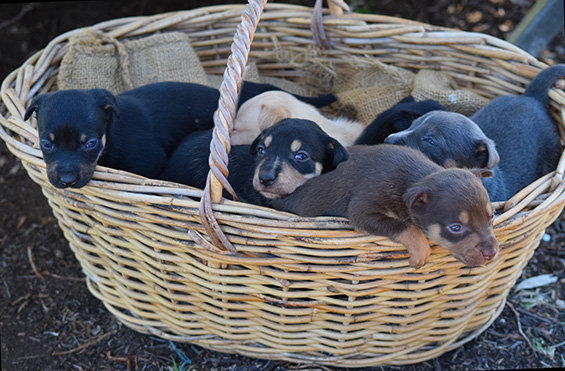 It must be one of the few around carrying so much of that old blood, I'd dearly love to hear from anyone who has some similar dogs. The pups Chopper and Wilson are leaving are quite different, real old time stock dogs with no  unwanted genetic baggage: a tribute to good selection and hard culling, I guess. I'm so lucky that Mat was generous enough to lend me the old boys, I hope the pups he gets in return don't disappoint.
There's been a gap in pups available with a few months when no bitches cycled, but that changed late August with Lily, Gin Fizz, Cara and Kahlua all coming on heat. It can be tricky when old dogs are expected to cope with more than one bitch in a few days; Wilson decided that Lily was his pick this time, so Fizz has been mated to Polo a son of Chopper. Marina had Cara and Landy at Texas, so we decided to try them, Landy has been breeding some nice pups. Kahlua was still down in Sydney after missing to Glen, so I got a very reasonable quote from GTE Dog Transport and Garry Sharrock very kindly agreed to try her to Karmala Tubbo/Turbo (Whitehead's TrackerxKarmala Lyddy). Garry lives in SW Victoria and at four years of age is finding Turbo really hitting his straps, he came second in the Sheepvention Farm Dog Trial, one of the trickier ones around.
I received some very nice photos recently from Jenny James, Hidden Valley Station, NT. Jenny has a few of my dogs and a team of others. She has done a really great job handling their weaners for some years now, and this year I had to laugh when she said she was getting bored, the weaners were so quiet, being born to broken in mums. It's a different world up there where self sufficiency and innovation are essentials to survival; it would be a great idea to get some politicians to visit and get a new outlook on life….not that Jen and David would think much of that idea!