The Karmala Working Kelpie Stud

FAIRDINKUM

HERITAGE

KELPIES

The Karmala Working Kelpie Stud was relocated to Queensland from Western Victoria in 2001. It is now situated at Nobby, about 40 km south of Toowoomba.

The Australian Working Kelpie is a breed developed to suit our demanding climate and large pastoral areas, but has proved an amazingly adaptable dog. Originally intended to work sheep, kelpies are now used to herd just about every variety of stock and are found world wide. The Working Kelpie is not to be confused with the Australian Kelpie which has been bred as a show dog, and has lost most of its herding ability and many of the original traits the breeds originally shared.
My aim is to breed sensible dogs who can work naturally and cause their owners as few headaches as possible. I have no time for very excitable, stock-crazy animals. They must value their relationship with their handler to a high degree and want to please in their work. Highly respected Kelpie breeder, John White, wrote in the WKC newsletter:
"I always select a dog that is friendly, wants to be with you, to work as a team with you. You can tell those characteristics at a fairly young age." I couldn't agree more.

I like dogs that can work with a little distance off their stock when young and keep a small mob together.They should be happy to hold when they have them balanced. My dogs should also be capable of firing up for yard work… I don't guarantee that every pup will comply exactly with this description, but some do, judging by this email received recently entitled 'Zen and the art of sheepdog handling'…..
"The experience of working her is exactly the opposite of any other I have had with kelpies. It is veritably tranquil; I can hear the wind blowing and the birds chirping instead of myself yelling and screaming obscenities…. it is akin to zen!"

I know just how he feels. It was many years before I owned a really good, well bred dog. Once your stock work becomes a pleasure and you start looking forward to taking your dogs out, you'll never settle for second best again.

In the last few decades, with the increasing use of bikes for mustering, some old kelpie traits are starting to disappear. Many dogs are now used mainly for yard work, and backing, barking, full-on kelpies are in the majority. I prefer an all-round dog that retains its heading instinct, has some eye, and is capable of mustering difficult country. With this in mind, I have sought sires with bloodlines that have been proven in hard conditions where brains and stamina are essential.
With the decline of the Merino in Queensland I have found that most clients need a dog that can work cattle as well as sheep, and that is my aim.

I have accessed old Kelpie families through the Karrawarra and Riana studs and I am very grateful for the help I have received from these experienced stud masters. Tony Parsons (Karrawarra) was responsible for seeking out and preserving Kelpie bloodlines after the fiasco of two World Wars, during which many 'studs' disappeared. His books on the Working Kelpie are an invaluable record of these dogs and are collectively known as 'The Kelpie Bible'. Tony has always selected dogs with eye, style and distance.

The late Arthur Hazlett (Riana) founded his stud on Karrawarra kelpies and was one of the few Kelpie breeders of recent years who finessed the fine art of line breeding. Outside dogs were rarely introduced, and as a result his dogs were defined in type and prepotent. The old Riana dogs retained that stock minding ability that was required by all drovers; they were bred for many years in very tough country and selected for their brains and ability.

It is the relentless culling by these old studmasters, and their singleminded search for their perfect dog, that has improved the breed over the years. No breeder of stock will achieve their ideal unless they have a very clear mental picture of exactly what they want to breed…. and pursue their aim relentlessly. I recently went delving through some old photos and came up with these archival images, below.

I noticed that a recent stud dispersal labelled dogs with similar breeding to Karmala dogs as Heritage Kelpies; they are our heritage from these old breeders and we should value their legacy and strive to maintain and improve it. I have tried to improve the strength of my original lines by the judicious use of related outcrosses to increase strength for cattle work.

The plethora of cooking shows on TV make it very plain that even the finest ingredients can be reduced to a mess unless combined carefully, and the same applies to breeding animals. Each mating here is thought out with one aim in mind…to breed pups that have the potential to be better than their parents. I am indebted to David Hart for his help in working out possible matings with the help of Breeders' Assistant. David has also been extremely generous in allowing me to use his sires, and my thanks also go to other studmasters who have also helped me so much in this way. It fast tracks progress enormously to have access to proven sires.

Because I have little real work for my dogs these days, I try to ensure that any young dogs kept for breeding are tested in the real world. I have been most fortunate in finding some very kind, like minded stockmen to help me do this, and can't thank them enough for their efforts. It surely proves their dedication to the Kelpie breed. With cooperation like this, and by working within the Fairdinkum Kelpie Breeders Group whose members are breeding the same type of dog, I hope to preserve those Kelpie traits that originally made the breed such an invaluable asset. You might like to visit David's blog: http://fairdinkumkelpie.wordpress.com

It's sad that some fall by the wayside in the process; Karmala Spike, Riana Quill II, Karmala Swags, Karmala Codger, Karrawarra Quince and Karmala Pride all died far too young. This has changed my mind a bit about 'proven' breeding dogs. I am now quite anxious to get a litter from a very promising young dog/bitch in case it doesn't live very long. Snakes are the curse of any dog breeder in Queensland.

When breeding stud animals of any description it seems to follow that 'only the good die young'.

As the centenary of the ANZAC tradition approaches, we could also ponder what Australia would be like now if such an enormous percentage of our bravest and finest young men had not been killed in two world wars.

Please view a page describing the small nucleus of bitches and a page describing sires used recently.

Or view some of the kelpies for sale or pictures of some of the Karmala puppies.

The sketch of Akubra is © to Pieter Zaadstra. http://www.zaadstra.com.au/

The maquette of Kelpie for which Karmala Akubra was the model is available from the Bodo Muche studio.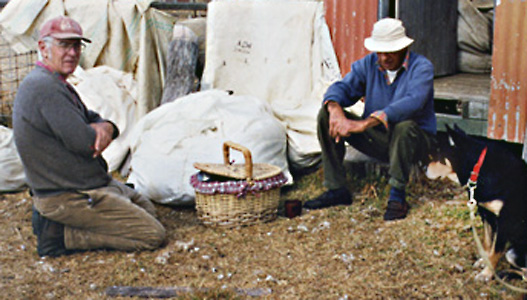 Shearing at Karrawarra 2003. Tony Parsons, the late Godfrey Schnitzerling and Karrawarra Rip III.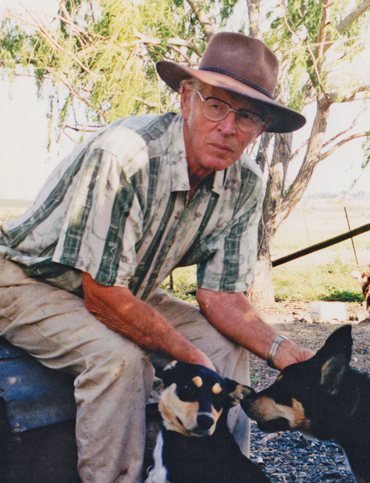 Tony Parsons and friends, 2003.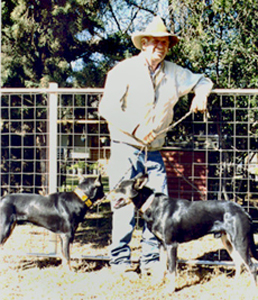 The late Arthur Hazlett in 2006 with sires Riana Lohti and Riana Raddle.
A nice Riana pup looks up to the boss.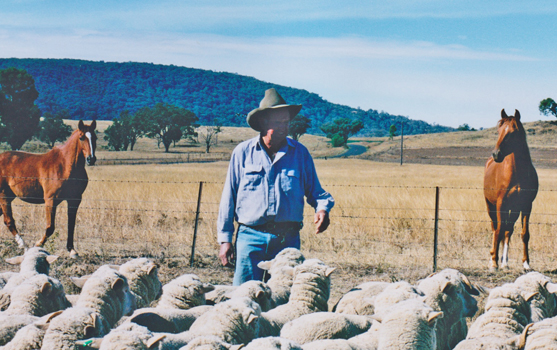 The late Arthur Hazlett with some weaners by Karmala rams and a couple of nice stockhorse mares looking on.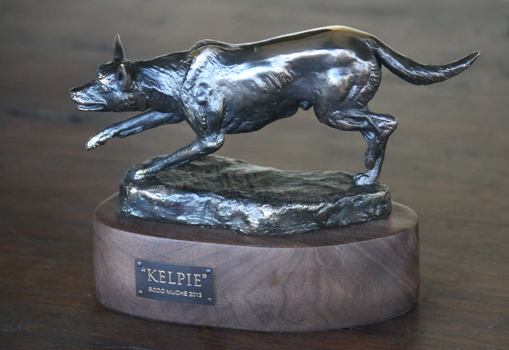 Sculptor Bodo Muche used Karmala Akubra as the model for Kelpie.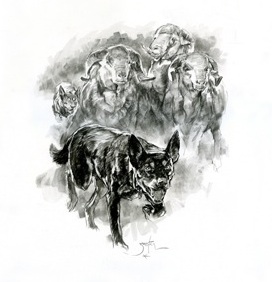 Pieter Zaadstra's study of Karmala Akubra with some of my old show rams.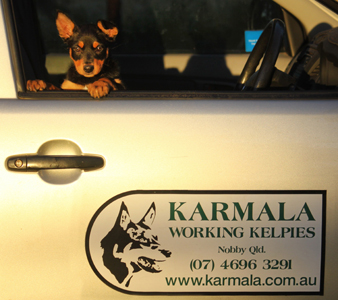 Three foundation brood bitches(left) Karrawarra Gift, Woorivale Spice and Riana Delta Dawn have handed over to the next gen. below...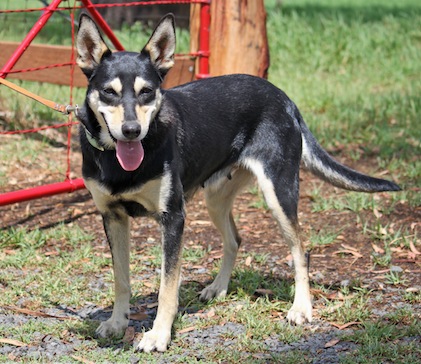 Karmala Lily(Riana GlidexKarrawarra Gift IV)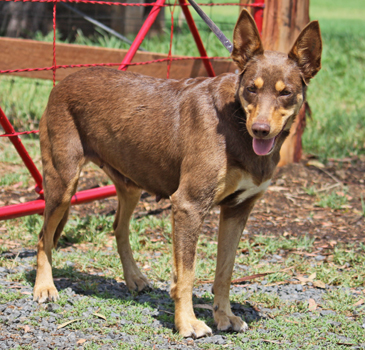 Karmala Brandy(Glendon BennyxWorrivale Spice)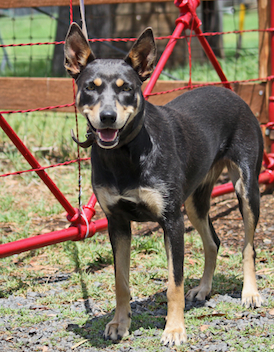 Karmala Cozzie(Karmala AkubraxKarmala Peggysue)Peg is exDelta.




AUGUST NEWS

A lovely extended autumn came to a stop as July began with the more normal frosty starts and nice sunny days. My two granddaughters were here for the holidays and gave the pups some much needed handling. Lily and Brandy have lovely litters; there are a few boys left for sale. It's very dry at present and all my neighbours who planted winter oats are wanting rain. I had an earlier and larger lambing than usual and am at present feeding quite a lot of hay; my back has been complaining about that!

Riana Trixie whelped to Halsted's Jock II last night, just two pups; she's getting on now, so I hope quality will compensate for quantity.

Just heard on the radio that AML have decided that a working dog is worth $40,000 over a lifetime of work, so perhaps I should put my prices up! I try to leave a margin so that if a pup isn't exactly what's wanted when it starts working, there's room for it to be sold on at a profit as a started dog. The owner's entitled to be reimbursed for his time and care of the pup to that stage. What really hurts is the high prices being paid for fluffy little 'companion dogs' that do nothing except look nice!

Due to the above mentioned crumby back I have had more time to spend online, and I am disappointed that some Working Kelpies are being openly promoted as suitable for pets. I don't think the way a dog behaves when taken to a cafe should be a selling point for his pups. My point is: if dogs are selected for certain traits above others, they become the dominant ones and in my humble opinion Working Kelpies should be bred for working ability, soundness and temperament. I know some Kelpies have a wonderful life in 'pet' homes, but only if the owners understand the enormous amount of time and energy they require. I field quite a few phone calls from people in town with frustrated kelpies they have bought elsewhere; the average family with both partners working simply hasn't the time. Apparently Kelpies are one of the dominant breeds found in pounds in Australia, a result of the dogs' frustration and their owners' poor choice of breed.

Gary Sharrock sent me some photos recently of him and Karmala Turbo(Tubbo) competing in a trial at Skipton held to raise funds for the Anti Cancer Council. I have since spoken to Gary and he is pleased with the dog and has given him time to mature before trialling him. Peter Rogers near Balmoral, who bought Karmala True(K.LandyxR.Trixie) in March, has four nice pups by Turbo. He reports that True has started well. Turbo's litter brother Zac is also working very well, see further below.

Long time client and friend, Phil Roche, recently sent this update on his three Karmala dogs, I have included their breeding. Phil does all the mustering on a big property near Geelong running 15,000 sheep. I always enjoy his emails and his astute assessment of his dogs:
Your boys continue along their merry way and working with them gives me much pleasure. Pup(Riana NapxRiana Delta) isn't as young as he used to be and is a bit stiff and hobbly after a days work, but he is still a class act and has taught me all I know about how to work sheep with really good dogs. I hear on the grapevine that the owners often mention around their friends and business associates that the nature of their sheep has totally changed since I started working at Wingeel 10 years ago. Not that they would ever discuss it with me, but that's probably right. I can well remember back in the early days even the most basic mustering job required several dogs and 3 quad bikes and lots of noise. Now your 3 and I basically do all the paddock work on our own. Either way most of the credit would have to go to Pup. Call it presence or controlled strength or whatever you like, the sheep are much easier to move around these days. I reckon it is because he is kind to his sheep, gives them time at gateways and pressure points etc., but they certainly know not to argue.

Taff(Riana RaddlexW.Spice) is a solid citizen and a good honest reliable right hand man for Pup. Lacks Pups class, but I wouldn't be without him either. One paced and plugs away all day, which has its advantages because the old Pup is quite capable of running himself to the point of exhaustion if allowed. Especially true of his younger days.

And then there is Zac(Whitehead's TrackerxKarmala Lyddy). He is worth his weight in gold because his development into a top class dog has allowed me to rest Pup more and save him for the difficult stuff. Zac isn't as natural or classy as Pup, but he is one very intelligent dog and far more biddable. With the ISDS format starting to infiltrate Australia I have done some basic trial type training with him which hasn't done any harm. He works to the whistle and is clever enough to cope with that sort of work, but at the same time I am very conscious of not compromising his ability to work things out for himself. He humours me and tolerates it all for a while, but at the first sign he is losing interest we pull the pin and go and do some real workAnybody who thinks you breed weak paddock dogs should see Zac at work. He hasn't got a natural wide cast but is smart enough to have learnt to go out a long way looking for sheep. The secret is to get him out very wide at the start because he tends to zero in once he finds them. Unlike Pup who drops his outside shoulder and takes off in a lovely wide arc once he finds his sheep. Anyway back to Zac. The ISDS purists would say he comes in too close at the top of his outrun, and I am sure that is right, but I have always been hesitant to mess him around on this because his strength on the wings of a mob of 1000 merino wethers is invaluable when it really matters. Nothing I dislike more than seeing a large mob of sheep coming over a hill in line abreast getting wider and wider as they appear. Like the Indians at Custers last stand. Or the Zulus at Rorkes Drift. No chance of that ever happening with young Zac I can assure you. Having said that he is smart and does work wide on a few sheep.

I was on the move in June, my first trip was taking Trix down to Merriwa to mate to John Halsted's very good young dog Luke. John was good enough to work a number of dogs for me which was most interesting; he has Karana, Wyreema and Karmala lines which are giving him the type of worker he needs. John does all his stock work on horseback and needs strong, sensible dogs that can pace themselves. Hampshire Station is a 25,000 acre property in the Merriwa ranges running Merino sheep and 1200 Angus breeders. I always enjoy visiting, Jill and John make me very welcome and it's like another world away from 'civilisation'!

I brought back one of John's pups for a mate of David Hart's and took him up to Oakwood with a nice little bitch I bred, K.Hannah…or Addie as she's known at home…who was mated to David's lovely young dog Tracker WRX. Addie's owned by Jan and John Dean of Springwood Stud, Allora, and has been living the high life with the pet pig, two goats, their thoroughbred stallion….and some cattle. She worked nicely on my ewes, her first time on sheep.
David was grazing some recently broken weaners around his house and it was a pleasure to watch his dogs working so cleverly 'minding' them and allowing them to feed. WRX is so very like Glide in all ways, looks and work, a classy young dog; another one to catch my eye was Rocky, a big red/tan dog (GlidexSooki) who reminded me a lot of Pud's Pace. Richard Puddicombe had a lot of success with Pace and Signature(Sooki's g'sire) in trials about fifteen years ago. I watched him run Pace in the final of the Sheepvention Utility Trial at Hamilton and was so impressed I wrote some 'doggerel' about it called The Last Run. As it's time for the 2014 Sheepvention this seems an appropriate time to reprint!
Signature came second and Craig Trickey's legendary Skyblue Nugget was third. Mick Bowden ran the trial for years and insisted on a huge cast, despite a lot of pressure to shorten it. John Gedye was the judge that year; he used to joke that he and Scoriochre Massey were so relaxed in a trial that they put the sheep to sleep, hence the little bit at the end…

THE

LAST

RUN

The weather was just lousy in a real Sheepvention way
As the yard dog trialers waited for the last run of the day;
Through the rain they saw him in a pose they all knew well,
Tense and taut, flat ears askance, Pace waited for the bell.
A clang, a wave, and off he goes at a fast extended lope,
His cast and lift are just about as good as Pud could hope:
A bit of fancy footwork and judicious use of eye,
And down the sheep come splashing in a line straight as a die.
Past the peg they travel, and over through the gate,
One glance at this mean-looking dog and they don't hesitate.
Pud closes up the first gate with a deft flick of the chain,
And this veteran pair is ready to work the yards again.
It all looks pretty simple as they box the mobs together
And quickly fill the race tight, sheep sodden by the weather;
Then Pace comes forward to push them out, a master of this art,
And soon he's standing quietly as they flow up through the draft.
The gates all shut, Pud comes across to let the wethers go,
A pause to let them steady, then out the gate they flow.
Pace casts out and gathers them and by the yards they stay,
Until the last gate's opened for an easy put-away.
Back through the rain the three return, John's glad that there's no more,
And the crowd is all expectant, waiting now to hear the score;
Mick takes the mike and tells us Pace has scored a ninety-nine,
And beaten Sig by one, with Nug another point behind.
In years to come we'll all recall that great run in the rain,
When Pace just missed a hundred and Pud beat himself— again.

(Now there's a rumour on the go, John had a little doze,
But he'd only given one click when his clicker finger froze!) ****************************************************
You will see that I've finally learned how to put videos of the dogs up here. It's lucky that the work a dog is doing isn't dependent on the quality of the movie! It's hard doing it on my own as I can't see the screen on the little camera and have to guess.

Brandy and Lily came on heat together to the day…again…and whelped within a day of each other. I mated Lil to a son of Karmala Clyde out of Karmala Lyndy(K.GlenxK.Lyddy), Benalee Chance.
Chance had only worked a couple of times when he almost strangled himself with loose thread from his carpet bedding(another dumb way to die..See below); he showed an incredible will to live and recover, but is blind. (He's a lucky boy because I had two ladies visiting from Sweden at the time, otherwise the $1000 vet bill might have been swapped for a bullet…) They were very impressed by his working ability, as I was, and I felt he was well worth the 'chance' of a mating.
Losing his sight hasn't stopped him doing much at all and visitors find it hard to believe he can't see…he even tries to work sheep by sound and does an amazing job. This mating concentrates the blood of the most influential dogs that have been used in the stud, Driftwood Clyde, Riana Glide and Karrawarra Gift IV, all have a homoz.% of 3.1.

>>>Brandy has also been mated to Chance, she's a bit tricky and my last attempt to mate her to Cagella Rock was a failure. She had one pup a week late, and as he grew up he became a little clone of Akubra; a DNA test has since confirmed this.
She was tried to other dogs this time but she decided on Chance!<<<

Had to laugh when I re read this…Instead of a nice red/tan litter Brandy had another trick up her sleeve…and popped out two black/tan pups. Apparently she didn't hate Landy as much as I thought! I left them together in the run for 10 minutes after she nearly bit his head off and went and fed my show sheep…at least the DNA test will be cheaper, they already have Brandy's!

Brandy's last pup, named Brock rather prematurely… is one of the most promising young dogs I've bred.

I am still of the opinion that I am usually better off sourcing sires that are working hard and showing their brains in the real world. Two dogs from the Riana GlidexKarmala Brandy litter, K. Crusta, with Brad Middleton, and K.Hardy, with Jodi O'Connor are both working very well. Mick Flanagan rang recently to say how well his T.GibbsxK.Brandy dog Karmala Alexander(Zanda) is going; K. Ledger is also working well for him, although slow to start. Very good reports have also come in of the Riana GlidexKarmala Kahlua litter, now working. Julie Turner(Clermont,Q), Dave Turner(Padthaway,SA) and Cailyn Muntelwit(Nebo,Q) are all very happy. The bitch pup Emma Zeimer retained, Gin Fizz, is already reliable enough to take mustering.
Cailyn breaks in a lot of weaner cattle and in a recent email wrote:
Schnapps is the easiest pup I've raised. Super talented but still highly trainable and friendly.Thanks for breeding such quality dogs. It makes working with them very easy.
Karmala Lara(Tracker GibbsxKarmala Lily) had a litter in WA to Riana Cash II last year and Marina is receiving good reports of the pups sold. Lara now has a second litter to Cash and I received two of them a month or two ago….just lovely pups.

I received these photos of Lisha Bennett's two Karmala bitches recently. Lisha has been appointed Elder's manager in Longreach and took her dogs along for a look at Kelpie! Great pix. Akubra was the model for the Kelpie statue. Lyndy has since made the cover of the Longreach Leader!

I have written a song/poem along the lines of 'Dumb Ways to Die' (promo for British Rail, I think) which became so popular on Youtube a year or two ago…only my version is about Kelpie pups.
They must be the most inventive little thinkers when it comes to suicide, these are just a few of the more imaginative ideas they've come up with. No matter how I try, they still outwit me at times so I hope this gives you a few ideas of what to look out for. Check out the original version first!

http://www.youtube.com/watch?v=IJNR2EpS0jw

DumbWaysToDie

Get a fright in a thunderstorm, test out your tree climbing form
Jump up on the kennel roof, to a slippery branch …Oh Strewth!
Dumb ways to die, so many dumb ways to die…

That water bucket half full, would make a good swimming pool
Fall in arse over head, next thing you know…you're dead!
Dumb ways to die, so many dumb ways to die…

A wool pack hung up for shade, chew it till a hole's made
Poke head through the hole and play, hang yourself without delay.
Dumb ways to die, so many dumb ways to die…

What's that wriggling over there? Go check it now without a care…
Sniff it with your nose and nip, get a brown snake bite on the lip!
Dumb ways to die, so many dumb ways to die….

Go exploring along the drive, about the worst way to stay alive…
A big truck comes roaring by, another fail-safe way to die!
Dumb ways to die, so many dumb ways to die….

Kelpie pups grow very fast, but frequently they just don't last
Keep a jump ahead of the pack, or the breeder will see you back!
Dumb ways to die, so many dumb ways to die….

My grand daughter thinks I should give a copy to all my pup buyers….sadly, I have been told of material for a few more verses already.

GENERAL INFORMATION
The two criteria I use when selecting pups early on are temperament and breeding, I have confidence that they will work because only a couple of pups I've sold have failed to start well. In both cases it was because the pup had not received enough affection/praise/positive affirmation of its actions. These pups are quite sensitive and need that to build up confidence, some more than others of course. Unless you want a lot of arrogant, hard headed dogs it's essential to retain some sensitivity; the trouble is getting the balance just right. It seems to be a general rule of thumb that the wider working, clever mustering dogs are on average a bit more sensitive than full on yard dogs.

I am mixing my own raw diet and it's so easy to start the pups on solids, they just get a bit of mum's. Fruit and veges are dearer at present, so am using chicken mince with some DE(natural wormer, keeps the yards clean) and Big Dog Boost also a pet mince and flaps from the Allora butcher.They also get lamb bones every day. Everyone who has seen my dogs here asks what I feed them, so I'll share a few things I've learned through referring all my questions on nutrition to Marina Angel Smith who has studied it in detail. Vet students study animal nutrition but it isn't broken up into herbivores, carnivores and omnivores but treated as one subject; there is a huge difference in the digestion and diet of these groups of animals. Of course most vets are promoting dry foods in their practices(to their financial benefit, treating the resultant health problems).

I know feeding raw food on farm can be time consuming and sometimes impossible, and that working dogs are considered ' better' fed these days because of the convenience of dry food….BUT…..the working lifetime of dogs has been considerably reduced by grain based diets which cause arthritis etc at about 8 years. Marina's dogs that have been on raw all their lives have consistently lived to 20 and she has a 16 year old bitch today who is still working well.

Many 'old timers' remember dogs who regularly lived to 15 and over, fed mainly on rabbits, 'killer sheep' and roos. These dogs often looked pretty lean but lived long and useful lives. The calcium in dry foods can't be absorbed by dogs and their body puts out its own stores until it runs out. The only calcium with correct magnesium and potassium balance so dogs can absorb it is in bones…not surprising really! A bit like the Paleo diet so popular these days…just eating what dogs and humans were originally designed to eat must be better for health.

Be careful feeding roo meat and dry food, it's not a good mix. Roo meat is OK for fat dogs, or with fat mixed, but takes a lot of digesting because of the high nitrogen fixation and takes as much energy to digest as it actually carries…in pregnant/whelping bitches this can result in milk fever and fitting, because of calcium being leached from their systems. The only way to remedy this is with bone meal or bones, not calcium syrup which can't be absorbed by dogs. Often people add the syrup to pup food but they should be feeding them bones; small pups can eat chicken frames from about 6 weeks.

I am also vaccinating with nosodes available from HAMPL online. This homeopathic procedure produces immunity equal to vaccines with no side effects; tests have proven titers of the same level and it is now accepted by domestic airlines.

A bit of clarification on the WKC Appendix dogs for many of you who might not understand their system. If a dog is classified A2 or A3 it is in the Appendix to the main stud book and may not appear on WKC pedigree forms. This does not necessarily mean that the breeding of the dog is sketchy or unknown, simply that some of the dogs in its pedigree were bred by a breeder who was not a member of the WKC at the time. Karrawarra dogs come into this area, also any dog that has not been tattooed…amongst others. In many cases these dogs have full pedigrees going back many generations, often more complete than some others, but they do not appear on WKC generated pedigrees..

*********************************************************************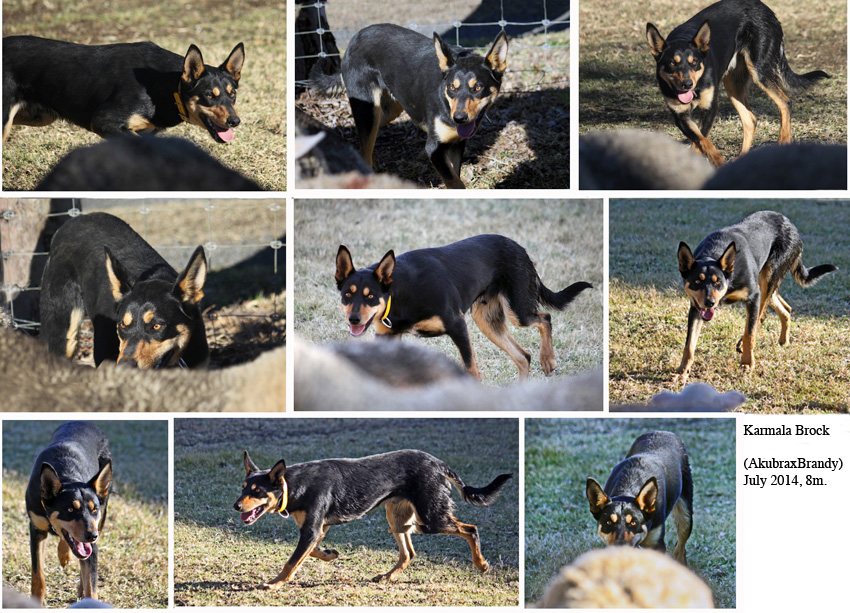 Tracker WRX(Riana GlidexTracker Bliss)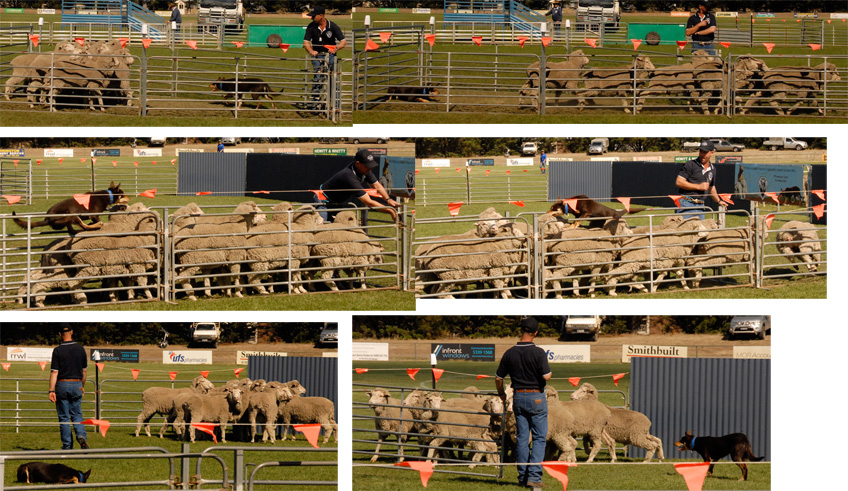 Karmala Turbo(Tubbo) and Gary Sharrock competing in a trial at Skipton, Vic.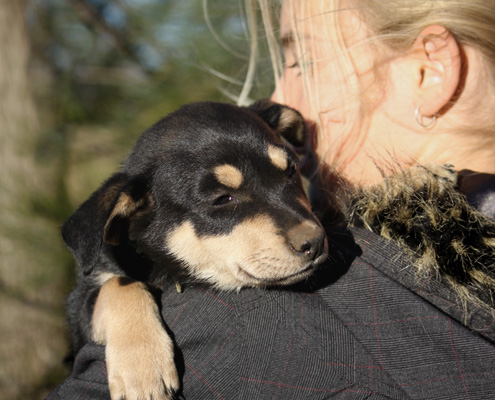 Karmala Wager(ChancexLily) soaks up the moment!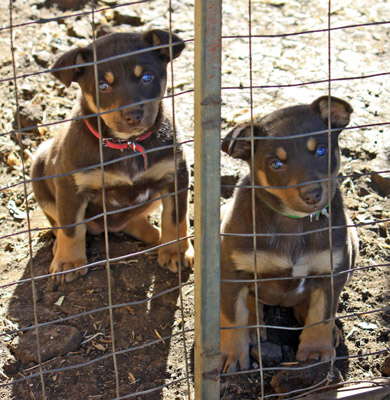 The two little ChancexBrandy girls, 6 weeks.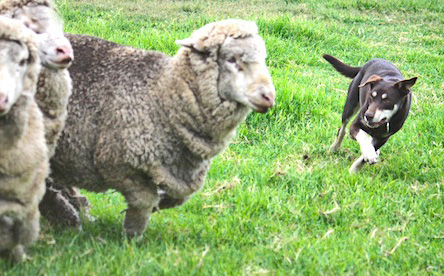 Chance working by sound, you wouldn't guess he's blind.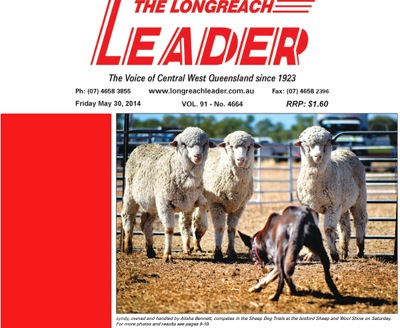 Karmala Lyndy, owned by Lisha Bennett.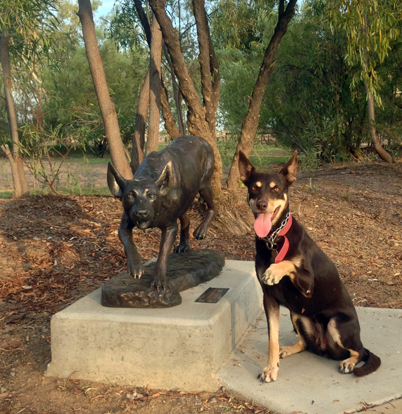 Karmala Lyndy.."I can do that!"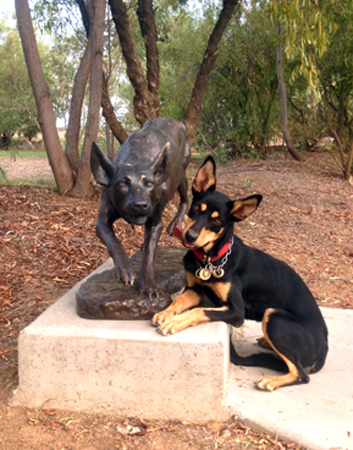 Karmala Lace(K.AkubraxK.Lily) "Do you think I look like dad?"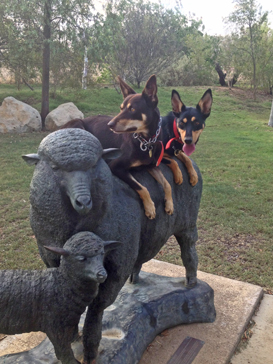 Lyndy and Lace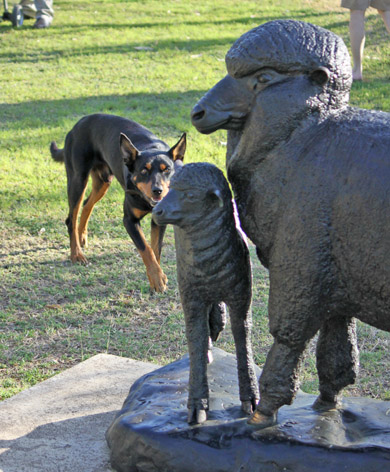 Akubra entertaining the crowd before the unveiling.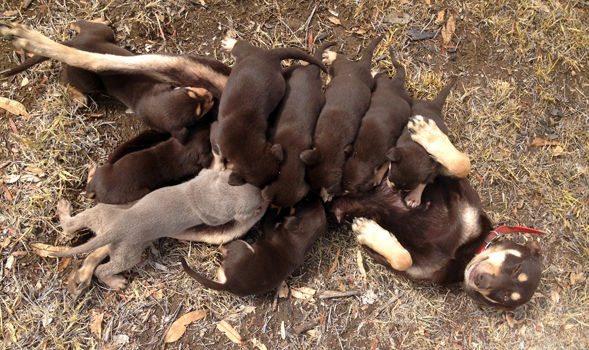 Karmala Lyndy, owned by Lisha Bennett, with her litter by Karmala Clyde. This mating has a lot of meaning for me....Clyde was one of the first litter I bred in Queensland(Driftwood ClydexW.Spice). He was owned by Peter Whiteman who was killed in a mustering accident on Mt Margaret not long after Lyndy was mated. Peter was a highly regarded, experienced manager and was looking forward to retirement. A very sad loss.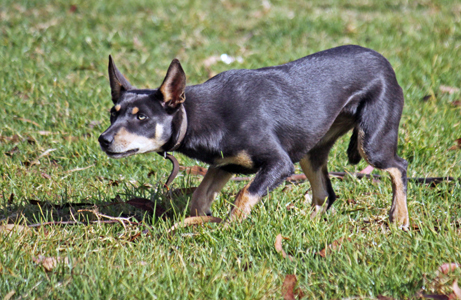 Karmala Cozzie(AkubraxPeg), 6 mths.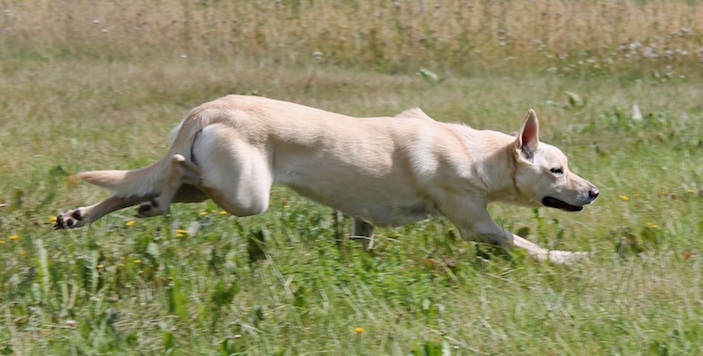 Karmala Mulga(Birk) is working well for Ewa Jacobsson in Sweden.

Karmala Kelpie Kards and Karmala Local Bird Cards
Singles or sets of cards featuring Kelpie pups and birds from my Gallery show. Choose which pics and colours you prefer.
The Karmala Merino Stud
These are big, productive sheep with quality wool, and can reduce the micron in stronger flocks without loss of cut… and increase production in finer flocks without increasing micron. This is stated with confidence based on the results in clients' flocks over many years. An excellent selection of rams is guaranteed as I have few ram clients since moving to Queensland.
At Karmala micron, quality and production are the chief selection criteria. The infusion of genetics from Rockbank has given a finer ewe base and more elite-woolled sheep. An AI programme using N.43 has provided a number of ewes which when mated to old NB produced some outstanding sheep. Another Nerstane ram has been used in 2011 and 2 two tooth daughters did well at the recent 2013 State Sheep Show at Roma, the medium wool ewe beating all other Q'land ewes.
Karmala won Queensland Ewe of the Year again this year, 2013, with 'Maddie' Reserve Champion Fine wool ewe, 16 mic., that ran second to the Grand Champion Ewe of the Show….this ewe was later the Supreme Exhibit at the Australian Sheep and Wool Show. The fleece from 'Maddie' was Grand Champion Fleece at the EKKA, 2013.
This is my final year of showing sheep, it just isn't a viable option these days.
In 2012 Karmala won Champion Stud Ewe Fleece at the EKKA; this weaner ewe was Res. Champ.Fine Ewe at the State Sheep Show.
The State Sheep Show at Goondiwindi, May, 2010, proved a bonanza for Karmala, Harry and Liz, the Queensland Pair from 2009 are now Queensland Ram and Ewe for 2010, and Harry was Grand Champion Ram! The second time for Liz, who has a big ram lamb as well…she's certainly not just a pretty face… but it certainly did nothing to improve her underline, which cost her in the judging.
Dubbo is changing to a short wool show with March shorn sheep totally dominant; this is understandable considering the cost involved in preparing a sheep for 12 months, but can give a very misleading picture of how a young ram will finish up.
Meat breeds are also coming to the fore in all shows these days…understandable with the high meat prices.
An article in Bush Telegraph.
http://www.thechronicle.com.au/news/top-class-exhibitor-retires/1962921/
Read more about the Karmala Merino Stud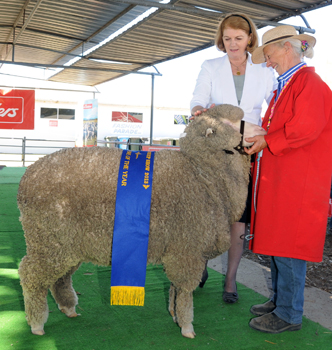 Karmala Maddie, Queensland Ewe of the Year 2013, being admired by the Governor of Queensland, Penelope Wensley.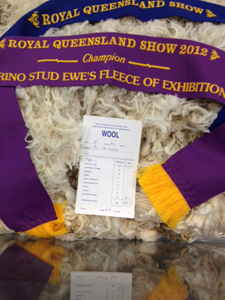 EKKA,2012

State Sheep Show 2012, Blackall. My ewe being sashed(l), Will Roberts checks out her wool, Rob Mullen the judge gives me a big surprise(r).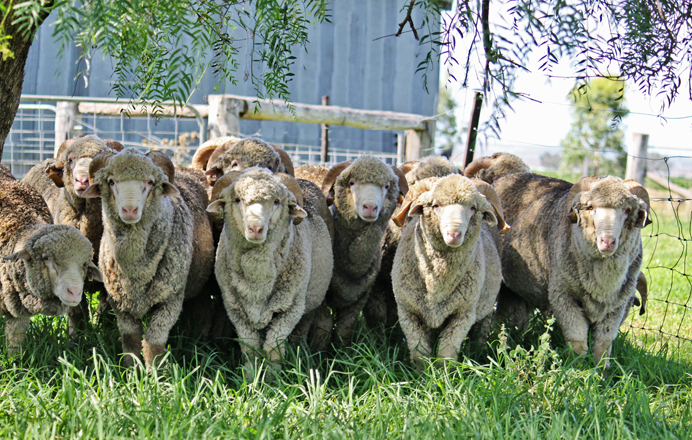 Sale rams March 2012, aged 16 months.