Karmala Australian Working Kelpie Stud
 HERITAGE KELPIES
Like us on Facebook!
facebook.com/karmala.com.au
The stud is situated about 40 km south of Toowoomba near the historic village of Nobby, famous for Rudd's Pub;  here Australian writer Arthur Hoey Davis, better known as 'Steele Rudd', wrote some of his well known Dad and Dave stories. The old house where he lived is just down the road from Karmala.
Established at Lake Bolac in the Victorian Western District, the move to the Downs was made in 2001 when Jan 'retired' from farming. This move necessitated an adjustment in breeding emphasis to suit the Queensland market's demand for dogs that can work cattle as well as sheep.
Foundation dogs were chosen from lines of clever mustering dogs and sires are generally chosen from dogs performing well in testing conditions. This is very important, as there is insufficient work on a small property to fully assess dogs.
MAY 2017
A bit more dog action in this newsletter; Spring isn't exactly in the air but it's certainly lovely weather…in any case the 'girls' have decided to come on heat at last,  but here's one mating that IS NOT going to happen!! Wilson and Bella!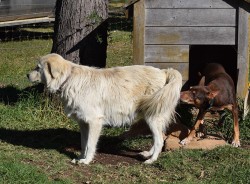 Read more…
Go to archive