The Karmala Working Kelpie Stud

The Karmala Working Kelpie Stud was relocated to Queensland from Western Victoria in 2001. It is now situated at Nobby, about 40 km south of Toowoomba.

The Australian Working Kelpie is a breed developed to suit our demanding climate and large pastoral areas, but has proved an amazingly adaptable dog. Originally intended to work sheep, kelpies are now used to herd just about every variety of stock and are found world wide. The Working Kelpie is not to be confused with the Australian Kelpie which has been bred as a show dog, and has lost most of its herding ability and many of the original traits the breeds originally shared.

Only a small nucleus of bitches is retained for breeding so that a high standard can be maintained. The foundation bitches have done a great job and in 2010 made way for the 'next gen' girls who have been carefully selected from the many bitch pups born….. Tilly, Lily, Gemma, Peggysue, Remy, Riana Trixie and Brandy and Cozzie represent an invaluable gene pool to work with.

The plethora of cooking shows on TV make it very plain that even the finest ingredients can be reduced to a mess unless combined carefully, and the same applies to breeding animals. Each mating here is thought out with one aim in mind…to breed pups that have the potential to be better than their parents. I am indebted to David Hart for his help in working out possible matings/pedigrees with
the help of Breeders' Assistant.

My aim is to breed sensible dogs who can work naturally and cause their owners as few headaches as possible. I have no time for very excitable, stock-crazy animals. They must value their relationship with their handler to a high degree and want to please in their work. Highly respected Kelpie breeder, John White, wrote in the WKC newsletter:
"I always select a dog that is friendly, wants to be with you, to work as a team with you. You can tell those characteristics at a fairly young age." I couldn't agree more.

I like dogs that can work with a little distance off their stock when young and keep a small mob together.They should be happy to hold when they have them balanced. My dogs should also be capable of firing up for yard work… I don't guarantee that every pup will comply exactly with this description, but some do, judging by this email received recently entitled 'Zen and the art of sheepdog handling'…..
"The experience of working her is exactly the opposite of any other I have had with kelpies. It is veritably tranquil; I can hear the wind blowing and the birds chirping instead of myself yelling and screaming obscenities…. it is akin to zen!"

I know just how he feels. It was many years before I owned a really good, well bred dog. Once your stock work becomes a pleasure and you start looking forward to taking your dogs out, you'll never settle for second best again.

In the last few decades, with the increasing use of bikes for mustering, some old kelpie traits are starting to disappear. Many dogs are now used mainly for yard work and backing, barking, full-on kelpies are in the majority. I prefer an all-round dog that retains its heading instinct, has some eye, and is capable of mustering difficult country. With this in mind, I have sought sires with bloodlines that have been proven in hard conditions where brains and stamina are essential.
With the decline of the Merino in Queensland I have found that most clients need a dog that can work cattle as well as sheep, and that is my aim.

I have accessed old Kelpie families through the Karrawarra and Riana studs and I am very grateful for the help I have received from these experienced stud masters. Tony Parsons (Karrawarra) was responsible for seeking out and preserving Kelpie bloodlines after the fiasco of two World Wars, during which many 'studs' disappeared. His books on the Working Kelpie are an invaluable record of these dogs and are collectively known as 'The Kelpie Bible'. Tony has always selected dogs with eye, style and distance.

The late Arthur Hazlett (Riana) founded his stud on Karrawarra kelpies and was one of the few Kelpie breeders of recent years who finessed the fine art of line breeding. Outside dogs were rarely introduced, and as a result his dogs were defined in type and prepotent. The old Riana dogs retained that stock minding ability that was required by all drovers; they were bred for many years in very tough country and selected for their brains and ability.

It is the relentless culling by these old studmasters, and their singleminded search for their perfect dog, that has improved the breed over the years. No breeder of stock will achieve their ideal unless they have a very clear mental picture of exactly what they want to breed…. and pursue their aim relentlessly. I recently went delving through some old photos and came up with these archival images, below.

Because I have little real work for my dogs these days, I try to ensure that any young dogs kept for breeding are tested in the real world. I have been most fortunate in finding some very kind, like minded stockmen to help me do this, and can't thank them enough for their efforts. It surely proves their dedication to the Kelpie breed. With cooperation like this, and by working with a loose group of breeders who are looking for the same type of dog, I hope to preserve those Kelpie traits that originally made the breed such an invaluable asset.

It's sad that some fall by the wayside in the process; I have lost Riana Quill II, Karmala Swags, Karra. Quince and Karmala Pride and changed my mind a bit about 'proven' breeding dogs. I am now quite anxious to get a litter from a very promising young dog/bitch in case it doesn't live very long. Snakes are the curse of any dog breeder in Queensland.

Please view a page describing the small nucleus of bitches and a page describing sires used recently.

Or view some of the kelpies for sale or pictures of some of the Karmala puppies.

The sketch of Akubra is © to Pieter Zaadstra. http://www.zaadstra.com.au/

The maquette of Kelpie for which Karmala Akubra was the model is available from the Bodo Muche studio.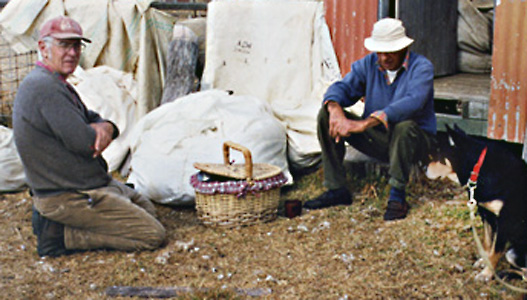 Shearing at Karrawarra 2003. Tony Parsons, the late Godfrey Schnitzerling and Karrawarra Rip III.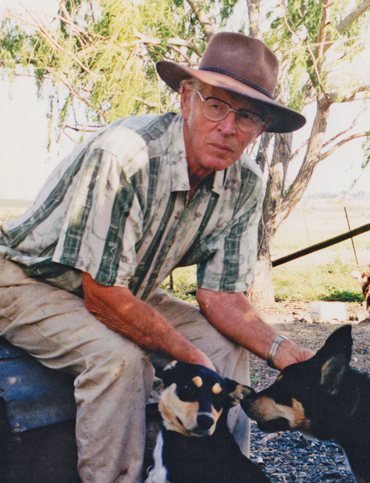 Tony Parsons and friends, 2003.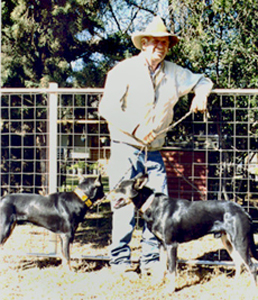 The late Arthur Hazlett in 2006 with sires Riana Lohti and Riana Raddle.
A nice Riana pup looks up to the boss.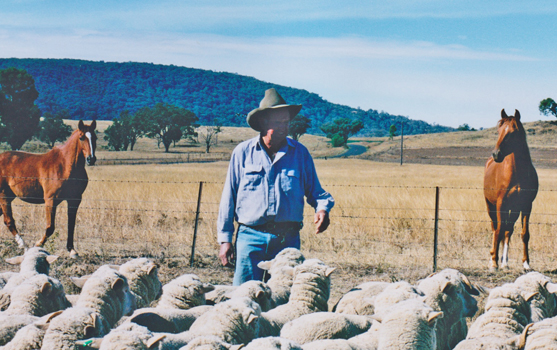 The late Arthur Hazlett with some weaners by Karmala rams and a couple of nice stockhorse mares looking on.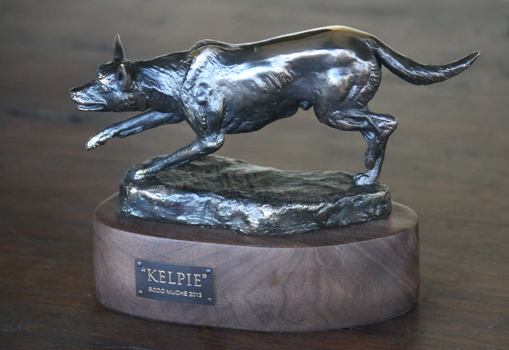 The maquette of the Kelpie statue by Bodo Muche.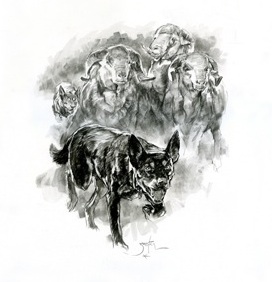 Pieter Zaadstra's study of Karmala Akubra with some of my old show rams.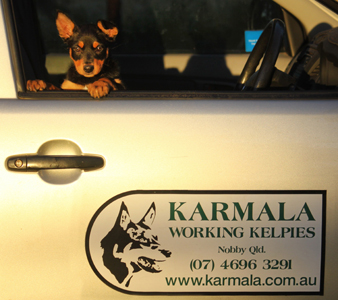 Three foundation brood bitches(left) Karrawarra Gift, Woorivale Spice and Riana Delta Dawn have handed over to the next gen. below...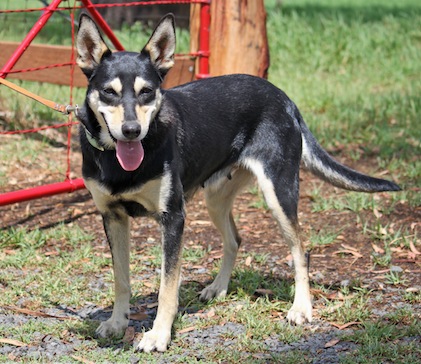 Karmala Lily(Riana GlidexKarrawarra Gift IV)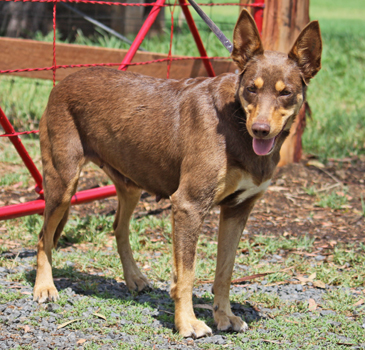 Karmala Brandy(Glendon BennyxWorrivale Spice)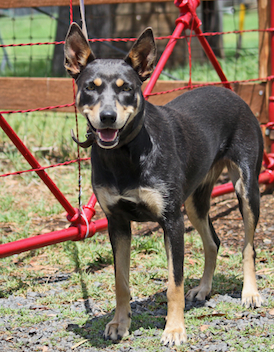 Karmala Cozzie(Karmala AkubraxKarmala Peggysue)Peg is exDelta.




APRIL NEWS

After the driest summer in Clifton for 100 years the drought has broken here at last! Hopefully there will be enough time for feed to grow before the frosts start, and for winter oat crops to be planted. I measured over 230mls. Wonderful to see the dam full and the grass growing so quickly. I have just driven down to Western Victoria to judge Merinos at the Balmoral Show through the Wimmera, and back up through Shepparton, Finley, Cootamundra, Cowra and Tamworth. It's very obvious that the only really vital and progressive agricultural areas these days are those with irrigation and some certainty to plan ahead. It was sad to see previously lively little Wimmera towns dying. The older farmers are leaving/have left and larger operators are moving in…. often they don't want tenants in the farm houses so they are becoming derelict very quickly. This was all foreseeable. We have known for a long time that the average age of Australian farmers was far too high. The diminishing number of family farms is the death knell of small country towns; large businesses operate under a very different code of ethics.

I have written a song/poem along the lines of 'Dumb Ways to Die' (promo for British Rail, I think) which became so popular on Youtube a year or two ago…only my version is about Kelpie pups.
They must be the most inventive little thinkers when it comes to suicide, these are just a few of the more imaginative ideas they've come up with. No matter how I try, they still outwit me at times so I hope this gives you a few ideas of what to look out for. Check out the original version first!

http://www.youtube.com/watch?v=IJNR2EpS0jw

DumbWaysToDie

Get a fright in a thunderstorm, test out your tree climbing form
Jump up on the kennel roof, to a slippery branch …Oh Strewth!
Dumb ways to die, so many dumb ways to die…

That water bucket half full, would make a good swimming pool
Fall in arse over head, next thing you know…you're dead!
Dumb ways to die, so many dumb ways to die…

A wool pack hung up for shade, chew it till a hole's made
Poke head through the hole and play, hang yourself without delay.
Dumb ways to die, so many dumb ways to die…

What's that wriggling over there? Go check it now without a care…
Sniff it with your nose and nip, get a brown snake bite on the lip!
Dumb ways to die, so many dumb ways to die….

Go exploring along the drive, about the worst way to stay alive…
A big truck comes roaring by, another fail-safe way to die!
Dumb ways to die, so many dumb ways to die….

Kelpie pups grow very fast, but frequently they just don't last
Keep a jump ahead of the pack, or the breeder will see you back!
Dumb ways to die, so many dumb ways to die….

My grand daughter thinks I should give a copy to all my pup buyers….

The litters of pups born in October have mostly left for their new homes and are well spread around Oz and even as far as New Zealand, and the December litters are now dispersing as well.

Brandy and Lily have come on heat together to the day…again! I have mated Lil to a son of Karmala Clyde out of Karmala Lyndy(K.GlenxK.Lyddy), Benalee Chance.
Chance had only worked a couple of times when he almost strangled himself with loose thread from his carpet bedding(another dumb way…); he showed an incredible will to live and recover, but is blind. (He's a lucky boy because I had two ladies visiting from Sweden at the time, otherwise the $1000 vet bill might have been swapped for a bullet…) They were very impressed by his working ability, as I was, and I felt he was well worth the 'chance' of a mating.
Losing his sight hasn't stopped him doing much at all and visitors find it hard to believe he can't see…he even tries to work sheep by sound. This mating concentrates the blood of the most influential dogs that have been used in the stud, Driftwood Clyde, Riana Glide and Karrawarra Gift IV, all have a 3.1hom.%.

Brandy has also been mated to Chance, she's a bit tricky and my last attempt to mate her to Cagella Rock was a failure. She had one pup a week late, and as he grew up he became a little clone of Akubra; a DNA test has since confirmed this.
She was tried to other dogs this time but she decided on Chance!

I am still of the opinion that I am usually better off sourcing sires that are working hard and showing their brains in the real world. Two dogs from the Riana GlidexKarmala Brandy litter, K. Crusta, with Brad Middleton, and K.Hardy, with Jodi O'Connor are both working very well. Brad has a litter from K.Chanel(Whitehead's TrackerxK.Tilly) by Crusta and recently dropped off a lovely bitch pup. I've named her Coco and although she appears a very sweet little lady-like girl when alone, she's an absolute little demon when it comes to sticking up for herself. She took on an almost fully grown German Shepherd recently and he backed off in a hurry.

Two new litters arrived in Dec., both by Karmala Landy, from Riana Trixie and K. Cadelle(Tracker GibbsxRiana DeltaD). Landy has done a lot of work and is a very nice dog; great type, great temperament, good stamina and a sensible dog to work, he drops in behind to drive quietly once his stock are gathered. He hadn't mustered here until recently, and I was delighted that he mustered a mob of ewes and lambs and drove them back to the yards without direction. Credit to Matt Bignell for his training, of course. He has since done a great job penning up my sticky old ewes for crutching.

Karmala Lara(Tracker GibbsxKarmala Lily) had a litter in WA to Riana Cash II last year and Marina is receiving good reports of the pups sold. Lara now has a second litter to Cash.

Another sad death, Karmala Hec(Tynndyl HankxKoomalah's Dash) died recently at Trangie of suspected black snake bite. Hec had made himself very popular with Di and Lynnton, he was a lovely pup and died before he had much chance to work. I must confess the absence of snakes in NZ was a big factor in my decision to sell Lucy, whom I'd planned to run on…Fiona made sure I took that into consideration!
Di sent me some photos of their pup Tynndyl Banjo (K.Landy x Tynndyl Mouse) below; other pups from that litter are available for sale from Lynnton.

I received these photos of Lisha Bennett's two Karmala bitches recently. Lisha has been appointed Elder's manager in Longreach and took her dogs along for a look at Kelpie! Great pix.

The two criteria I use when selecting pups early on are temperament and breeding, I have confidence that they will work because only a couple of pups I've sold have failed to start well. In both cases it was because the pup had not received enough affection/praise/positive affirmation of its actions. These pups are quite sensitive and need that to build up confidence, some more than others of course. Unless you want a lot of arrogant, hard headed dogs it's essential to retain some sensitivity; the trouble is getting the balance just right. It seems to be a general rule of thumb that the wider working, clever mustering dogs are on average a bit more sensitive than full on yard dogs.

I am mixing my own raw diet and it's so easy to start the pups on solids, they just get a bit of mum's. Fruit and veges are dearer at present, so am using chicken mince with some DE(natural wormer, keeps the yards clean) and Big Dog Boost also a pet mince and flaps from the Allora butcher.They also get lamb bones every day. Everyone who has seen my dogs here asks what I feed them, so I'll share a few things I've learned through referring all my questions on nutrition to Marina Angel Smith who has studied it in detail. Vet students study animal nutrition but it isn't broken up into herbivores, carnivores and omnivores but treated as one subject; there is a huge difference in the digestion and diet of these groups of animals. Of course most vets are promoting dry foods in their practices(to their financial benefit, treating the resultant health problems).

I know feeding raw food on farm can be time consuming and sometimes impossible, and that working dogs are considered ' better' fed these days because of the convenience of dry food….BUT…..the working lifetime of dogs has been considerably reduced by grain based diets which cause arthritis etc at about 8 years. Marina's dogs that have been on raw all their lives have consistently lived to 20 and she has a 16 year old bitch today who is still working well.

Many 'old timers' remember dogs who regularly lived to 15 and over, fed mainly on rabbits, 'killer sheep' and roos. These dogs often looked pretty lean but lived long and useful lives. The calcium in dry foods can't be absorbed by dogs and their body puts out its own stores until it runs out. The only calcium with correct magnesium and potassium balance so dogs can absorb it is in bones…not surprising really! A bit like the Paleo diet so popular these days…just eating what dogs and humans were originally designed to eat must be better for health.

Be careful feeding roo meat and dry food, it's not a good mix. Roo meat is OK for fat dogs, or with fat mixed, but takes a lot of digesting because of the high nitrogen fixation and takes as much energy to digest as it actually carries…in pregnant/whelping bitches this can result in milk fever and fitting, because of calcium being leached from their systems. The only way to remedy this is with bone meal or bones, not calcium syrup which can't be absorbed by dogs. Often people add the syrup to pup food but they should be feeding them bones; small pups can eat chicken frames from about 6 weeks.

I am also vaccinating with nosodes available from HAMPL online. This homeopathic procedure produces immunity equal to vaccines with no side effects; tests have proven titers of the same level and it is now accepted by domestic airlines.

Last October the bronze Kelpie statue was unveiled at the Stockman's Hall of Fame at Longreach, Q. Well known sculptor Bodo Muche was commissioned by Angus and Leonie Livingston to create this piece, and it will be a stunning companion to the Merino Ewe and Lamb which Bodo made when the S.H.of F. was opened 25 years ago. Karmala Akubra was the model for the Kelpie, which is shown in typical working pose, two feet off the ground, advancing…. Akubra was at the unveiling and put on a polished display of stylish, concentrated work….on the Ewe and Lamb statue! The crowd comprised country people who appreciated the entertainment and immediately reached for their cameras. Below is a photo of the maquette of Kelpie which is available from the Bodo Muche studio.(www.bodostudio.com/) The maquette is mounted on a walnut base and would make a very special gift for Kelpie lovers.

A bit of clarification on the WKC Appendix dogs for many of you who might not understand their system. If a dog is classified A2 or A3 it is in the Appendix to the main stud book and may not appear on WKC pedigree forms. This does not necessarily mean that the breeding of the dog is sketchy or unknown, simply that some of the dogs in its pedigree were bred by a breeder who was not a member of the WKC at the time. Karrawarra dogs come into this area, also any dog that has not been tattooed…amongst others. In many cases these dogs have full pedigrees going back many generations, often more complete than some others, but they do not appear on WKC generated pedigrees..

An article in Bush Telegraph.
http://www.thechronicle.com.au/news/top-class-exhibitor-retires/1962921/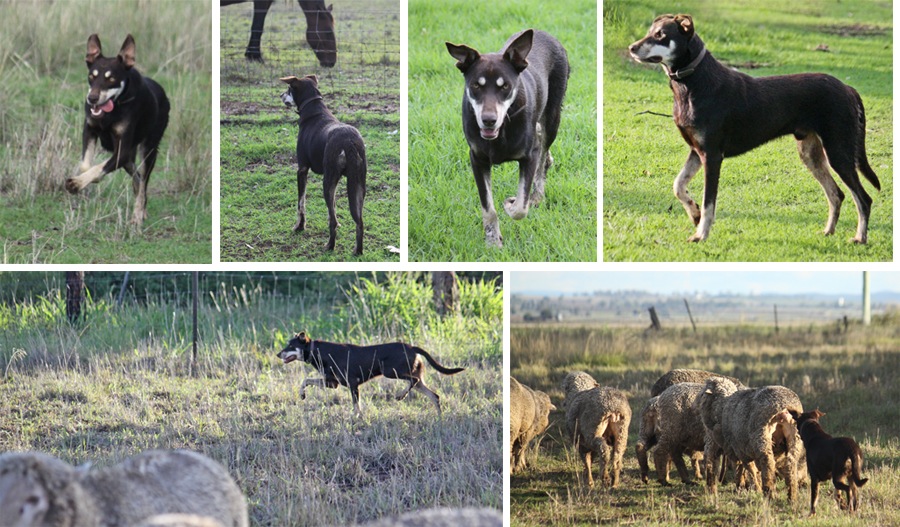 Benalee Chance is by the great old dog I bred, Karmala Clyde who is by Driftwood Clyde. His mother is Karmala Lyndy(K.Glen x K.Lyddy). Chance is blind after getting carpet thread from his bedding tight around his throat. He showed great potential before the accident and has been mated to Lily and Brandy.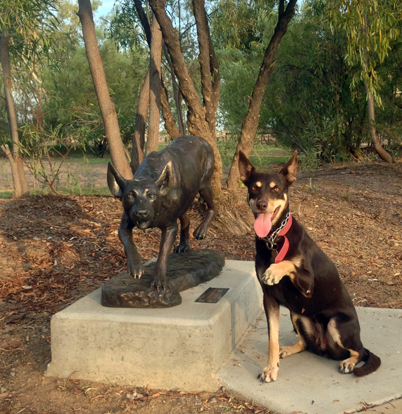 Karmala Lyndy.."I can do that!"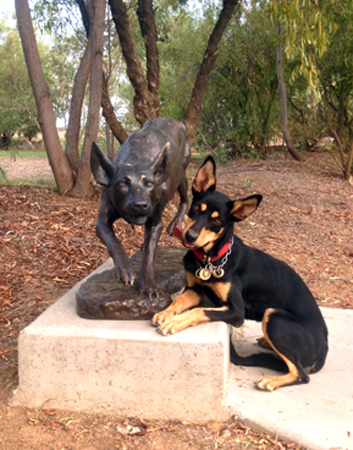 Karmala Lace(K.AkubraxK.Lily) "Do you think I look like dad?"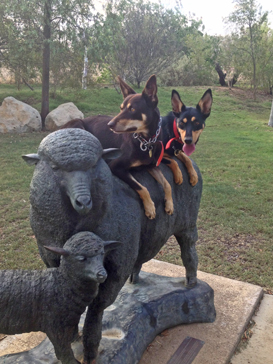 Lyndy and Lace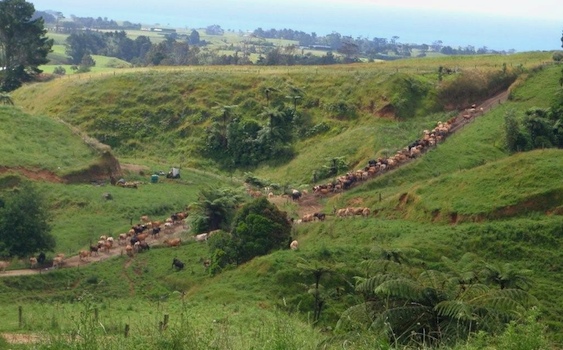 The Henchmans' Jersey herd going out to feed. Holsteins are simply too big and heavy for mountaineering!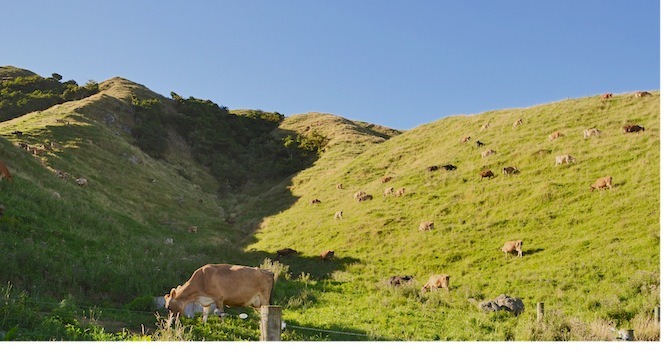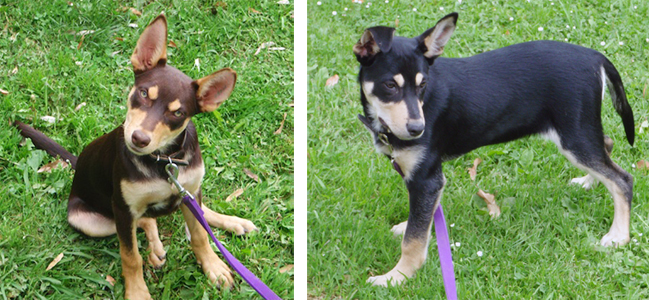 Karmala Lucy(Riana GlidexKarmala Kahlua) and Karmala Gusto(Tracker GibbsxKarmala Lily) after arriving in NZ.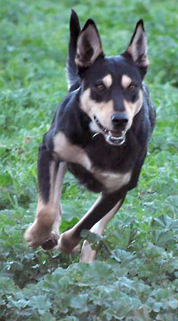 Tynndyl Banjo(Karmala LandyxTynndyl Mouse)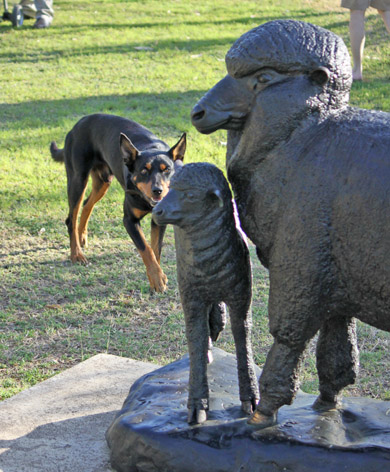 Akubra entertaining the crowd before the unveiling.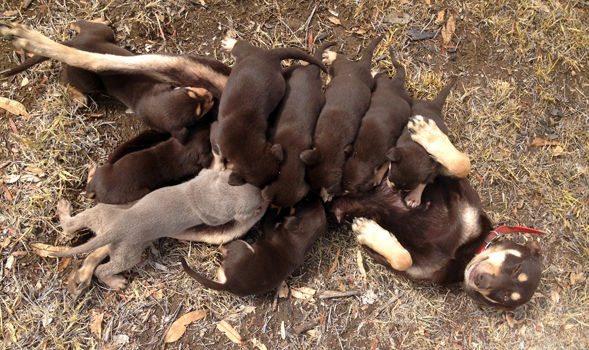 Karmala Lyndy, owned by Lisha Bennett, with her litter by Karmala Clyde. This mating has a lot of meaning for me....Clyde was one of the first litter I bred in Queensland(Driftwood ClydexW.Spice). He was owned by Peter Whiteman who was killed in a mustering accident on Mt Margaret not long after Lyndy was mated. Peter was a highly regarded, experienced manager and was looking forward to retirement. A very sad loss.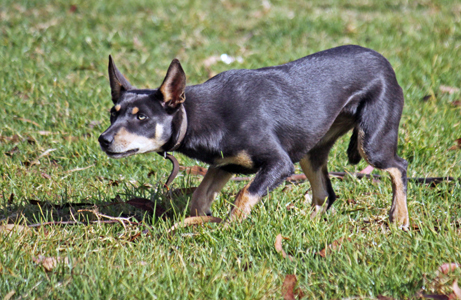 Karmala Cozzie(AkubraxPeg), 6 mths.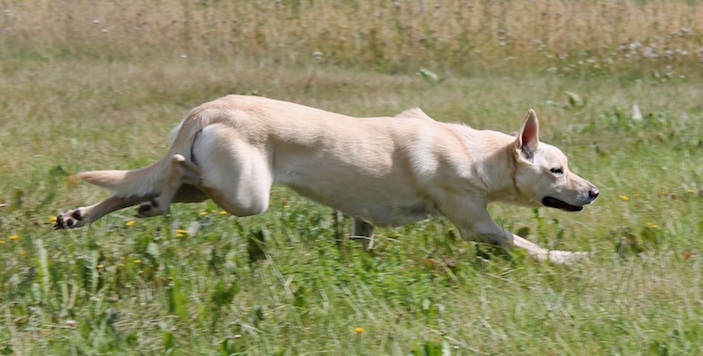 Karmala Mulga(Birk) is working well for Ewa Jacobsson in Sweden.
Karmala Kelpie Kards and Karmala Local Bird Cards
Singles or sets of cards featuring Kelpie pups and birds from my Gallery show. Choose which pics and colours you prefer.
The Karmala Merino Stud
These are big, productive sheep with quality wool, and can reduce the micron in stronger flocks without loss of cut… and increase production in finer flocks without increasing micron. This is stated with confidence based on the results in clients' flocks over many years. An excellent selection of rams is guaranteed as I have few ram clients since moving to Queensland.
At Karmala micron, quality and production are the chief selection criteria. The infusion of genetics from Rockbank has given a finer ewe base and more elite-woolled sheep. An AI programme using N.43 has provided a number of ewes which when mated to old NB produced some outstanding sheep. Another Nerstane ram has been used in 2011 and 2 two tooth daughters did well at the recent 2013 State Sheep Show at Roma, the medium wool ewe beating all other Q'land ewes.
Karmala won Queensland Ewe of the Year again this year, 2013, with 'Maddie' Reserve Champion Fine wool ewe, 16 mic., that ran second to the Grand Champion Ewe of the Show….this ewe was later the Supreme Exhibit at the Australian Sheep and Wool Show. The fleece from 'Maddie' was Grand Champion Fleece at the EKKA, 2013.
This is my final year of showing sheep, it just isn't a viable option these days.
In 2012 Karmala won Champion Stud Ewe Fleece at the EKKA; this weaner ewe was Res. Champ.Fine Ewe at the State Sheep Show.
The State Sheep Show at Goondiwindi, May, 2010, proved a bonanza for Karmala, Harry and Liz, the Queensland Pair from 2009 are now Queensland Ram and Ewe for 2010, and Harry was Grand Champion Ram! The second time for Liz, who has a big ram lamb as well…she's certainly not just a pretty face… but it certainly did nothing to improve her underline, which cost her in the judging.
Dubbo is changing to a short wool show with March shorn sheep totally dominant; this is understandable considering the cost involved in preparing a sheep for 12 months, but can give a very misleading picture of how a young ram will finish up.
Meat breeds are also coming to the fore in all shows these days…understandable with the high meat prices.
Read more about the Karmala Merino Stud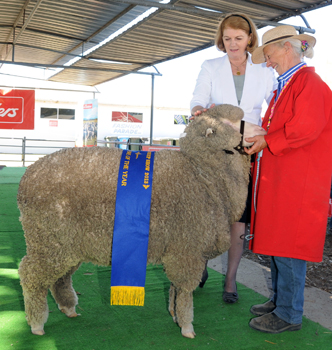 Karmala Maddie, Queensland Ewe of the Year 2013, being admired by the Governor of Queensland, Penelope Wensley.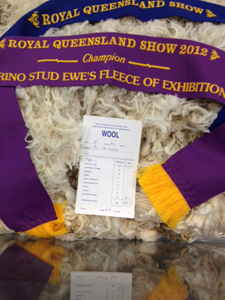 EKKA,2012

State Sheep Show 2012, Blackall. My ewe being sashed(l), Will Roberts checks out her wool, Rob Mullen the judge gives me a big surprise(r).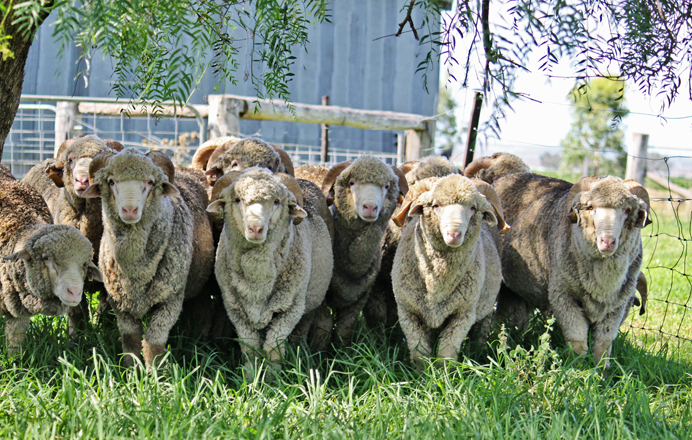 Sale rams March 2012, aged 16 months.