The Karmala Working Kelpie Stud

The Karmala Working Kelpie Stud was relocated to Queensland from Western Victoria in 2001. It is now situated at Nobby, about 40 km south of Toowoomba.

The Australian Working Kelpie is a breed developed to suit our demanding climate and large pastoral areas, but has proved an amazingly adaptable dog. Originally intended to work sheep, kelpies are now used to herd just about every variety of stock and are found world wide. The Working Kelpie is not to be confused with the Australian Kelpie which has been bred as a show dog, and has lost most of its herding ability and many of the original traits the breeds originally shared.

Only a small nucleus of bitches is retained for breeding so that a high standard can be maintained. The foundation bitches have done a great job and in 2010 made way for the 'next gen' girls who have been carefully selected from the many bitch pups born….. Tilly, Lily, Gemma, Peggysue, Remy, Riana Trixie and Brandy represent an invaluable gene pool to work with.

The plethora of cooking shows on TV make it very plain that even the finest ingredients can be reduced to a mess unless combined carefully, and the same applies to breeding animals. Each mating here is thought out with one aim in mind…to breed pups that have the potential to be better than their parents. I am indebted to David Hart for his help in working out possible matings/pedigrees with
the help of Breeders' Assistant.

My aim is to breed sensible dogs who can work naturally and cause their owners as few headaches as possible. I have no time for very excitable, stock-crazy animals. They must value their relationship with their handler to a high degree and want to please in their work. Highly respected Kelpie breeder, John White, wrote in the WKC newsletter:
"I always select a dog that is friendly, wants to be with you, to work as a team with you. You can tell those characteristics at a fairly young age." I couldn't agree more.

I like dogs that can work with a little distance off their stock when young and keep a small mob together.They should be happy to hold when they have them balanced. My dogs should also be capable of firing up for yard work… I don't guarantee that every pup will comply exactly with this description, but some do, judging by this email received recently entitled 'Zen and the art of sheepdog handling'…..
"The experience of working her is exactly the opposite of any other I have had with kelpies. It is veritably tranquil; I can hear the wind blowing and the birds chirping instead of myself yelling and screaming obscenities…. it is akin to zen!"

I know just how he feels. It was many years before I owned a really good, well bred dog. Once your stock work becomes a pleasure and you start looking forward to taking your dogs out, you'll never settle for second best again.

In the last few decades, with the increasing use of bikes for mustering, some old kelpie traits are starting to disappear. Many dogs are now used mainly for yard work and backing, barking, full-on kelpies are in the majority. I prefer an all-round dog that retains its heading instinct, has some eye, and is capable of mustering difficult country. With this in mind, I have sought sires with bloodlines that have been proven in hard conditions where brains and stamina are essential.
With the decline of the Merino in Queensland I have found that most clients need a dog that can work cattle as well as sheep, and that is my aim.

I have accessed old Kelpie families through the Karrawarra and Riana studs and I am very grateful for the help I have received from these experienced stud masters. Tony Parsons (Karrawarra) was responsible for seeking out and preserving Kelpie bloodlines after the fiasco of two World Wars, during which many 'studs' disappeared. His books on the Working Kelpie are an invaluable record of these dogs and are collectively known as 'The Kelpie Bible'. Tony has always selected dogs with eye, style and distance.

The late Arthur Hazlett (Riana) founded his stud on Karrawarra kelpies and was one of the few Kelpie breeders of recent years who finessed the fine art of line breeding. Outside dogs were rarely introduced, and as a result his dogs were defined in type and prepotent. The old Riana dogs retained that stock minding ability that was required by all drovers; they were bred for many years in very tough country and selected for their brains and ability.

It is the relentless culling by these old studmasters, and their singleminded search for their perfect dog, that has improved the breed over the years. No breeder of stock will achieve their ideal unless they have a very clear mental picture of exactly what they want to breed…. and pursue their aim relentlessly.

Because I have little real work for my dogs these days, I try to ensure that any young dogs kept for breeding are tested in the real world. I have been most fortunate in finding some very kind, like minded stockmen to help me do this, and can't thank them enough for their efforts. It surely proves their dedication to the Kelpie breed. With cooperation like this, and by working with a loose group of breeders who are looking for the same type of dog, I hope to preserve those Kelpie traits that originally made the breed such an invaluable asset.

It's sad that some fall by the wayside in the process; I have lost Riana Quill II, Karmala Swags, Karra. Quince and Karmala Pride and changed my mind a bit about 'proven' breeding dogs. I am now quite anxious to get a litter from a very promising young dog/bitch in case it doesn't live very long. Snakes are the curse of any dog breeder in Queensland.

Please view a page describing the small nucleus of bitches and a page describing sires used recently.

Or view some of the kelpies for sale or pictures of some of the Karmala puppies.

The sketch of Akubra is © to Pieter Zaadstra. http://www.zaadstra.com.au/

The maquette of Kelpie for which Karmala Akubra was the model is available from the Bodo Muche studio.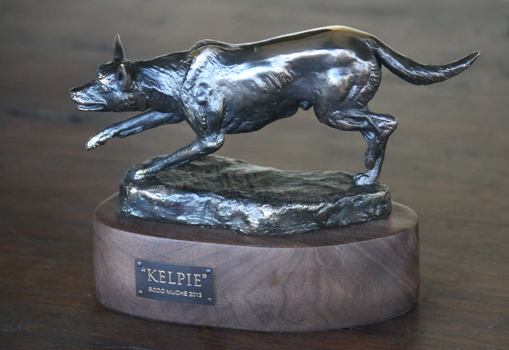 The maquette of the Kelpie statue by Bodo Muche.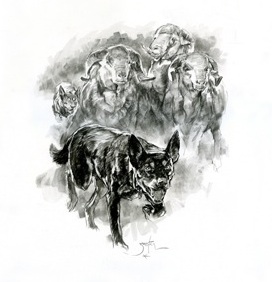 Pieter Zaadstra's study of Karmala Akubra with some of my old show rams.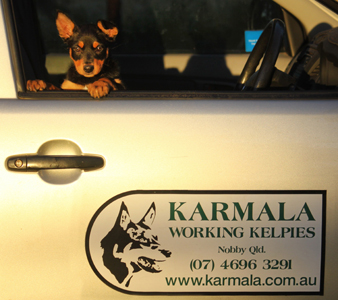 Three brood bitches(left) Karrawarra Gift, Woorivale Spice and Riana Delta Dawn.




DECEMBER NEWS

I did update this blog last month but didn't change the month!
Well. I can't believe the year has disappeared so quickly…luckily it's finished up with some rain, I'm one of the lucky ones who have had a good start to summer.

Sadly I have to report the death of Tracker Gibbs, one of my favourite dogs. He was mustering wild cattle out of National Park country for David Hart and failed to return. I visited David this week to mate Karmala Bonny, John Halsted's bitch, to Tracker The Chief, and was delighted to meet Tracker WRX…definitely a potential sire. David has a great team of young dogs coming along.

I picked up Tynndyl Dandy who has been mated to Riana Glide and find it very hard to pick her from Bonny, they are almost identical.

All the pups born in October have done very well and orders are coming in for them.
Four nice cream dogs are still available as are both bitches and dogs from the Riana GlidexK.Kahlua litter and a couple from the FinnxGemmas.

Sad news, I lost old Karrawarra Gift IV recently. She was very fit and happy, greeted me with her usual big grin and silly dance when I got back from town one afternoon but didn't turn up at feed time. I found her dead under an old tankstand next morning, looking quite peaceful. She left a wonderful legacy of three stud bitches, Tilly, Lily and Gemma.

On Saturday Oct.12, the bronze Kelpie statue was unveiled at the Stockman's Hall of Fame at Longreach, Q. Well known sculptor Bodo Muche was commissioned by Angus and Leonie Livingston to create this piece, and it will be a stunning companion to the Merino Ewe and Lamb which Bodo made when the S.H.of F. was opened 25 years ago. Karmala Akubra was the model for the Kelpie, which is shown in typical working pose, two feet off the ground, advancing…. Akubra was at the unveiling and put on a polished display of stylish, concentrated work….on the Ewe and Lamb statue! The crowd comprised country people who appreciated the entertainment and immediately reached for their cameras. Below is a photo of the maquette of Kelpie which is available from the Bodo Muche studio.(www.bodostudio.com/) The maquette is mounted on a walnut base and would make a very special Christmas gift for Kelpie lovers.

The Sculpture Garden where the statue is placed is not signed well and I think most people drive straight past it to the main building. This is unfortunate, because The Eternal Muster Memorial is a wonderful tribute to past identities involved in Outback Queensland….if visiting you will find it if you follow the sign to The Stockman's Grill and Bar!

I took some photos of Remy working Grant Hutching's cattle when I picked her up recently. I am really happy with the progress being made in breeding for cattle work, which has been an ongoing aim since I moved to Queensland.

Karmala Lara(Tracker GibbsxKarmala Lily) has whelped in WA to Riana Cash II and Marina is receiving good reports of the pups sold.

I am still of the opinion that I am usually better off sourcing sires that are working hard and showing their brains in the real world. It is pointless to keep a number of dogs here when they will only be used occasionally as sires, they are better off sold and going to work…hopefully, I will be able to access a service to any outstanding dogs I sell later on (if they survive long enough, I have to remember all the good ones that didn't).

A dog that is an exception to my rule is K.Landy(Tracker GibbsxK.Lily) who is very like his sire and is working very well. Landy went down to be mated to Tynndyl Mouse in August where he became a firm favourite(and the father of 10 pups!). Landy recently returned to work with Matt on his new workplace….40,000ac of Traprock country near Gore….and Matt reported that he's matured greatly during his little holiday. His dogs are enjoying the new challenges and also the scope for casting afforded by the hilly country. Landy has been mated to K.Cadelle, a timely mating as both are by Gibbs. Karmala Finn is also a very promising young dog working with Matt. He and his dam K.Lily have almost identical working styles and it's magic watching them working together. He has a litter to K.Gemma.

The two criteria I use when selecting pups early on are temperament and breeding, I have confidence that they will work because only a couple of pups I've sold have failed to start well. In both cases it was because the pup had not received enough affection/praise/positive affirmation of its actions. These pups are quite sensitive and need that to build up confidence, some more than others of course. Unless you want a lot of arrogant, hard headed dogs it's essential to retain some sensitivity; the trouble is getting the balance just right. It seems to be a general rule of thumb that the wider working, clever mustering dogs are on average a bit more sensitive than full on yard dogs.

I am mixing my own raw diet and it's so easy to start the pups on solids, they just get a bit of mum's. Lots of cheap fruit and veggies around at present, I put them through the food processor and add about 1/4 by vol. to the chicken mince with some DE(natural wormer, keeps the yards clean) and Big Dog Boost(vit/min supp.)
It's a lot cheaper than buying dry food. I'm lucky that there's a poultry processor in Toowoomba. They also get bones every day.
I am also vaccinating with nosodes available from HAMPL online. This homeopathic procedure produces immunity equal to vaccines with no side effects; tests have proven titers of the same level and it is now accepted by domestic airlines.

A bit of clarification on the WKC Appendix dogs for many of you who might not understand their system. If a dog is classified A2 or A3 it is in the Appendix to the main stud book and may not appear on WKC pedigree forms. This does not necessarily mean that the breeding of the dog is sketchy or unknown, simply that some of the dogs in its pedigree were bred by a breeder who was not a member of the WKC at the time. Karrawarra dogs come into this area, also any dog that has not been tattooed…amongst others. In many cases these dogs have full pedigrees going back many generations, often more complete than some others, but they do not appear on WKC generated pedigrees..

An article in Bush Telegraph recently.
http://www.thechronicle.com.au/news/top-class-exhibitor-retires/1962921/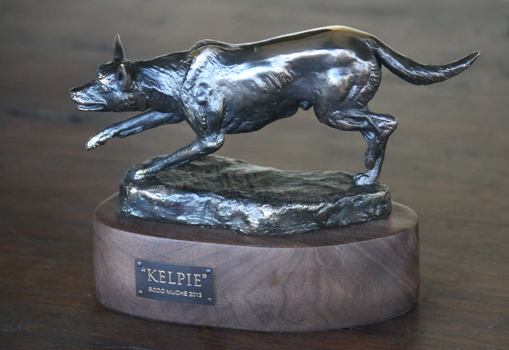 The maquette of the Kelpie statue by Bodo Muche.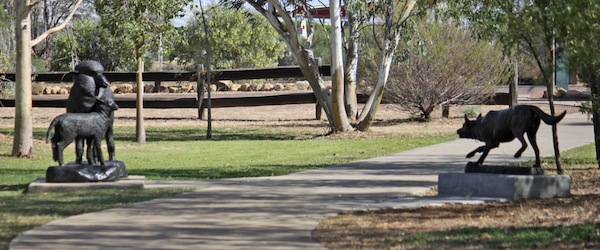 Kelpie working the Merino ewe and lamb in the sculpture garden near the Stockman's Hall of Fame, Longreach. You need to take the track in that says "Stockman's Bar and Grill".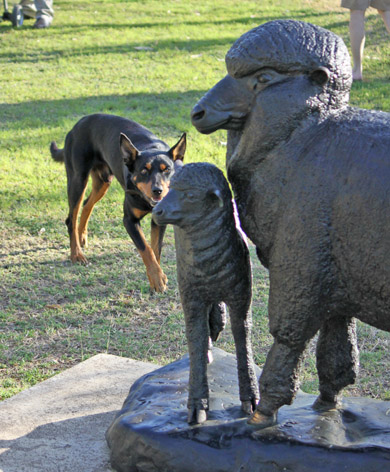 Akubra entertaining the crowd before the unveiling.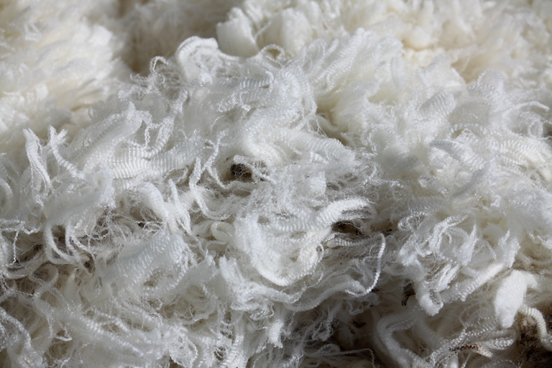 The fleece off Maddie, Q'land Ewe of the Year, was Grand Champion Fleece at the EKKA this year.

Photos taken at Oakwood, Aug. '13

Karmala Neon(Whitehead's TrackerxKarmala Lily) and Tracker Gillette(Riana GlidexTracker Clancy) work as a team to block a beast.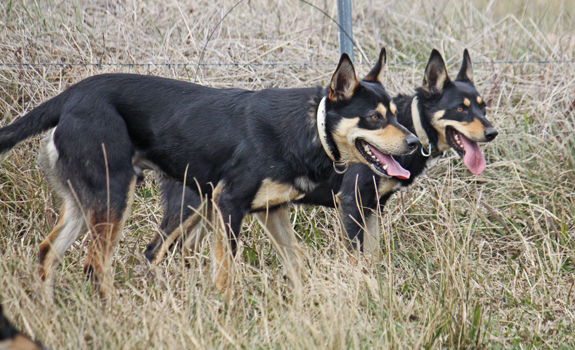 Karmala Neon and Karmala Remy working cattle at Tenterfield.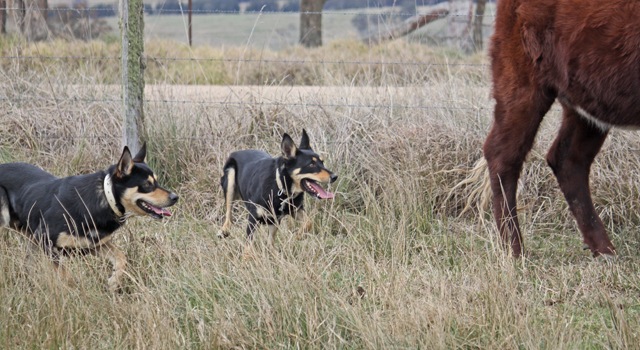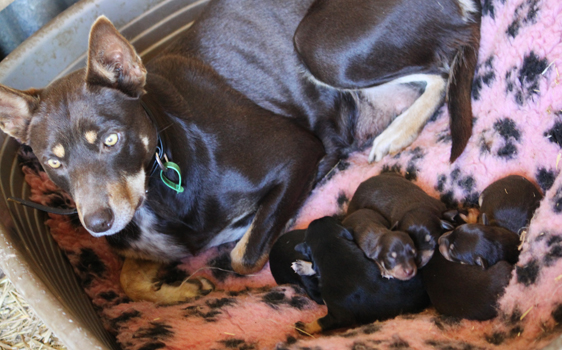 Koomalah's Dash with her 3 day old Tyndyll Hank litter.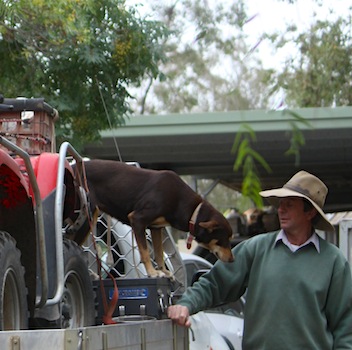 Lynnton with Tynndyl Mouse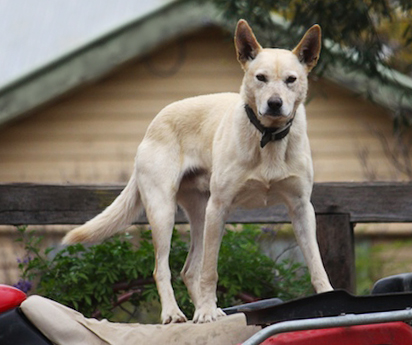 Tynndyl Hank(Tynndyl SteelxDriftwood Dandy)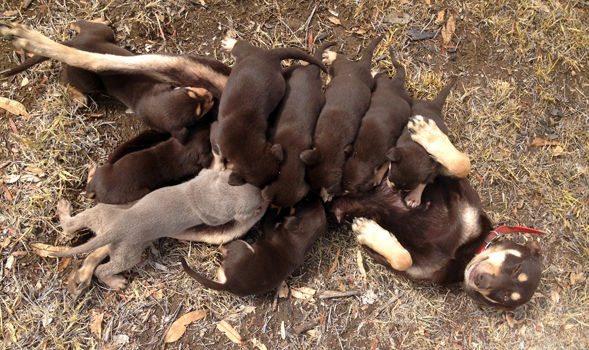 Karmala Lyndy, owned by Lisha Bennett, with her litter by Karmala Clyde. This mating has a lot of meaning for me....Clyde was one of the first litter I bred in Queensland(Driftwood ClydexW.Spice). He was owned by Peter Whiteman who was killed in a mustering accident on Mt Margaret not long after Lyndy was mated. Peter was a highly regarded, experienced manager and was looking forward to retirement. A very sad loss.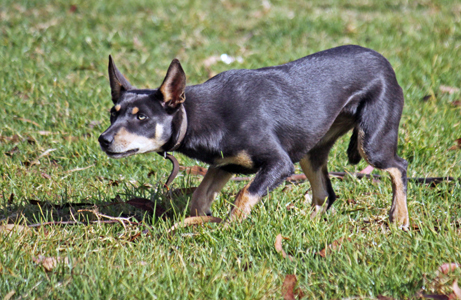 Karmala Cozzie(AkubraxPeg), 6 mths.

Karmala Cozzie(K.AkubraxK.Peggysue) 'switches on'.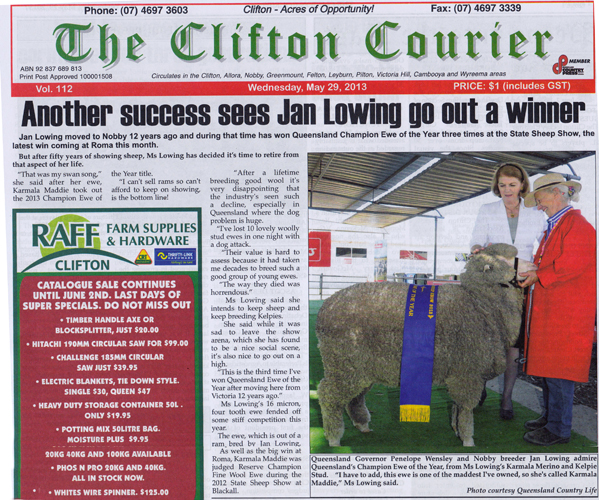 First (and last!) time on the front page!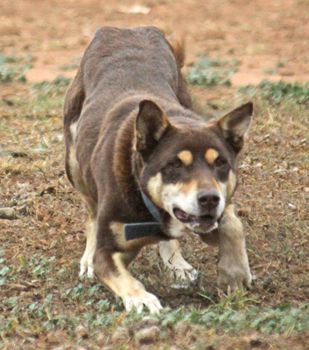 Gordy, still going strong at 12!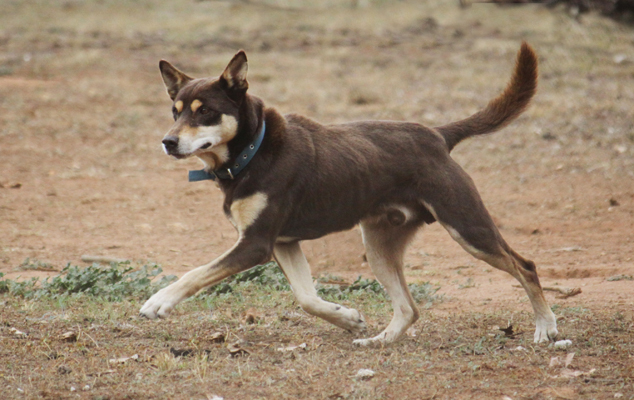 Karmala Gordy(Boanong SkipxKarrawarra Tiffany)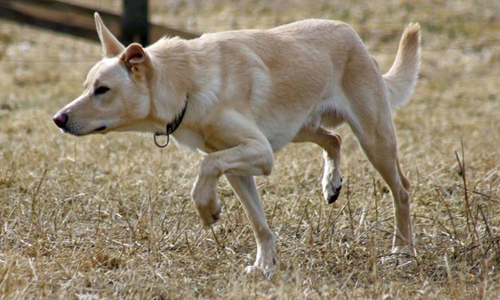 Karmala Mulga(Birk) is developing into a strong, obedient dog for Ewa Jacobsson in Sweden.

Karmala Mulga(Birk) has had plenty of opportunity to get used to the snow in this very cold Swedish winter! Lovely photos from his owner Ewa.
Karmala Kelpie Kards and Karmala Local Bird Cards
Singles or sets of cards featuring Kelpie pups and birds from my Gallery show. Choose which pics and colours you prefer.
The Karmala Merino Stud
These are big, productive sheep with quality wool, and can reduce the micron in stronger flocks without loss of cut… and increase production in finer flocks without increasing micron. This is stated with confidence based on the results in clients' flocks over many years. An excellent selection of rams is guaranteed as I have few ram clients since moving to Queensland.
At Karmala micron, quality and production are the chief selection criteria. The infusion of genetics from Rockbank has given a finer ewe base and more elite-woolled sheep. An AI programme using N.43 has provided a number of ewes which when mated to old NB produced some outstanding sheep. Another Nerstane ram has been used in 2011 and 2 two tooth daughters did well at the recent 2013 State Sheep Show at Roma, the medium wool ewe beating all other Q'land ewes.
Karmala won Queensland Ewe of the Year again this year, 2013, with 'Maddie' Reserve Champion Fine wool ewe, 16 mic., that ran second to the Grand Champion Ewe of the Show….this ewe was later the Supreme Exhibit at the Australian Sheep and Wool Show. The fleece from 'Maddie' was Grand Champion Fleece at the EKKA, 2013.
This is my final year of showing sheep, it just isn't a viable option these days.
In 2012 Karmala won Champion Stud Ewe Fleece at the EKKA; this weaner ewe was Res. Champ.Fine Ewe at the State Sheep Show.
The State Sheep Show at Goondiwindi, May, 2010, proved a bonanza for Karmala, Harry and Liz, the Queensland Pair from 2009 are now Queensland Ram and Ewe for 2010, and Harry was Grand Champion Ram! The second time for Liz, who has a big ram lamb as well…she's certainly not just a pretty face… but it certainly did nothing to improve her underline, which cost her in the judging.
Dubbo is changing to a short wool show with March shorn sheep totally dominant; this is understandable considering the cost involved in preparing a sheep for 12 months, but can give a very misleading picture of how a young ram will finish up.
Meat breeds are also coming to the fore in all shows these days…understandable with the high meat prices.
Read more about the Karmala Merino Stud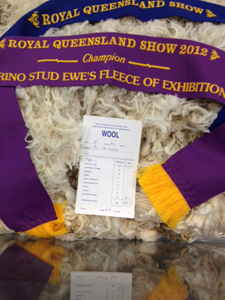 EKKA,2012

State Sheep Show 2012, Blackall. My ewe being sashed(l), Will Roberts checks out her wool, Rob Mullen the judge gives me a big surprise(r).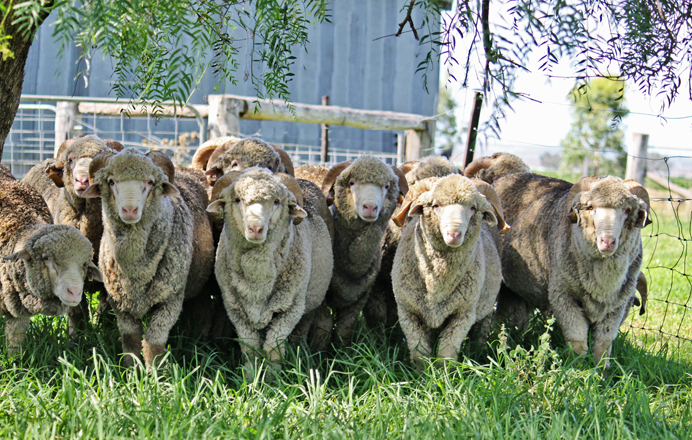 Sale rams March 2012, aged 16 months.