Karmala Brandy (deceased)
WKC reg. 5330 JK21C DOB 13/10/2009
Brandy died in 2018, probably the most influential bitch I've bred to date as she has left dogs that have been used as sires here….Brock, Chance, Changi, Wills…. as well as bitches in the stud. 

Dam: Woorivale Spice
Brandy is one of Spice's best daughters and considered an exceptional young bitch by such Kelpie legends as Tony Parsons and Arthur Crumblin. She is a very well made red/tan and looks and moves a lot like her sire, Glendon Benny.
Brandy is very clever and also level headed, a rather unusual combination in Kelpies. She is naturally a very correct worker and has plenty of strength as well as class.
I considered her too valuable as a brood bitch to risk her going out to work.
Brandy's first litter to Tracker Gibbs has produced some very nice pups including K.Banner(owned by John Halsted), K.Benedict(in Canada) and Karmala Kahlua .
Her second litter by Riana Glide includes Karmala Remy, K. Hardy and K.Crusta(Brad Middlebrook).
Here is Crusta at 6 months working without any commands. https://youtu.be/2nCre-UNon4
Brandy's K.Brock,went to Arthur Crumblin for some education for a few weeks and he had nothing but good to say about him; this is a first, I might add, so it seems my initial assessment of Brock was correct. I don't think I've seen a young dog start so well, but was wondering about his strength. He's had no trouble moving stroppy XB ewes, and is cool and calm when one fronts up to him, standing his ground and moving forward until she backs off.
Brock carries a double cross of Woorivale Spice, my great old foundation bitch, and is the spitting image of his sire Akubra. A very exciting young dog. Here working for Ben Kurver a few years ago..
Brandy consistently passes on her intelligence to her pups. This is very much a mixed blessing and contributes to the ingenious ways they dream up to attempt suicide as youngsters. Fortunately they also grow into above average, clever workers if they survive; owners of her pups report great loyalty but also the need to exercise their own brains during training!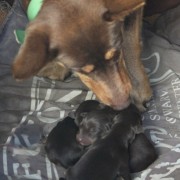 Brandy's new litter by Wilson b.17Aug.