Karmala Gemma
WKC
Reg. A3F 19349 10 JK28D (V-A20) born 21/6/2010  RETIRED FROM THE STUD IN 2021
Riana Glide
X
Karrawarra Gift IV
Karmala Gemma is the third Riana GlidexKarra. Gift IV bitch to be retained in the stud. Gemma was born via caesarean section and very slow to start breathing after birth; I blame this for her difficulties as a young pup….she was easily frightened and had trouble thinking through things. Jodi O'Connor helped Gemma through this period with considerable patience. Gemma then went to work with Matt Bignell and  developed into a very useful work dog for him. She is a little bit stronger than her sisters Tilly and Lily, and was mated to
Karmala Finn
.(b. 14/10/13). She continued to work for Matt and reared another litter by Chance early 2015. Matt changed jobs and Gemma went up to Mt Larcom to work for Em and Derek Zeimer in between returning home to rear litters by Wills. This has proved a very good mating and Wiggle has been retained as a brood bitch and had a lovely litter to Landy. I've kept a dog from this litter, Biggles. Gemma is a delight to watch on sheep, working the right distance off them for the task's requirements(vid below). She has a light, very quick 'clap' which just gives enough relief to settle them and she will also back and bark in the yards. On cattle she'll get a bit radical and hit a cow between the eyes if it won't stop! Gemma had a holiday from pups before rearing a lovely litter by Wills in July 2019 from which Karmala Glamour was retained but sadly died by misadventure in 2022, a big loss. Her legacy is Karmala Charisma(Carrie) who is a lot like her mum. Wiggle(Wills x Gemma) is proving a very good brood bitch. Her two matings to K.Remix/Mick have produced some very good dogs.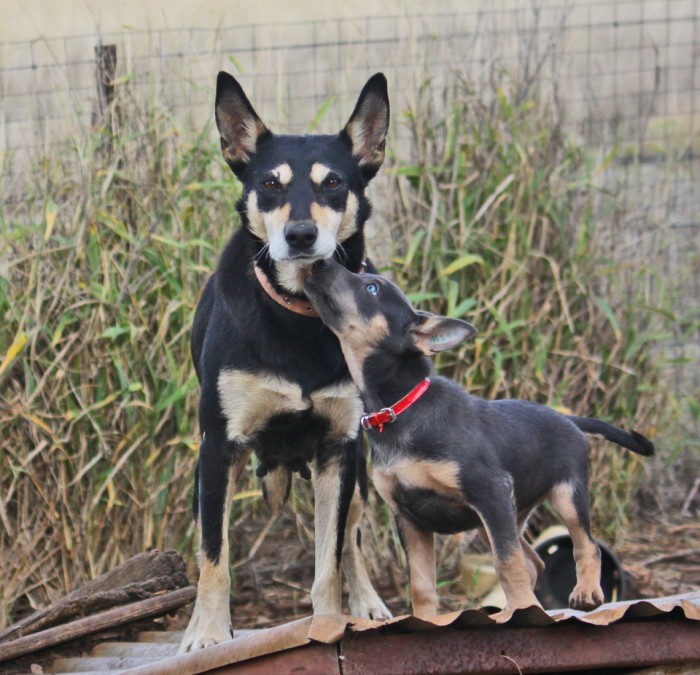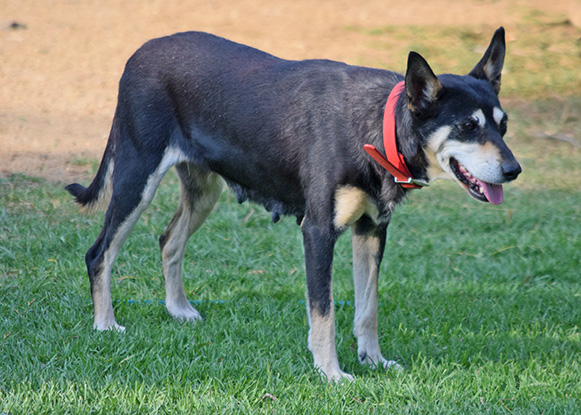 Gemma just after weaning her last litter in 2019 aged nine.
https://youtu.be/5Iskud-kMhw  This video is of Gemma working lambs. Priceless!