Karmala Lily
WKC reg. A3F 17216 08 JK45B born 14-10-2008
Riana Glide X Karrawarra Gift IV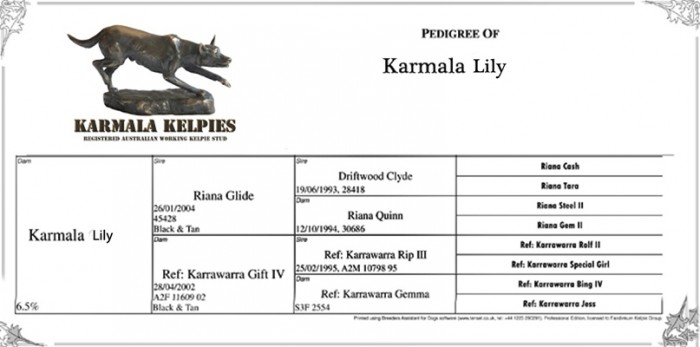 Lily is the second daughter of Gift to be retained in the stud and resembles her dam in many ways; she almost identical in appearance to Gift and has the same very sweet nature and enormous work ethic. She has the classy Karrawarra work and a nice amount of eye with sufficient strength.
She spent a year with Grant Hutchings at Tenterfield where she had the opportunity to work sheep and cattle.
Lil came on heat soon after getting home and was mated to Whitehead's Tracker owned by Arthur Crumblin. Karmala Neon from this mating (owned by Grant), is an outstanding worker and has been used in the stud here. Karmala Chanel owned by Brad Middlebrook, also from this mating,  has returned to the stud after being injured.
Lily has been mated to Tracker Gibbs with great results, and I was fortunate to get a second Gibbs litter before his untimely death(10/13). Karmala Landy resulted from the first mating, as did K.Lara who has reared two good litters to Riana CashII in WA for Marina Angel Smith. Jessarene Robbie and Jessarene Cara arrived at Nobby 4/2014.
Karmala Finn by Riana Finch from Lily, is a very good young dog out at work, and was mated to K.Gemma in 2013 with good results.
Lily is shaping up as my most successful brood bitch. Her litter by Benalee Chance(Karmala ClydexKarmala Lyndy) in 2014 is working well and the pup I had planned to keep, Karmala Bets, is coming back to be mated this year. 
Her next litter by Scanlon's Chopper in Jan. 2015, was small but of high quality. All three pups look very promising.
 Here is Lily's latest litter by Karmala Brock, born Aug. 8th. 5 girls and 2 boys.